Courtesy of Zeus Brewing
Zeus Brewing's Poughkeepsie taproom in the newly opened Queen City Lofts building is more glam than many of its industrial-chic counterparts.
Zeus Brewing Company is the latest and flashiest edition to the growing craft beer scene in Poughkeepsie. With it's ethereal brew pub front and center, on the ground floor of the new Queen City Lofts building, and a yet-to-open rooftop bar and lounge, Zeus made an immediate impact when it opened in December 2019.
"The opening went fantastic and the feedback has been amazing," says Bethany DeJesus, who co-owns the business with her father-in-law Glenn Phillips. "We found out about this location, and when we had the opportunity to be a part of it, it was too good to pass up."
Anna Sirota
Manager Rob Von Bergen
Olympian-Caliber Beers

The beers on tap are the handiwork of accomplished brewmaster Amit Ram. Ram, originally from Israel, previously plied his trade at
Newburgh Brewing Company
and
Peekskill Brewery
. While he acknowledged that Poughkeepsie is becoming known as a brewery-hopping destination, his goal is for Zeus to sit on high (like Mount Olympus high), not just in the city but through the Hudson Valley and beyond.
"There's a spike in beer tourism in the Hudson Valley, for sure," says Ram. "From New York to Albany, there are a few standout breweries. I won't name any names. This is an opportunity for us to be the spot that's not to be missed in this area. Not only the best beer but the best food and the best experience."
The taproom certainly has a more grandiose aesthetic than the more common industrial brew pub. The look is more gold and black leather than stainless steel and raw wood. And when the weather allows for the rooftop bar to open, the view of Poughkeepsie, the Hudson River, the bridge, and beyond will no doubt mesmerize guests.
There are currently seven Zeus originals on tap at the brewery. The mellow citrus-forward pale ale Dragon's Light features New Zealand Hops, and the Noise Machine New England IPA balances characteristic bitterness with light, bright orange. The crisp straightforward Zeus Lager has been a surprisingly common order with food, Ram says. Since opening, the draft list is already notably diverse, also featuring the fruited sour Urban Oasis; a coffee milk stout called Room for Milk; and The World Within, a strong yet balanced imperial stout clocking in at a hefty 9.7% ABV. Fuel for exploring your inner realms, indeed.
Pub Eats
The menu looks to grab attention as well. "It might look like stuff you recognize," says DeJesus. "But the ingredients and flavor profiles are unique and elevated."
Small plates, salads, pasta dishes, and "craft pizzas" at the craft brewery are heightened through execution and what was clearly a thoughtful menu development period. While they're doing a lot, Zeus also isn't trying to do too much.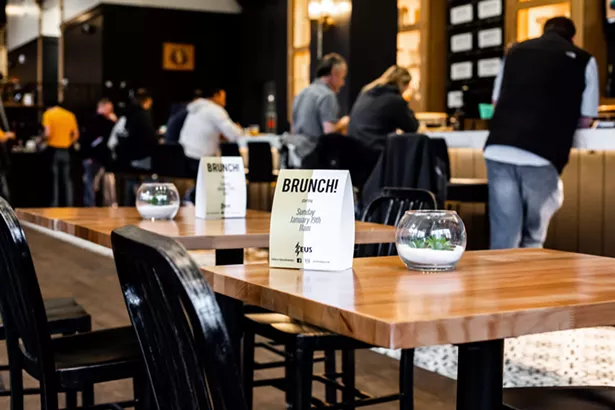 On the small plates menu, the Zeus Boil is a fresh seafood lover's option with shrimp and littleneck clams, kicked up a notch with Calabrian chilis, Zeus beer, garlic, scallions, oregano, onion, toasted bread, and lemon aioli for $16. Pastas range from complex to quality forward simplicity like the Cavatelli, served with charred broccoli, crispy pancetta, onions, roasted tomatoes, chili flakes, and bel paese cheese for $17. The pizzas play with guests expectations of texture and spice with offerings like the white Zeus Pie, sporting ricotta, parmesan, mozzarella, red onion, pistachio, oregano, and hot honey for $15.
"We are a brewpub, so we are focused on being both a restaurant and a brewery," says Ram. "In this scenario we are more focused on hospitality. We want you to drink world-class beer in an inviting setting. Whether you're a novice or an expert drinker, we need to be giving everyone something they can enjoy. And we want to make beer that compliments the food."
While they'll encourage beer pairings for your meal, this hospitality-first mindset means there's also an extensive cocktail program and wine list at the ready as well at Zeus.
Striving for Greatness
Naming your business after the king of all gods requires some bravado. But the story behind the branding is sweeter than you might expect. Before her now two-year-old son was born, DeJesus and her husband were keeping his name a secret. So they nicknamed him Baby Zeus. When the 10+-pound newborn was named Grayson, the name "Zeus" felt fitting for the family's newest big baby: a massive and ambitious brewery.
From hospitality to food, the mission might be broad at Zeus, but there was undoubtedly a priority for the beer to be great right out of the gate. Ram leans into the challenge and says he's ready to show everyone what he can do.
"From seeing the sheetrock put on the walls to opening day, I've been like a sprinter in the blocks," the brewer says. "Now that we are up and running I'm excited to show that we have a lot more in the pipeline.
With it's Olympian view from the top of Queen City Loft, a seductive food menu, and a new line of beer brewed with some impressive confidence Zeus Brewing Company is looking to make a fast impression on Poughkeepsie with no less lofty a goal then a place in the pantheon of great American breweries.