On Saturday, February 2, Hudson-based band
Dust Bowl Faeries
will debut "Zebra," a surreal new music video, which was filmed and produced at Lumberyard. Since opening last fall, Catskill's new multiarts powerhouse has been stretching its wings. The cutting-edge performance center opened September 1 with a grand gala hosted by Alan Cumming, and the fall season of programming included dance, music, and performance art presentations from world-renowned artists. In November, the Creekside property hosted its
first wedding
and in December wrapped filming on "Zebra."
And, Action!
Lumberyard' state-of-the-art facility features a 7,000-square-foot, flexible-layout theater that doubles as a soundstage for film and TV, the only Qualified Production Facility in Greene County. The Dust Bowl Faeries, a self-described "dark carnival band" from Hudson's eccentric indie music scene, are a fitting choice to inaugurate the soundstage, epitomizing the region's groundswell of creative energy.
Produced by Catskill-based production company Thin Edge Films, the video opens to the haunting notes of a music box and includes fire-juggling femmes, carnival hawkers, dancing zebra-headed creatures in white, and the aerial acrobatics of a petticoat-clad Ryder Cooley hanging from the rafters. The lead singer of the Faeries languishes mid-air like a cloud, slowly turning as the song progresses from rueful to defiant, climaxing with the lyric, "You can't erase me, I'm a ghost now. I can haunt you, if I want to."

Circus Psych Folk
Dust Bowl Faeries is comprised of artist/performer Ryder Cooley and musicians Rubi LaRue, Liz LoGiudice and Jon B. Woodin. Using accordion, singing saw, ukulele, lap-steel/guitar and percussion DBF creates a range of music that fuses circus, post-punk, Gypsy and psyche-folk music.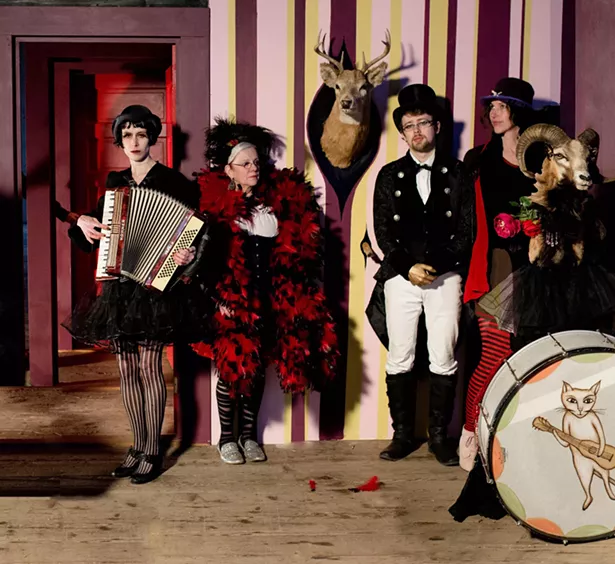 Their past music videos blend elements of syncopated surrealism and film noir. The animals heads are a recurring theme (Hazel, a disembodied taxidermy ram, performs with the band as their mascot-spirit animal), as are Cooley's aerial acrobatics.
"Zebra," which mostly takes place against the bigtop backdrop of red and white stripes, leaves noir leanings behind in favor of the fantastical, deliberately unsettling milieu of circus cabaret and sideshow pageantry. Cooley, who first emerges in a top hat, recalls a Fight Club-era Helena Bonham Carter with a bob-cut and a brooding, vaguely reckless expression.
"Being the first on the Lumberyard stage meant that the cast and crew were making history," says Lisa Thomas, who conceived, produced, and directed the music video. "We felt we needed to be larger than life to do our part to help attract other filmmakers to the new stage, so we went big."
The Dust Bowl Faeries "Zebra" music video premieres online today, February 1, and will have a public viewing at Lumberyard Catskill on February 2.