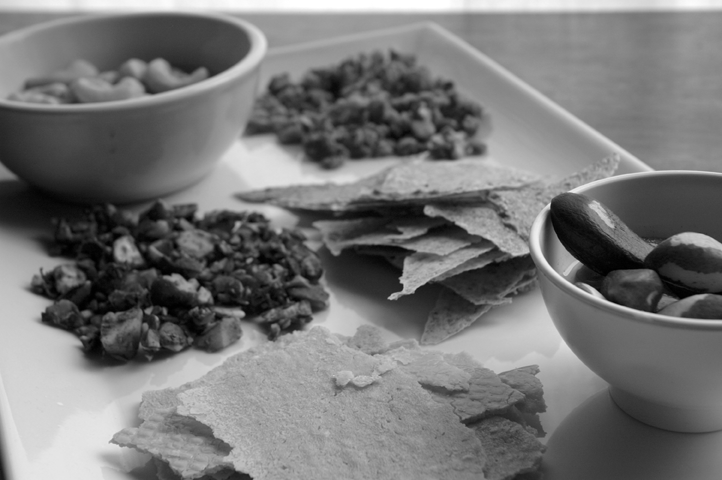 Hillary Harvey
Raw food from Organic Nectars: soaking cashews, coconut curry spiced nuts, pine nut parmesan, chipotle spiced nuts, soaking brazil nuts, and corn chips.
Truffled parsnip pasta with lemon-sage cream. Butter lettuce with baby arugula, radicchio, fine herbs, shallots, lemon, and olive oil. One is from a raw food restaurant, the other isn't. Which is which? And what is raw food anyway?
The raw food diet is an organic, vegan cuisine where nothing is processed, pasteurized, or heated above 104 to 118 degrees (depending upon whose philosophy you subscribe to). Also called live food, living cuisine, and sun food, the premise is that heat destroys the live, beneficial enzymes.
Proponents of raw foods credit Ann Wigmore with pioneering the modern-day regime and bringing the benefits of wheatgrass juice into the public consciousness. Wigmore, a Lithuanian-born nutritionist, recounts in Why Suffer? How I Overcame Illness & Pain Naturally that Western eating habits had ruined her health by the age of 50. Once Wigmore developed what she calls the living foods lifestyle, it took her three years to regain her health—she claims to have healed herself of colon cancer—and ultimately change her life.
In a nutshell, Wigmore's thesis states that there are two main causes of illness—nutritional deficiency and toxicity. Nutritional deficiencies come from people's inabilities to digest and draw nourishment from cooked foods, and toxicity is linked to improper elimination of cooked foods from the body. Wigmore was an energetic educator until her death in 1994 at the age of 83.
Raw Power
Raw food can be as much—or as little—a part of one's life as one chooses. It might mean eating more fresh fruits and salads. It might mean choosing to go one day a week without eating anything cooked. Though many raw foodists are vegans, Jennifer Cornbleet, author of Raw Food Made Easy for 1 or 2 People and a chef and instructor at the Natural Gourmet School in Manhattan, occasionally eats fish and a bit of goat cheese. She does this primarily when on the road or eating out. "Eating more natural, unprocessed fruits and vegetables is good," she says. "But not everyone knows how to do it simply and make it tasty. That's what I teach in my classes—not a philosophy."
Cornbleet stressed that eating raw is not the culinary equivalent of jumping off a cliff. "It's important for people to realize that eating raw foods doesn't need to be an all-or-nothing thing," she explains. "A small percentage of people do eat 100 percent or nearly 100 percent raw foods, and it is possible to be healthy doing so, but this isn't practical for most people. Eating even 50 to 75 percent raw can improve one's health and vitality. Just because something is 'raw' doesn't mean it's the healthiest thing. Living on all the raw desserts out there certainly isn't healthier than eating steamed vegetables."
Manna from Heaven
Some raw food preparation requires extensive planning, which can cut into the spontaneity, and practicality, of getting dinner on the table. It also requires rethinking of old recipes and procedures. For example: In a classic French toast recipe, you soak bread in an egg-milk mixture, fry it, and serve it in about 10 minutes from start to finish. Without direct heat, it takes much longer to prepare French toast the raw food way.
Since nothing is heated above 118 degrees, a dehydrator is frequently used to "cook" foods.
Matthew Kenney and Sarma Melngailis's recipe for Cinnamon-Date French Toast with Bananas, Walnuts, and Maple Syrup, from Raw Food, Real World, looks like this: Place cinnamon-date manna bread slices in a shallow baking dish. In a medium mixing bowl, whisk together nut milk, maple syrup, cinnamon, nutmeg, and salt. Pour over the bread slices to cover.
Seems straightforward enough. Except that manna bread isn't something you can run to the corner deli and pick up. It's a dense, slightly chewy bread that is risen at very low heat. It's found in the freezer section at selected health food stores.
Commercially made nut milks aren't used, because heat is involved in their processing. To make raw-nut milk at home, one can soak raw nuts for four hours or more and put them in a high-speed blender like a Vita-Mix or a food processor with filtered water, agave nectar, and sea salt. Or you can try making 30-Second Nut Milk, using raw nut butter, water, agave, vanilla extract, sea salt, and coconut butter. Either way it's another procedure, and if you're doing the soaking, it adds at least four hours to the preparation time.