The realization that we're not cut out for mainstream life hits most of us in the so-called creative community at an early age. We don't know what's going on inside at first, only that we have the innate, impossible-to-switch-off feeling that we're different from the future suburb dwellers and office drones who surround us—and that we want to spend as little time in their world as humanly possible. This feeling of apartness is accompanied by the overwhelming desire to channel our eccentricities into some kind of statement—to express ourselves artistically—and to continue moving on a path that allows us to keep doing that, and only, that. For most of us, though, it takes a few post-high school years to work out what, exactly, that path will be. Not so the early-20s members of Northampton, Massachusetts, indie rockers And the Kids, whose founders, singer and guitarist Hannah Mohan and drummer and singer Rebecca Lasaponaro, met in seventh-grade band class, began playing music together, and quit school soon after. "We got paired together because none of the other kids picked us to be in their study groups–we were the last two left," Mohan says. "And we've been best friends ever since."
"I always knew I wanted to play music–it felt freeing," says Mohan, who, like Lasaponaro, enrolled at North Star, a nearby community-based, independent "unschooling" facility where teens formulate their personal curriculums. Both are Northampton natives whose parents' musical tastes (Beatles, country, folk) were the seeds of their own. "I guess what made us want to play instruments was that we wanted to do something cool," Lasaponaro recalls. "I just thought that everybody picks something cool they want to do and that's what they do. I have siblings who are in the military, that's what they wanted to do. I'm really different from them, obviously, but it's all good between us."
Mohan and Lasaponaro busked and played in a succession of basement bands together as they moved on to another innovative local learning center, the Institute for the Musical Arts, where they became students and eventually instructional interns. Founded in 1978 by directors Ann Hackler and June Millington, the nonprofit IMA teaches music, performing, recording studio techniques, and music business skills to women and girls. "Besides the classes where we'd study music theory and songwriting and critique videos of our performances," Lasaponaro explains, "we'd do concerts and have listening sessions where we'd break down recordings of songs to focus on how they were put together." The institute provided the pair with free rehearsal space, where they practiced daily. "We were definitely lucky to have the resources we had at IMA," says Mohan.
"Hannah and Rebecca were kind of wild-child types when they first came in," recalls Hackler. "We used to call them our 'feral students.' [Laughs.] They had this sort of Merry Prankster attitude. But at the same time, it was clear they were serious about music being their lifeline. They kept at it and worked incredibly hard. I'll never forget when they played their first show at [Northampton nightclub] the Iron Horse—they actually passed out handwritten thank-you notes to everyone who came."
The band's lineup and mission coalesced when Mohan and Lasaponaro met and recruited another IMA intern, synthesizer player and percussionist Meghan Miller, in 2012. "You could tell Meghan really helped them pull their focus together," says Hackler. "She got them to concentrate on their business chops a little more." Miller also introduced one of And the Kids' signature elements, the glockenspiel, into the group. "Meghan also plays melodica and other instruments," Mohan says. "She's really given our sound a lot of what we like to call our 'ear candy.'" With Miller on board, the outfit continued to work up their confection of angular, melodic DIY art pop within the pulsating Northampton scene, playing house shows and clubs, releasing homemade EPs, and hitting Boston, Burlington, and New York on weekends. Their music and drive soon caught the attention of locally based independent label Signature Sounds (home to Lake Street Dive, among others), which released And the Kids' official debut, Turn to Each Other, in early 2015. Raves in Pitchfork, Stereogum, and the like would follow, but just when the group's star was nearing the stratosphere they hit a major snag.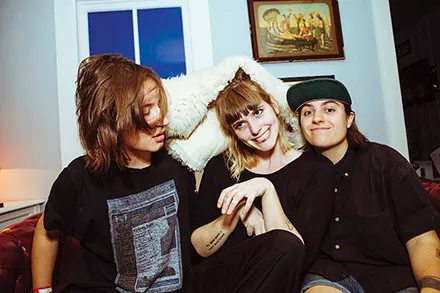 Megan Miller, Hannah Mohan, and Rebecca Lasaponaro of And The Kids.
Miller, a Canadian citizen, was legally forced back to her homeland for a five-year period. While reserving her slot until the stretch is over, Mohan and Lasaponaro (the latter also assuming glockenspiel duties) hit the road as a duo for a bit before adding a fourth member, Manhattan-raised bassist Taliana Katz, the daughter of a record industry exec and yet another IMA alum, to help fill the sonic slack. Her first performance with the band came via their June 2015 appearance on NPR's "Tiny Desk Concert." Although the three had long been big fans of the popular show, the experience itself wasn't as dynamic as listeners might envision. "[The NPR staff] were really nice, and the whole thing was really quick," Katz remembers. "We came in and set up, and we were hungry, so they gave us some Kind bars—and then we just did it."
Tours with Ra Ra Riot and PWR BTTM and a slot at South by Southwest came next, and the group worked up the material for their sophomore album, Friends Share Lovers. Recorded in Montreal with Miller last January and coproduced by the quartet and Jace Lasek of Besnard Lakes, it was released in June and has been rabidly embraced by fans, radio, and the press for its evolution of the sound the group mapped out earlier. As one might guess from its name, the disc's songs, which are adorned with Mohan and Lasaporano's soaring vocals, largely focus on the nature of relationships: See the breakup themes of the counter-harmony-centric "Kick Rocks"; "Cheer for Babies," a shoegazey meditation on family life and the social scene; or the intrapersonal politics of the spiky title track. But according to Mohan, the group's songwriter, the album's leitmotif wasn't that apparent at first. "A few of the songs are about other things ["I Dropped Out" is clearly autobiographical]," she says. "But once we'd made the album I realized that I hadn't really written that many songs about relationships before."
The sans-Miller edition of And the Kids was gearing up to play the nearby Green River Festival the day after this interview, before heading north to Canada the following week to rehearse and work up new songs with Miller and begin a national tour in October. A highlight of their live shows, the group says, has been the steady stream of young women who come up to tell them how seeing And the Kids has inspired them to pick up instruments themselves and form bands. So do they have any advice for any girls out there who are interested in making a career out of playing music?
"Just keeping playing," Lasaporano says. "It's hard in the beginning, and you might be nervous. But it's okay to be nervous."
"Don't stop," says Mohan.
And the Kids headline the 2016 Chronogram Block Party on August 20.