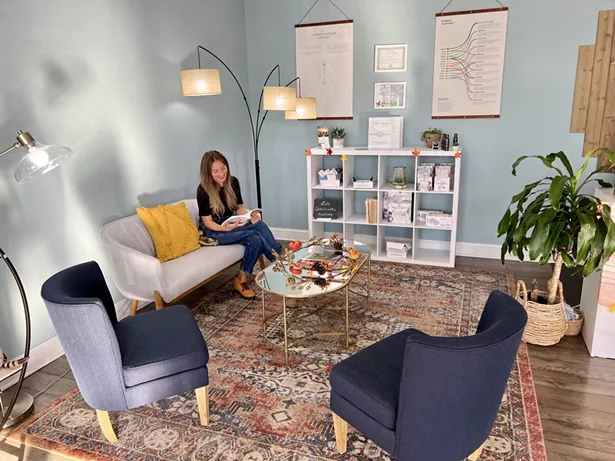 Images courtesy of Your CBD Store Kingston
Curious about cannabidiol (aka CBD), but put off by the dizzying diversity of products and claims of its purported superpowers? Matt Tallarico, owner of Your CBD Store Kingston, has got news for you. Once upon a time, so was he.
"I was very skeptical when CBD came out because people were saying it could do everything," he says. "I always had anxiety, and a friend of mine gave me some CBD to try and it ended up triggering even more anxiety in me. I stayed in that place of strong skepticism for a long time."
Eventually, he shared his story with another friend who had much more knowledge about how much CBD to take and when to take it, and it transformed his entire viewpoint. "It was unbelievable how different the experience was," he says. "That was the seed that started everything."
Images courtesy of Your CBD Store Kingston
So when Tallarico opened Your CBD Store Kingston on Ulster Avenue in the spring of 2020, he made it his mission to start his customers' journeys with CBD off on the right foot. Your CBD Store Kingston sells its own exclusive line of organic, third-party-tested products, all backed by easy-to-understand education and personalized, one-on-one advice.
"There's nearly no place to get an education about CBD when you purchase it, and there are actually many variables to if and how people will feel its effects," he says. "We go through the science of CBD, proper dosing, and the different methods and mediums so you can understand how it works in your body."
Images courtesy of Your CBD Store Kingston
Every time a customer visits the store, Tallarico or another member of his team of trained CBD educators will start by asking what brings them in today. Most people, he says, visit for one of three reasons: pain, anxiety, or sleep.
Then they discuss the customer's past experiences with CBD, and their comfort level with different consumption methods, explaining along the way how each method works and how long it should take to feel effects. The shop's line of products includes everything from what Tallarico calls the foundational products like tinctures, water solubles, or pain topicals to edibles, flower, vaporizers and beauty products. There's even a whole line of their products designed specifically for pets!
Images courtesy of Your CBD Store Kingston
Every purchase comes with a personalized dosing card that outlines suggested amounts for each product and indicators for increasing or decreasing the amount of CBD based on your body's cues. "We want people to have agency in feeling the way they want to feel," Tallarico says. The result is an experience that inspires utmost comfortability and trust—a likely contributor to the shop's almost 300 five-star Google reviews.
As if that weren't enough, customers are invited to try any product before they buy it, and all the products have a 30-day money back guarantee. "If you come in with an empty bottle, we'll give you money back," Tallarico says. "I'd rather you come in and have a good conversation with us than for you to walk away with a bad experience with CBD."
Your CBD Store Kingston
1220 B, Ulster Ave, Kingston
(845) 383-1425
Open Monday-Saturday, 10am-7pm and Sunday 11am-5pm