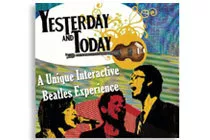 Don't miss the amazing musical tribute Yesterday and Today: A Unique Interactive Beatles Experience at the Lycian Centre on Kings Highway in Sugar Loaf, NY on Saturday, February 27th at 8:00pm. Simply put, the Beatles music is the soundtrack to our lives. Yesterday and Today gets to the heart of that. The performance is 2 ½ to 3 hours of music and the set list will contain songs chosen by audience members prior to the performance. The show becomes a musical experience with laughter, tears and personal stories that will connect the audience, the band and the performers in a way that no other show can.
As audience members come in to the theatre (and again at intermission), they will be encouraged to go to the "song request" table where they will fill out a card with their name, song request and the reason they have chosen that song. The songs that the audience requests will make up the set list for the night and their stories will make up the evening's narrative. An incredible atmosphere is created where the audience members feel as important to the show as the cast. It is important to note that the Yesterday and Today cast will not dress like the Beatles nor speak like them. The concentration will be on presenting the music in an exciting and well-executed manner.
Rekindle the spirit of yesterday through the music of the world's most popular band. Yesterday and Today will have you twisting and shouting in the aisles while singing every word to the songs you know and love! Tickets are $28 for adults and $22 for youth (18 and younger) and can be purchased by calling the Lycian Centre box office at 845-469-2287 (Tue-Sat, 11am-4pm) or visiting the website at www.LycianCentre.com. See you at the show!