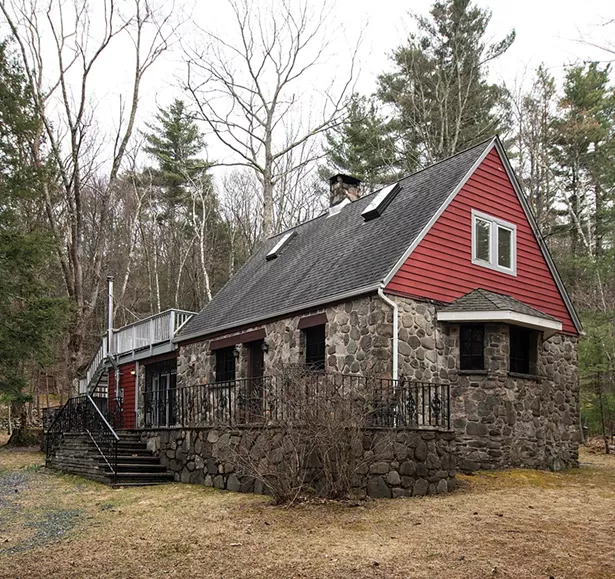 Photo: Deborah DeGraffenreid
The handbuilt home was once part of an enclave of Norwegian immigrants and retains many of the original architectural details of rich wood, iron trim, and bluestone. Stewart covered the back porch and added screens.
Like many people before her, Alison Stewart first landed in the town of Woodstock thanks to a little geographic misunderstanding and a lot of serendipity. In 1994, the journalist, writer, and radio host was working as a correspondent for MTV News. She was given the assignment to visit the town before the 25th anniversary of the historic 1969 festival to do a "Woodstock Gets Ready" story. "So, I got into a van with a PA, and we just followed the signs," remembers Stewart, describing her kismet detour and the common confusion between the town of Woodstock and the actual namesake festival site 60 miles away. On their way to the hotel, the rock 'n' roll news crew decided to stop in town for dinner. Afterward, they dropped into the local ice cream shop Taco Juan's and then wandered along Tinker Street enjoying the small-town ambiance and chatting with locals. "There were strings of lights in the trees and everyone was really friendly. I just fell in love immediately," recalls Stewart. It reminded her of her family's former summer home in Oak Bluffs on Martha's Vineyard, where her sister now resides. After their night in the town of Woodstock, Stewart and her crew drove on to Winston Farm in Saugerties, where she helped cover Woodstock '94 for MTV. Even after heading back down to the city, she couldn't forget the friendliness of Tinker Street and the peaceful, throwback charm she found there.
In the 25 years since that 25th anniversary, Stewart's life has certainly changed. She went on from MTV to work as a television journalist for ABC, NBC, CBS, and PBS's "NewsHour." She started a family, published two books, and, six months ago, began hosting her own live radio show on WNYC. ("All Of It," Stewart's daily take on "culture and the culture," is on weekdays at noon.) Over those years, her understanding of Woodstock also evolved—from festival site to small town, from small town to weekend getaway, and then from weekend getaway to full-time home. The road to her historic, 1,900-square-foot stone cottage involved another slight detour, but eventually led her to a place that has endured as a peaceful oasis amid the changing times and seasons of her life.
Photo: Deborah DeGraffenreid
Alison Stewart in the sunny kitchen of her Woodstock retreat overlooking the woods. As of late, the home's solitude has lent itself well to reading the authors she hosts on her WNYC program "All of It." "It's a dream job," she explains, "especially for a working mom who was an English major. In the past six months, we've had 570 guests." She adds, "I really think if someone has spent all that time working on a book, I should offer them thecourtesy of trying my best to read it."
Two-Hit Wonder
After the 25th anniversary concert, Stewart began taking weekend trips to Woodstock, staying at a bed-and-breakfast overlooking Cooper Lake. It became her regular respite, and she quickly realized that the money she was paying toward her weekend sojourns could be better spent on a house. When she found her two-bedroom home, nestled amongst the pine trees on a local mountaintop, she took to it immediately. "I just knew it right away. I thought, 'This is my place. This is where I'm supposed to be,'" she remembers.
Handbuilt in 1937 by Norwegian settlers, the home retained many of its original architectural details. A cozy den features wood panelling, crown molding, and intricately trimmed floorboards, and leaded-glass windows. In the sitting room, bluestone floors meet a giant bluestone fireplace, with multiple windows offering views to the surrounding woods. Stewart loved the various textures of the home's interior, its tranquil setting, and the mix between indoor and outdoor living.
Photo: Deborah DeGraffenreid
"When I first moved here an older neighborwelcomed me to the hill," remembers Stewart. "He told me they used to make pottery in the property's kiln when he was a kid." One of the original settlers to the area, he gave Stewart photos and a map with the neighborhood'soriginal Norwegian street names.
But she didn't buy it. "It's one of those life lessons. To this day, I think about it: Trust your gut," Stewart says. Well-meaning friends and family members convinced her that another home on Wittenberg Road would be a smarter financial decision. "That home was beautifully built," she explains. "It was bigger and newer. It was a great space." However, once she moved in, the large space felt lonely and cavernous to Stewart, a self-described homebody. "I think I moved in with one chair and a bed," she remembers. "I was in love with being up here, but that house just wasn't right." Stewart held out for almost a year then decided to let the Wittenberg house go.
As if it were waiting for her, the stone cottage was still for sale. Formerly owned by Rogers Stevens, the guitarist of the rock band Blind Melon, she finally bought it in 1998 and hasn't looked back. (More evidence of kismet: When she was finalizing the paperwork for the purchase, Stewart realized that she had once considered moving into an apartment in Stevens' Manhattan building.)
Photo: Deborah DeGraffenreid
Stewart has filled the wood paneled denwith art and mementos from her parents andgrandparents. The paned leaded glass windowand Art Deco chandelier are original to the home. "This really does remind you of an old library," she says. "It's been nice to introduce things from my family. It gives the space a very warm feeling."
The Keys for a Home
In the ensuing 20 years, the rustic stone cottage has proved versatile enough to suit Stewart's varying needs for creative solitude and camaraderie. Quiet, but close to town, it's been the perfect space to work and read, without ever making her feel isolated. Its more modest size has proved adequate to entertain guests, host family events, and raise her son. The contrast between the "light airy sunroom" and "the cozy inside warmth" of the den lets Stewart choose between an outward sense of expansion or a more intimate nook to match her mood. "I find that during the day, I like to feel like I am one with the outdoors," she explains, "and at night I like to hunker down and be surrounded by the wood paneling."
Stewart has decorated the wood-paneled den with family heirlooms inherited from her parents and filled the built-in bookshelves with her reading materials. The walls are edged with a decorative wooden crown molding, and the room also features a fireplace, adding to its already abundant charm. On one end of the den, a small wood-paneled office doubles as an ad-hoc guest room; on the other end, a tiled bar features an additional sink, built-in wood shelving, and access to the kitchen.
Photo: Deborah DeGraffenreid
Stewart has decorated a small bar area off thekitchen with her collection of giraffes.
Stewart realized the vaulted ceilings and light in the home's main living room, as well as the view of woods and exterior stone walls, would make a perfect space to work. She installed a large wooden dining table near the stone fireplace to write and added comfortable chairs near the windows for reading. The space includes the original exposed wood ceiling beams and an additional wood stove in the corner. Adjacent to the living room, Stewart covered an open porch to create an outdoor haven for buggy or rainy summer days.
When Stewart bought the home, its kitchen and bathroom were finished in a "high '80s" style. Three years ago, a job opportunity for her husband precipitated a potential relocation to the West Coast and multiple weekend trips across the country. Stewart decided to shut down the house for a year while the family explored their options. When they decided to stay in New York, they realized the home hadn't quite been devoid of residents that whole time. "Some squirrels decided the house was their winter cottage and ate through the insulation and wiring," explains Stewart. "I had planned to do a cosmetic remodeling, but it turned into a full-blown renovation. Thank God for Patrick Murphy and Lillian Mauer from Building Logic."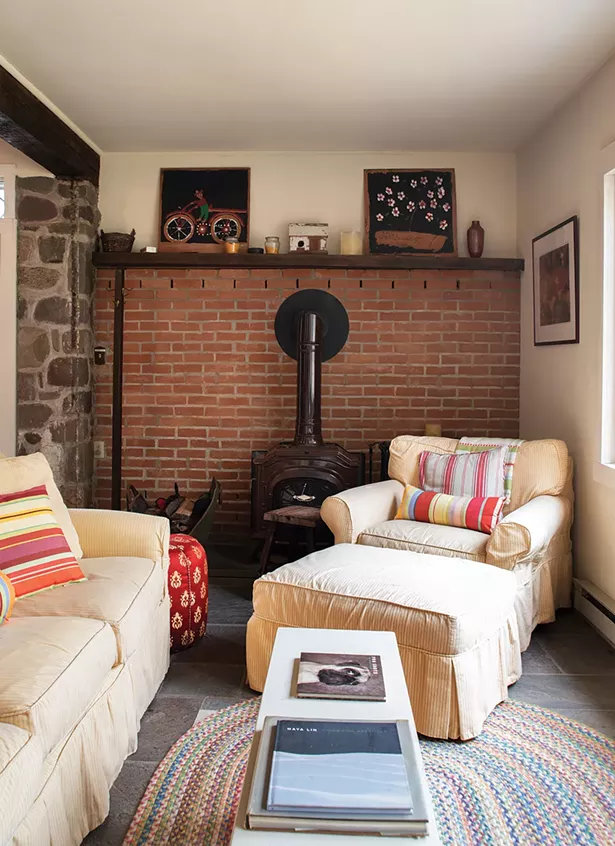 Photo: Deborah DeGraffenreid
Former owners added a wood stove to thedownstairs "great room." Stewart has surrounded the space with cozy chairs to create a nook for reading or guests. Since buying the house, she's had many friendsmove to the area, and befriended many locals.
After fixing the damage, Stewart added a backsplash and counter of beveled subway tiles and a new sink. She elected to keep the same cabinets but updated their look with new knobs. Because of the damage, the downstairs bathroom also needed to be completely ripped out. Here, Stewart installed a new shower and white subway tiles. An original skylight fills the space with sunshine.
Upstairs, at the top of a narrow wood-paneled staircase, the cottage has two bedrooms and a full bath. Both bedrooms have vaulted ceilings with skylights, and original wood doors. The master bedroom has access to an open deck built above the covered porch.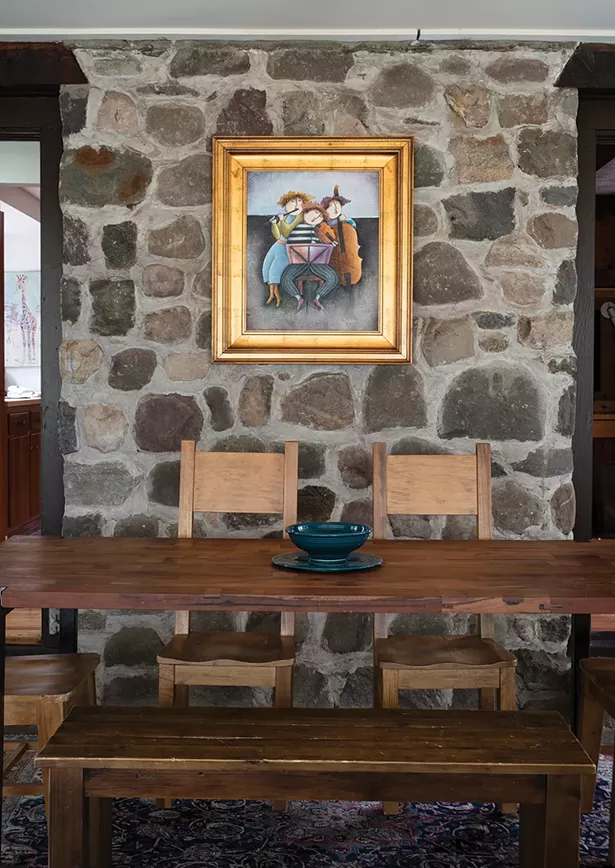 Photo: Deborah DeGraffenreid
When she first visited the home she immediately knew the downstairs vaulted great room would be the perfect space to write. "It's got perfect light and a nice view of the trees, but the view isn't too distracting," she explains. She added a large wooden table to the space, where she's written and organized parts of her two non-fiction books.
Eventually, her well-meaning family members and friends came around to Stewart's point of view on the cottage. "My parents really loved it up here," says Stewart. "They would visit often and really came to like the Hudson Valley." Friends also have come to stay over the years, either solo to work on creative projects or for gatherings. "I always want people to come and enjoy the home with me. In a way, it's become a little bit of the family home," Stewart laughs, adding, "Everybody knows where the keys are hidden."
Photo: Deborah DeGraffenreid
The wooded property includes a storagespace and garage. Her second book Junk: Digging Through America's Love Affair with Stuff details three years of riding along with junk removal companies all over the country.