Dreaming of planning a one-of-a-kind Hudson Valley wedding steeped in the region's history and with plenty of artsy, boho-chic vibes? Look no further than the Colony in world-famous Woodstock.

Located in the heart of the village on Rock City Road, the Colony was originally built in 1929 by noted New York City hotelier Morris Newgold. For almost a century, the stately white mission-style building has been a Woodstock mainstay—home to a restaurant, hotel, concert hall, and popular live music venue before it was revamped and restored in 2015 by local residents Alexia and Neil Howard.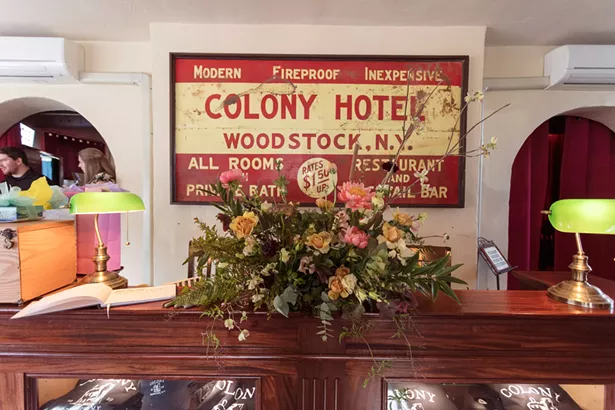 With its setting that evokes the rustic beauty of the Catskills and hearkens back to the town's storied artistic past, the Colony can set the stage for your whole wedding weekend—starting with an expertly catered rehearsal dinner and ending with the day-after Jazz-themed brunch.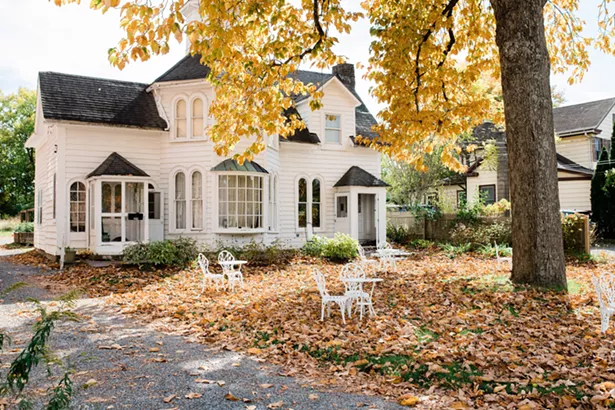 On the big day, your wedding party can get ready in the Teahouse Bridal Suite, a cozy Victorian cottage located right next door, and the venue's Billiards Lounge, the ultimate chill spot with an Old World atmosphere.
The cascading stairway leading from the wraparound, second-floor balcony down to the main ballroom is the perfect spot for a grand entrance. It's also the ideal spot to say "I do"—unless you'd prefer to exchange vows on the Colony stage, like the rock stars you really are.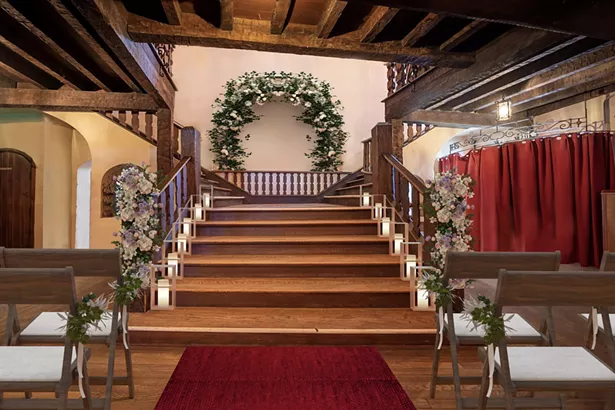 The historic ballroom provides dining space for up to 150 seated guests, and the Colony's in-house chef is on-hand to craft a menu to match your tastes. Of course, its luxe wood bar is fully stocked with the finest craft beers, liquors, and wines.

When it's time to let loose, the dance floor opens with plenty of room to groove and a balcony perched above for guests to hang. As one of the area's best music venues, the Colony offers exceptional sound and lighting systems ready to help you rock the picture-perfect night away.
Situated in the heart of the Catskill Mountains, the Colony is located just two hours north of New York City or a convenient one-hour drive from airports in Albany or Newburgh. A host of charming local hotels and inns, boutiques, cafes, and farm-to-table restaurants are located just minutes from the venue, and it's a short drive to all the cultural and recreational attractions that make the Catskills a stellar place to visit.

From the moment you and your guests step inside the charming entry until the final notes of the evening are played on its historic stage, a wow-worthy wedding at the Colony is sure to be one for the books.
22 Rock City Road, Woodstock
(845) 679-7625