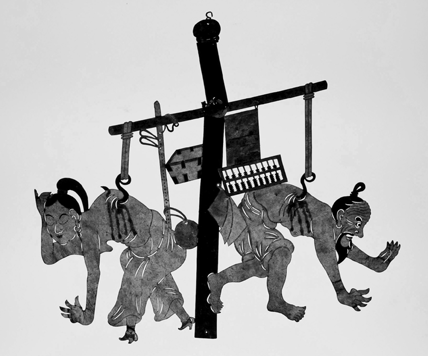 Qing Dynasty shadow puppets depicting the "18 Levels of Hell" are part of the exhibit "Chinese Shadow Figures from the Collection of Dr. Fan Pen Chen," opening this month at UAlbany.
Professor Fan Pen Chen was in China in the early 1990s on a research grant when she was offered an opportunity to buy a rare collection of antique shadow puppets. Dr. Chen wasn't interested in the puppets at first, which were far removed from her specialization in Chinese literature. Encouraged by a colleague, however, Chen changed her mind and, with it, the direction of her career.
What the professor purchased was a museum-quality set of puppets from the Qing Dynasty, the last imperial dynasty of China, which lasted from 1644 to 1911. The acquisition led the University at Albany Chinese Studies professor to begin a study of the puppets and their importance in Chinese culture, work that has led to two books, including one just published on the history and meaning of shadow theater. Shadow puppetry is a centuries-old art form in China, with roots in religious practice, operatic theater, and popular entertainment. The puppets are intricate cutouts made from treated and scraped animal skins. Using homemade knives, master puppetmakers are capable of exquisite and delicate details of expression, costuming, even hairstyle. The puppets are manipulated by thin bamboo rods, and play out their dramas in silhouette upon a white screen.
Chen has made numerous trips to China's cities and into the countryside to interview puppet performers, makers, scholars, and collectors. Her personal collection now extends well into the hundreds, yet the crown jewel remains that first set of Qing puppets, which she estimates are about a century old. "These are all hand-carved by grandmasters, not just masters," she says of her original set, which go on exhibit for the first time at UAlbany's University Art Museum this month.
One of the highlights of the display, which includes puppet figures, set pieces, and video of performances and makers, are figures from Chinese mythology of the "18 Levels of Hell." In Chinese Buddhism, the souls of the dead are dispatched to the underworld, where their fates are decided. For those who have spent their lives in wickedness, a dozen and a half levels of punishment await, with a panoply of extravagant tortures. In this black hole of the departed, demons rip out the tongues of gossips, saw kidnappers in half from the top down, disembowel hypocrites, and pulverize the greedy between giant millstones. The hapless pair pictured above has been impaled on the hooks of a giant scale, a penalty reserved for dishonest merchants and bad daughters-in-law. "All Chinese plays used to be performed more for the gods than for the people," explains Chen. Evidently, the old deities got a kick out of watching humanity pay for its transgressions.
"Chinese Shadow Figures from the Collection of Dr. Fan Pen Chen" is on exhibit from November 2 through January 6, 2008. An opening reception will be held on November 2 from 5 to 7pm, and a series of lectures and performances is planned.
(518) 442-4035; www.albany.edu/museum.