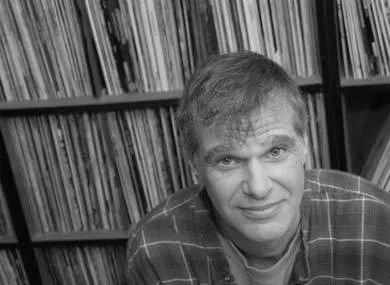 Gene Santoro has no idea how many musicians he's interviewed. A music writer for 25 years, with four published books and regular columns in the Nation and the New York Daily News, he can only estimate that it's "somewhere in the thousands." He laughs. "Kind of horrifying."
Most people would be more thrilled than horrified to converse with the likes of Eric Clapton, Miles Davis, the Neville Brothers, Lyle Lovett, Gilberto Gil, K.D. Lang, Sting, or Sun Ra. Whatever you've got in your CD rack, Santoro's probably written about it.
Santoro's chosen to meet at Bodacious Bagels in Stone Ridge, a healthy bike ride from his Shokan home, where he's lived for the past 14 years with his wife and two daughters. When Santoro arrives, however, it's by car. There's a 60 percent chance of thundershowers, and he grumbles, "You know it'll rain if I'm on the bike."
Santoro is on deadline as usual, but glad to interrupt a grim stretch of writing obituaries for Ray Charles, Steve Lacy, Elvin Jones, and his close friend Robert Quine, legendary guitarist for Lou Reed and others. "It's been a bad couple of weeks," Santoro says, running a hand through close-cropped graying hair. Ronald Reagan has also just died, and Santoro notes, "A lot of people had it in for Ray Charles because he was a stone solid Republican-he sang at Reagan's inauguration. But he was completely self-made, in all senses. He owned most of himself: copyrights, music. He wrote his own charts, hired and fired his own bands, negotiated his own contracts. He had the ultimate say in his own life, and changed all of ours in the course of doing it."
Charles' musical impact was seismic. "Every singer heard that sound, how he put that rasp in the back of his throat. 'I've Got a Woman' was the first time you really hear that completely loose, Ray Charles sound. He recorded it live with his road band-[which is] like having sex with somebody you've already had a couple of rounds with; you know how to move with each other, how to give back and forth." Writing about Charles in his recent book Highway 61 Revisited (Oxford University Press, 2004, $32), Santoro limns him as a direct descendant of Louis Armstrong and a founding father of soul music, who fused the separate strands of holy gospel and "satanic" blues with that same 1955 hit.
Highway 61 Revisited bears the weighty subtitle "The Tangled Roots of American Jazz, Blues, Rock and Country Music." A wary reader might squint at the cover, with its photos of Louis Armstrong, Woody Guthrie, Bruce Springsteen, and Willie Nelson, and think, "All that in 300 pages?"
Well, yes. This is Santoro's fourth book for Oxford University Press, following an acclaimed biography of protean bassist Charles Mingus, Myself When I Am Real, and two collections of essays, Dancing In Your Head and Stir It Up. If these last two are roughly analogous to Greatest Hits anthologies, Highway 61 Revisited is a concept album. "I wanted to do a book, with a narrative shape," he explains. The opening section, "Avatars," consists of two long chapters on Louis Armstrong and Woody Guthrie. Santoro sees these mythic figures as the twin strands of DNA that spiral through American music, recombining in countless variations.
"This is how I think about American pop culture," he says. "Armstrong and Guthrie were the opening, in Marxist or Hegelian terms, of a dialectical process that you watch unfolding for the next 50 years, how those different strands came independently and together through American culture. Armstrong and Guthrie stand for larger things-race, certain tendencies in American culture-and you can trace the way their descendants intertwine, mesh, and change sides." As examples, he cites Cassandra Wilson singing Guthrie's "This Land Is Your Land" and Ani DiFranco backing her protest guitar with a jazz sextet. He leans forward, on a roll. "American pop culture is broader and deeper than America itself. It takes in more influences from outside and uses them-it's not embarrassed, ashamed, or frightened by what's unfamiliar. Unlike the people who live here."
This is vintage Santoro. He's an astonishing talker, quick-witted, wide-ranging, and fast. His conversation careens from erudition to street slang in dizzying, free-associative riffs that somehow always loop back to the theme from an unexpected direction, like Coltrane solos. His prose echoes his speaking voice in its depth and variety, often seeming to mimic the sound of the artist he's writing about.