First, a little free association. When you hear the word "Woodstock," what's the first thought that pops into your head? Chances are, when this question is posed to the general populace, something to do with long-haired hippies is likely to arise: Birkenstocks and tie-dyes? The wafting scent of patchouli and reefer? Peace, love, and mud? Janis and Jimi?
I landed in Woodstock 15 years ago to help promote a few musician friends and, admittedly, I had a few preconceived notions of my own. I found that the hippie-dippie top coat of the town, a caricature of itself, grew old—fast. Like many newcomers, I was surprised to discover that "that concert" of the late `60s actually took place in a completely different town—Bethel—which is 43 miles away in Sullivan County. But a little research uncovered a lot more than what met the eye.
What I didn't know about the scenic rural vista of Woodstock was that it became a township in 1787 following the American Revolution, as farms and settlements took shape. Industries popped up—glass factories, sawmills, and particularly the tanneries, which required a plentiful water supply and a great amount of hemlock. Bluestone was quarried from the Catskill Mountains for pavement around the time that Irish immigrants poured in. Woodstock remained a poor, quiet farming community for a century, though the area became increasingly attractive to city dwellers with its Overlook Mountain House and other resorts. But it was in the early 20th century that Woodstock made its major shift—it became a colony for the arts.
In 1902, Ralph Whitehead, along with his colleagues Bolton Brown and Hervey White, brought the Arts and Crafts movement to the little town, drawn by its gorgeous scenery and proximity to New York City. Byrdcliffe Arts Colony was born as a creative flipside to industry, an experiment in utopian living, artistic vision, and intellectual climate (today, Byrdcliffe is known as the oldest continuing arts colony in America). The establishment of an art school attracted painters, sculptors, musicians, writers, weavers, potters, metalworkers, furniture makers, and other creative types who wished to find inspiration and share artistic goals. The bucolic setting encouraged the building of the hand-hewn wooden music chapel known as Maverick Concert Hall in 1916, which, with its perfect acoustics, hosts America's oldest continuous summer chamber music festival and attracts the most prestigious classical musicians. Throughout the years, Woodstock has been home to famous artists, including Isadora Duncan, Bob Dylan, Levon Helm, David Bowie, Johnny Cash, Brad Pitt, and  Thelonious Monk, among countless others. (And one great historian; Alf Evers, who wrote definitive histories of Woodstock and the Catskill Mountains.)
Yet it was one pivotal event initiated by Michael Lang, John Roberts, Joel Rosenman, and Artie Kornfeld that put Woodstock on the international map forever. Initially, the four men didn't know what kind of profit-making venture they wanted to delve into, but they wanted it to be lucrative. The town's famous namesake, the Woodstock Festival, made rock-and-roll history in August of 1969 as a half million concert goers flocked to Max Yasgur's 600-acre farm in Bethel. Since that time, the "Three Days of Peace and Music" has seemed to overshadow the image of the town.
Today, Woodstock summers are jammed with tourists who flock to its shops and galleries, restaurants and cafes, coming from all corners of the world, from all walks of life, to get a glimpse into what  Woodstock is really all about. The town's residents, business people, and politicians are often eager to paint a true portrait of the town to the curious. Exactly what do people need to know about Woodstock to truly understand it?
Julia and Weston Blelock are a brother-sister business team who recently moved back to the stone house in which they were raised, launching the publishing and production company Woodstock Arts. They also host a sister website, Roots of Woodstock. According to Weston, there are three legs to the stool that supports Woodstock. "There's wellness and spirituality, art and music, and eco-consciousness. Woodstock is very much like a disco glitter ball in that everybody can find their little facet. Woodstock is what you make of it. It attracts all people of the world who are trying to catch the vibe and spirit." He notes that just prior to the recent 40th anniversary of the music festival, visitors were migrating between Woodstock and Bethel trying to figure things out. "Is that spirit still active today? That's a question you'd have to send out to those tourists wherever they may be now," says Weston. "The hippie thing is a smoke screen, and unfortunately, even the tourist office in Kingston thinks that's what Woodstock is all about. We've been involved in an initiative on behalf of the arts to reach out to museums to offer tours."
"Woodstock is not all about the past," says sister Julia. "The art and music scene is continuing, and there's wellness, spirituality, and eco-consciousness." She mentions the Zero-Carbon Initiative passed in Woodstock in 2007, which pledges to neutralize Woodstock's carbon footprint by 2017, and the various spiritual paths that are celebrated in the town, including the Karma Triyana Dharmachakra monastery, the seat of Tibetan Buddhism in America. "Woodstock is not that hippie dippie. Yes, there's that aspect, but that's not Woodstock in my view."  Weston chimes in: "Sally Grossman [wife of Bob Dylan's manager Albert Grossman] said it rather well. Once you come to town you see whatever you see, but the real action takes place back in the hills in those little artist or music studios where creativity is cranked out at great cost, sometimes, to the creators. The good stuff endures, but it's the other side of Woodstock that isn't generally seen or supported. You have to be a discerning, thinking person to recognize and appreciate the Woodstock underneath the surface."
Pat Horner and Larry Lawrence are publishers of the Woodstock Travel Guide and they also recognize the spiritual aspect of the town. "The heart of Woodstock is her arts," says Horner, "including the art of living. The location lured us, and this is why many of us came here originally. But the art and creativity of the people inspired many of us to stay. Woodstock is a conduit for enlightenment, mostly through art, truth, and beauty."
Town councilwoman Liz Simonson describes Woodstock as a place for those "in search of utopia and a better life filled with spiritual enlightenment, music, art, progressive politics, and personal freedom. It is an idea that has been luring artists and idealists alike since 1902, and again in the 1960s, when another generation rebelled against the constraints of society. It continues today as the next generation sets down roots and struggles to keep this dream alive. It's what makes this town incredibly unique with enduring vitality."
Town councilman Jay Wenk has a slightly different take on things, recognizing those townspeople who are engaged in nonartistic trades. "People outside of town are not aware that a sizable percentage of the population are not wild-eyed, radical artistic Bohemians living on welfare," says Wenk. "We have many people who are conservative and regressive. Woodstock's self-inflicted motto as The Colony of the Arts is in many respects a misnomer; I believe that the Chamber of Commerce has more influence most of the time. The arts here are always perilously close to going under, with constant need for finances. The music scene here importantly includes classical performances, not only rock, jazz, and other forms. Traffic tie-ups in the center of town are constants on busy and holiday weekends, and it seems the police are loath to get involved. I love living and working here, being on the town board, and I'm not unaware of negative aspects that exist here, all of which are vexing."
Marsha Fleisher, owner of Loominus Handwovens, a retail establishment on the town's main thoroughfare, Tinker Street, that specializes in the weaving of fine clothing, expresses unabashed enthusiasm for Woodstock. "It's a small town with country roots and city influences. Its history reflects generations of hardworking, land-based families and an arts, crafts, and theater influence that runs deep and is highly esteemed. It's open and inviting, personal and genuine, full of extraordinary people with strong individuality and diversity. I've lived in Woodstock for 30 years and still meet people who intrigue me—the woods are full of us! It's about the community of wonderful people who are truly there for each other, especially when needed." And Michael Lang, one of the founders of that famous festival, sums up that Woodstock is a community founded on the arts. "There's is a tradition here of creativity that informs everything. It is rich in art, music, and theater—which makes for an open-minded exchange of ideas and a real community spirit."
Though widespread reputation descended on the little village four decades ago and earned it often-misunderstood fame, it is the creativity of its inhabitants that cries from Woodstock's lovely forested hills, beckoning the citizens of the world to visit and explore its charmed life.
RESOURCES
Karma Triyana Dharmachakra Monastery www.kagyu.org
Loominus Handwovens www.loominus.com
Maverick Concerts www.maverickconcerts.org
Town of Woodstock www.woodstockny.org
Woodstock Arts www.woodstockarts.com
Woodstock Byrdcliffe Guild www.woodstockguild.org
Woodstock Chamber of Commerce www.woodstockchamber.com
Woodstock Journal www.woodstockjournal.com
Woodstock Travel Guide www.woodstockguide.com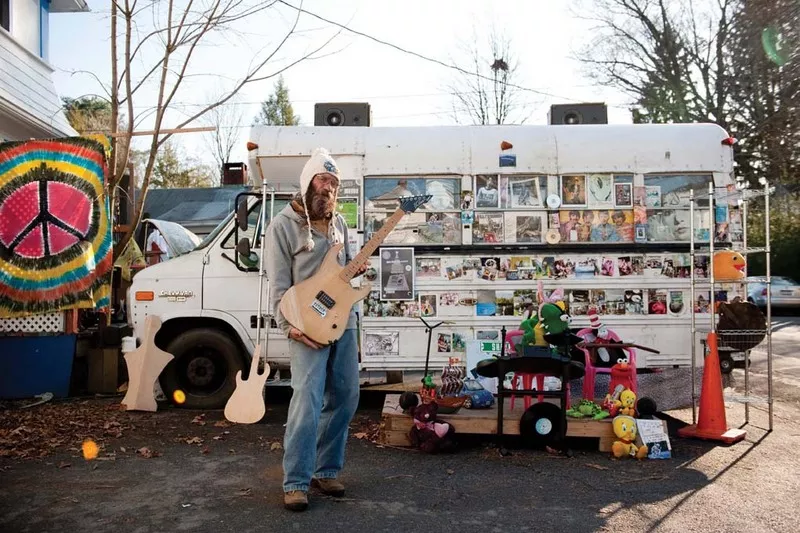 Jennifer May
Ricochet, the artist in residence at the White Gryphon shop displays a guitar he is refinishing outside the White Gryphon.
Jennifer May
Loominus Handwovens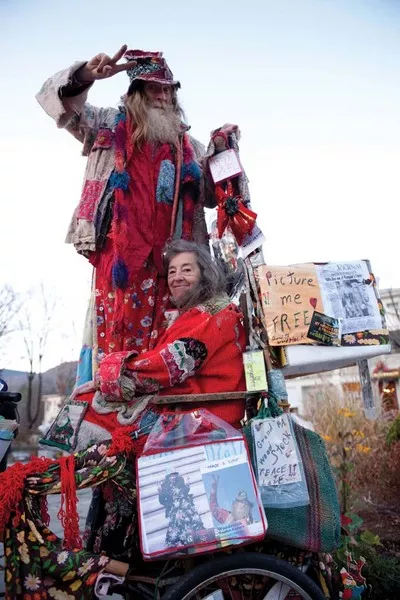 Jennifer May
The man fondly known as Grandpa Woodstock, and his new wife, Estar Esther.
Jennifer May
The sign outside Woodstock Legends.