David McIntyre
Overlook Mountain as seen from the Comeau Property in downtown Woodstock.
Heading west from New York State Thruway Exit 20 in Saugerties, Route 212 becomes Mill Hill Road once you enter central Woodstock. According to town historian Richard Heppner, in 1965 local author Alf Evers called the stretch of road between its intersection with Route 375 and the village green, where it splits off to become Tinker Street and Rock City Road, "Gasoline Alley," for its four filling stations. Today, the span's lone Cumberland Farms convenience store is the only spot in all of Woodstock at which to gas up—quite a change from 57 years ago.
Then again, for all its outward reputation as a quaint, slow place that's frozen in time, Woodstock has seen several spurts of significant change over the last five-plus decades. During the cycle of the pandemic, change to the town has been greatly accelerated by the wave of new residents who fled New York City. But it was a tech disruption almost a decade before COVID-19 that planted the seed of change in the most famous small town in America.
David McIntyre
The Sunday drum circle on the Village Green draws locals and tourists alike to bang and boogie.
"I saw Woodstock starting to change faster around 2013, with the advent of Airbnbs," says Paul McMahon, an artist, musician, and owner-operator of arts space the Mothership. McMahon first came to town in 1990 from the Lower East Side "on a spiritual quest." "You've had a lot of people wanting to get out of the city and get a little bit of the Woodstock vibe," says McMahon, "but there really weren't a lot places to stay here, so it's easy to see [why Airbnbs would proliferate]. But because of that there was a sudden influx of money into a place that was chronically broke."

40 slides
Plan of Action
Although that monetary influx from Airbnb guests has been beneficial to Woodstock businesses, the quantum increase of short-term rental units over permanent residences has left many of the employees of those same businesses unable to find affordable housing in the town. For many of them, restaurant and retail jobs, which are traditionally low paying, simply aren't worth the commute, especially with high gas prices.
David McIntyre
Artist and vendor Jack Miller at Mower's Flea Market.
The
Woodstock Town Board
began working on a comprehensive plan to address the situation in 2018. "We recognized that we needed to reach outside [of the municipality] for a consultant to lay the foundation for the work we're doing now," says board member Kirk Ritchey, who cochairs the Woodstock Housing Oversight Task Force (WHOTF). "When the pandemic hit, it accelerated the land grab that had been going on."
Last year, in response to the housing crisis, the board imposed a nine-month moratorium on the processing and approval of demolition permits for residential structures and applications for transient accommodation uses, short-term rentals, and residential conversions in Woodstock. On May 31 of this year, the WHOTF unveiled a series of recommendations intended to address the situation moving forward.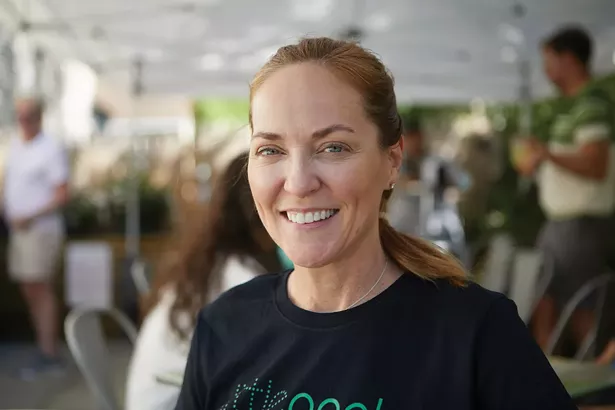 David McIntyre
Holly Walsh, owner of Little Apple Cafe on Tinker Street.
The committee's proposals, created with the advice of planning consultant Nan Stolzenburg of Community Planning & Environmental Associates, include provisions for allowing tiny homes, offering incentives for sensible development, and easing the creation of accessory dwelling units. Also known as ADUs, accessory dwelling units are small long-term rental spaces located within or adjacent to a property owner's main home, such as a detached cabin or a garage that's been converted into an apartment.
Ritchey is hopeful that ADUs, which can be rented more affordably to in-town restaurant or retail employees, will serve as a fast, effective way to address the intertwined issues of worker housing, staff shortages, and much-needed supplemental income for many homeowners. "We asked for input from local businesses to find out what their workers would need, in terms of affordability and space, based on what they can pay them and how many workers they have," Ritchey explains, adding that the town has formed a housing alliance startup and will soon be launching a community land trust to acquire and adapt existing properties for use as affordable housing.
A Creative Path
With its reputation as an artsy town in a beautiful natural setting, Woodstock had been luring visitors and new residents from New York City and other urban areas well before 9/11 and COVID. The vicinity's original inhabitants were the Espous Indians; in the late 18th century, a wave of Dutch settlers relocated from Kingston after being supplanted by the encroaching English. Farming, logging, glass making, milling, tanning, and quarrying drove the economy of the early town, which was established in 1787.

David McIntyre
The Woodstock Playhouse.
Woodstock's widely recognized relationship with the arts dates back to the late 1800s, when Hudson River School painters began flocking to the town and summer boarding houses opened to accommodate New York actors and circus performers, who captivated the countryside with their eccentric events. The pioneering Byrdcliffe and Maverick arts colonies took root and blossomed in the early 20th century; the Arts Students League of New York began holding its summer program locally in 1906; and the Woodstock School of Art was commissioned in 1939 as part of the New Deal.

The 1960s folk, jazz, and rock booms brought Bob Dylan, The Band, Van Morrison, Jimi Hendrix, and other influential musicians to Woodstock, and while the 1969 music festival that bears the town's name ended up taking place 50 miles southwest in Bethel, the Woodstock brand would continue to attract artists to the area.
David McIntyre
Mower's Flea Market has been a Woodstock institution for 45 years.
One of them is painter Calvin Grimm, who settled in Woodstock in 1967 after visiting his grandparents there throughout his childhood. Grimm began building his home/studio/gallery in the hamlet of Shady in 1969, when he was 24. Having watched the evolution of Woodstock firsthand from the mid-20th century on, Grimm worries that the tourism trade catering to weekenders and newcomers is threatening to supplant the artistic legacy that gives the town its distinct identity.

"We have only a few galleries [left]—the historically significant WAAM [Woodstock Artists Association and Museum] and the Byrdcliffe Guild and a smattering of surviving exhibition spaces," he says. "Potential gallery spaces are rapidly consumed by restaurants and real estate offices. It is not enough for a restaurant to hang a photo of Bob Dylan or for realtors to promote Woodstock as the 'Colony of the Arts.' It is challenging for visitors or the new resident public to know that artists live here and benefit from the support of collectors, so that the artists are not forced into the margins or to move away."
David McIntyre
A Mower's Flea Market vendor with her wares.
Hearing Problems
Colony, formerly the Colony Cafe, was built in 1929. The Mission-style music venue and eatery had been mismanaged for years before Neil and Alexia Howard, locals since 2008, bought the property in 2015 and, after extensive renovations, reopened it in 2017. Given new life, the nightclub had been flourishing as a prime spot for top touring and local bands before COVID hit. After shuttering for the lockdown, Colony reemerged with the launch of its beer garden in April 2021 and began regularly presenting musicals acts there on a newly built outdoor stage.
David McIntyre
A dancer at the weekly Sunday drum circle.
The shows have helped to keep Colony's staff employed during the pandemic and have brought vitality and business back to the venue and the town. (With the easing of COVID guidelines, the club is once again hosting indoor evening concerts, with afternoon and early evening beer garden sets on weekends). Nonetheless, not everyone has been enamored with the performances, and a controversy about Woodstock's noise ordinance arose when a group of neighboring residents complained about the al fresco events taking place at Colony and the nearby Bearsville Theater.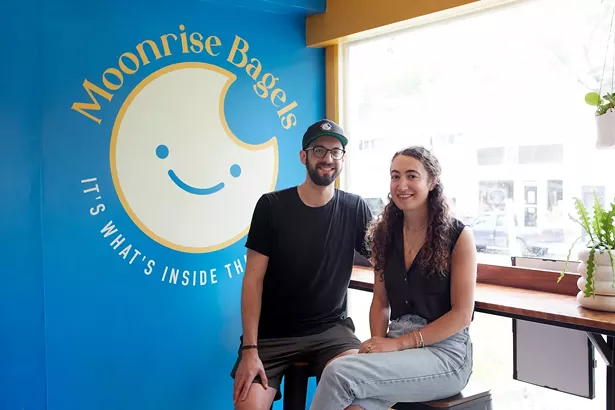 David McIntyre
Moonrise Bagels, founded by Woodstock native Ali Chetkof and Jeremy Rhodes, serves up fresh-baked stuffed bagels.
Although some online chatter seemed to indicate that it was newer "peace-seeking" residents doing the griping, Neil Howard insists that's not the case. "Actually, it's the exact opposite," he says. "There's, like, 22 people who are complaining, compared to around 1,000 people who've told us they love the outdoor music and want to see it continue. And an overwhelming number of the people who are supportive are newer people who love that they live somewhere where there's outdoor live music. The people complaining are mostly people who've lived here since the 1960s, in a place that's known for live music."
Still, after the town board hosted a public listening session on the matter in April, Colony is working to be more accommodating across the board with its outside entertainment operations. "We're installing a new outdoor PA system that's designed to limit the sound to the property, and we'll mainly be having just acoustic music back there," says Howard. "We'll also probably be cutting the outdoor shows down to just a few hours on afternoons. It's a difficult needle to thread. But Woodstock still needs outdoor live music, and we're excited to be celebrating our fifth anniversary this year."
David McIntyre
Yankeetown Pond.
Shelf Space
The Woodstock Public Library was established in 1913 in a converted farm building with a small collection of donated books and a budget of $40 for some bookshelves, a handful of chairs, and a coal-burning stove. Despite the construction of some additions over the decades, the facility, which was built well before the era of ADA compliance and has been dealing with mold issues from its original stone basement, long ago outgrew its 109-year-old home. But in May 2022, after the idea had been defeated in previous years, the town voted overwhelmingly in favor of a $3.9 million bond to acquire, renovate, and relocate into a nearby larger, modern complex that formerly housed an investment firm and a fiber optic manufacturer before that. Like the majority of Woodstock's citizenry, Jeff Collins, the library's board president, is excited about the long-overdue move.
David McIntyre
Library Board President Jeff Collins outside the future home of the library at 10 Dixon Avenue in Bearsville.
"Woodstock is not a small town anymore, so this will really help to meet its new needs," says Collins, who was elected to the board in 2020 and became its president in 2021. "The board did some studies and found that it would be best to take down the present building, and the library has been looking to upgrade its facility for 20 years."

Currently, the new, 12,000-square-foot site is undergoing a significant renovation, which, among other elements, involves making sure that the second floor will satisfy the structural load for the library's book collection and installing reinforcement if needed. The new library's features will also include high-speed internet; a circular driveway for easy visitor pickups and drop-offs; an elevator; conference rooms and meeting areas; an outdoor space with a covered area and picnic tables; and, perhaps most welcomed by local families, an expanded area for children and teens.
Talking Business
Although the havoc wrought by COVID unfortunately saw some Woodstock businesses permanently close, the vast majority have reopened. And in several spots, the sealed shutters have even been swapped for shiny new shingles.

One example: Dominican restaurant Que Lo Que, which just opened in the corner space that was previously occupied by Shindig. Another new business in an older commercial site is CBD outlet Hemp & Humanity, which opened this year in the Tinker Street storefront it shares with Jarita's Florist.
David McIntyre
Melissa Gibson in her shop, Hemp Humanity.
"We hadn't planned to have a brick-and-mortar shop, but the opportunity presented itself during COVID and we ended up opening here in September 2020," says Hemp & Humanity's owner, snowboarding champion Melissa Gibson, who launched her business at farmers' markets in 2016 after finding CBD extremely effective in treating her own medical afflictions.

"The industry has really taken off, and with the shop we're able to share information that destigmatizes misconceptions about hemp," says Gibson, who has degrees in agriculture management and brand management. "Customers can come in and talk with an expert to get advice on specific products for their particular issues. We work with the state to partner with women- and BIPOC-owned suppliers and concentrate on having locally made products. I've loved getting to know the other business owners in town, and I love how all of us support each other."
David McIntyre
Street scenes in the Village of Woodstock.
One of Gibson's business neighbors is Molly Farley, a Minnesota native who's lived in the area since 1985 and opened Rock City Vintage in 2012. The boutique sells curated vintage clothing, much of its inventory handpicked and refurbished as needed by its skilled-seamstress owner. "I like the idea of recycling and reusing clothing, fixing things—fast fashion isn't good for the planet, anyway," says Farley, who says her selection is especially popular with visiting Brooklynites. "They really get what I do. I'm grateful for the influx of new people moving to the area. Most of the new people I meet are interested in fitting in here and being part of the 'Woodstock dream,' whatever that means to them."