Long before the maker movement, Neil and Scott Rubinstein, Woodstock-based brothers and woodworkers, set out to create a Hudson Valley arts festival—an event that would showcase handmade products from across the country. In the early '80s, the Rubinsteins formed Quail Hollow Events, an event promotion business centered on the arts that is now rounding out its fourth decade.
Although the initial plan was to hold the festival in Woodstock—a town synonymous with arts and creativity—the town board wouldn't allow it, forcing the Rubinstein brothers to look elsewhere. After seeing the beautiful vistas of the Shawangunk Ridge at the Ulster County Fairgrounds in New Paltz, they immediately felt this was the perfect spot. Thus the Woodstock-New Paltz Art & Crafts Fair found its permanent home and over the years, became a beloved staple of the Hudson Valley, returning every year on Memorial and Labor Day weekends.
Taking tickets in the '80s.
Quail Hollow Events, now in its 38th year, continues to celebrate the culture of craft—business is viewed as a means of supporting the creative lifestyle. Many Quail Hollow vendors spend the year traveling to and participating in dozens of juried shows throughout the country, resurrecting a form of livelihood based on artistic expression. These makers aren't bohemian vagabonds drifting from place to place, they are skilled crafters who are as equally business savvy as they are creative. "Many of our exhibitors demonstrate their artistic processes during the festival, allowing visitors the chance to connect with the artists while gleaning a real understanding of their virtuosity and dedication to craft," said Ola Rubinstein, director of Quail Hollow Events.
At this year's Memorial Day weekend festival, a wide variety of media will be presented, from jewelry, pottery, fiber art, metal, glassware, fine art, and woodworking to small-batch healthcare products like soaps, serums, oils, and elixirs. There will also be edible crafts in the form of cookies, drink mixes, maple syrup, honey, and chocolate. The vendors are curated to ensure a selection of purely handmade goods—this is not a festival for mass-produced items or imported products. A selection of craft beer, wine, and spirits will also be available for purchase at the festival.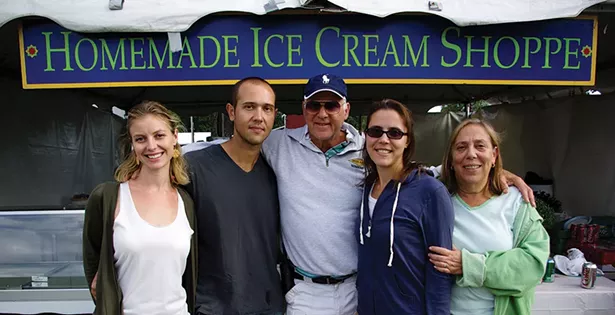 The Rubinstein family at the fair.
"I'm thrilled that we can play a real role in revitalizing the culture of handmade in our country," says Ola Rubinstein. "My husband, Tate Rubinstein, and I love that we are exposing our kids to the magic of creativity and the value of human interaction." A variety of children's acts have been lined up, including a performance by master storyteller Jonathan Kruk, who is known throughout the Hudson Valley for regaling children and local history buffs with lively tales of Pirates on the Hudson. Parents can browse festival offerings while their children enjoy the kids' tent, brimming with creative materials and projects. Local bands are also scheduled to perform live throughout the weekend.
Cosponsored by longtime arts supporter Ulster County Tourism, the Woodstock-New Paltz Art & Crafts Fair will take place at the Ulster County Fairgrounds in New Paltz on Memorial Day weekend, May 25 and 26, 10am-5:30pm, and May 27, 10am-4pm. Tickets are $10 for adults, $9 for seniors, and children 12 and under enter for free. Veterans also enter free on Monday. Discount tickets, coupons and a weekend pass are available online.
Later this year, in addition to their annual Labor Day weekend festival, Quail Hollow Events will be hosting the first-ever Oktoberfest Handcrafted at Rhinebeck: A Family Harvest Celebration, to be held at the Dutchess County Fairgrounds in Rhinebeck on October 5 and 6.