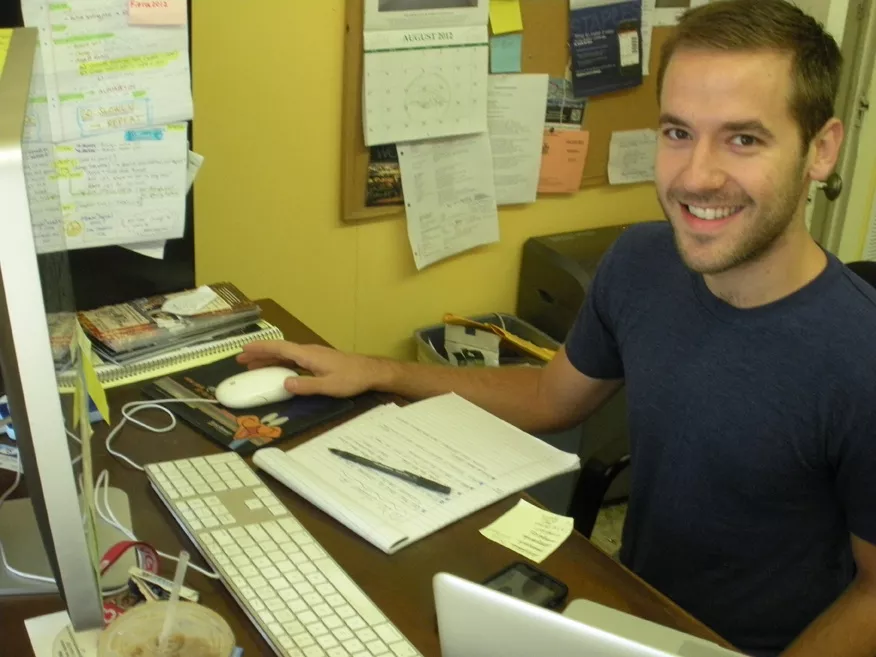 It's a circular argument. Due to small pockets, The Woodstock Film Festival counts on volunteers. Their role? To harness the chaos that arises from operating on a shoestring budget. The urgent need for no-cost people-power gave birth to the WFF intern program. College kids with hopes of a career in the film industry get a healthy—or bitter—taste of the everyday challenges of mounting a non-Sundance festival.
But unpaid labor has its privileges: Volunteers learn event management skills or chaperone an indie director to a panel discussion—while deciding whether to slip him an original script.
Eddie Bennett, 28, was a stage actor since childhood in his native Chicago, but wants to move into film performances. Here, Bennett explains why the WFF intern program will bring him closer to appearing at a movie house near you.
What were your first dreams of a career in cinema?

I have known for a very long time that I wanted to be an actor. When I was in 2nd grade I was cast in a school production of "Annie." I really loved rehearsal, playing games, practicing the scenes. But somewhere along the way I never processed the fact that I would have to memorize my lines, stand up on stage and perform in front of a cafeteria full of parents. A week before we opened, that reality was made clear to me and I promptly dropped out. The next year we did "Wizard of Oz" and the program coordinator was generous enough to let me try again. They cast me as Toto, though, guaranteeing that I wouldn't have a repeat memorization meltdown. Twenty years later I'm still acting, mostly on stage in Chicago, and eyeing the possibility of transitioning to film.
How did you connect with WFF?

I had heard of WFF when I was a student at Bard a few years back but never made it over the bridge to check it out. As any Bard student will verify, that place is a planet unto itself and it can be really difficult to get out and explore whatever might be happening elsewhere in the Hudson Valley—unless it's happening at the Black Swan bar in Tivoli. When I showed up in Woodstock in June a good friend of mine and a very active member of the community here, Laurie Ylvisaker, set up a meeting for me with Meira. Until that moment I was a total film festival virgin.
What about the internship convinced you this was the right place to be?

First, it was probably meeting the executive director, Meira Blaustein. She's got this fierceness about her. She's really smart and very passionate about film, and the festival obviously, and she just possesses this attitude and style that I find really energizing. Also, what they were offering me was less of an internship and more of a hybrid position where I have my hand in a lot of different facets of the Festival, functioning in a variety of positions, and meeting and working with a whole bunch of very cool, interesting people.
What are your intern tasks on a typical day?

There is no typical day, no rote responsibilities and that's exactly what I'm saying is so appealing to me about the work I'm doing here. But one thing that has been very consistent until now is that I have been watching a lot of movies. Which is kind of an ideal job for any actor. Watching lots of great movies, a few not so great ones, and then giving feedback. In the last month I've watched over 50 narrative and documentary films. But I've done a lot of work with our Guest Relations department, too, making sure that we have a handle on all of the accommodations and local resources available to the filmmakers and industry professionals when they arrive in town in October. Oh, and then there was the party I worked (The Spirit of Woodstock) where I got to hang out at this astonishingly gorgeous home in Hyde Park, where you could literally walk off their lawn into the Hudson, and chat with Aidan Quinn and his wife, Elizabeth Bracco, about their lives as young actors starting out in Chicago.
What are the greatest challenges and joys of the internship?


I think I can speak for the whole office when I say that there is an incredible amount of work to be done. Even when you're working hard, and everyone does, there is always the next thing to do. [But] it's just such an enriching experience. First, it's the people that I work with in the office. Everyone is passionate about the films and filmmakers that have been selected this year and really engaged with the work we're doing.
To be an WFF intern, visit Woodstockfilmfestival.com/interns.htm.