As the executive director of the Woodstock Bookfest, Martha Frankel has helped bring bestselling authors like Ruth Reichl, Julie Powell, Jenny Offill, Cheryl Strayed, and Colm Tóibín to Woodstock. Her powers as a celebrity whisperer come from her years as a journalist for magazines including Details and Cosmopolitan, where she profiled the likes of Elizabeth Taylor, Leonardo DiCaprio, and Jennifer Lopez. To Frankel's credit, the ability to interact with big-name authors in intimate spaces all over Woodstock has played a big part in the festival's allure for the past 11 years.
"The festival is smart and fun, in equal measure," says Frankel. "You can learn something, meet your idols and have breakfast next to them, and also laugh `til you can't breathe." This year, the four jam-packed days of panels, intensives, keynotes, and parties includes a Saturday keynote with New Yorker contributors Adam Gopnik and Roz Chast that's sure to attract a crowd. The festival kicks off Thursday night with the return of the loud, proud Story Slam, held this year at the Woodstock Jewish Congregation. Stories will incorporate the phrase, "I shouldn't have, but I. . ."
Day-long and half-day writing workshops make up the majority of Friday's schedule. Workshops include "So You Want to Get Published" with New York City literary agent Lynn Johnston and "The Healing Obituary, a Writing Seminar" with festival editorial director Kitty Sheehan. Held at the Bearsville Theater, Friday evening's keynote will be a conversation on spirituality between Elaine Pagels, author of Why Religion?, and Elizabeth Lesser, best-selling author of Broken Open and Marrow, and cofounder of the Omega Institute in Rhinebeck.
Saturday will see a full day of author panels, including returning festival favorite "On the Beat," a music-writing panel that will include Holly George-Warren, author of Janis: Her Life and Music, and Nelson George, a writer and filmmaker whose bestselling books include The Death of Rhythm & Blues and Hip Hop America.
Perhaps closest to Frankel's heart is the Saturday panel "Power Over Powerlessness: Authors on Recovery," which will be free and open to the public. "Having a panel on addiction doesn't do any good if the people who need to hear it can't afford it," says Frankel, who chronicled her own experiences with gambling addiction in her 2008 memoir Hats & Eyeglasses. After Frankel reached out to the local community, Kingston-based RYAN (Raising Your Awareness about Narcotics) and individual sponsors raised enough money in a single day to cover the cost of the event.
Saturday's keynote, also at the Bearsville Theater, will feature two prominent New Yorker contributors, writer Adam Gopnik and cartoonist Roz Chast. After Sheehan read Gopnik's profile of Chast, his longtime friend, in a December 2019 issue of the New Yorker, she urged Frankel to ask them to come speak together. "They were just so on the same page. I'm still completely shocked and thrilled that they said yes," Frankel says.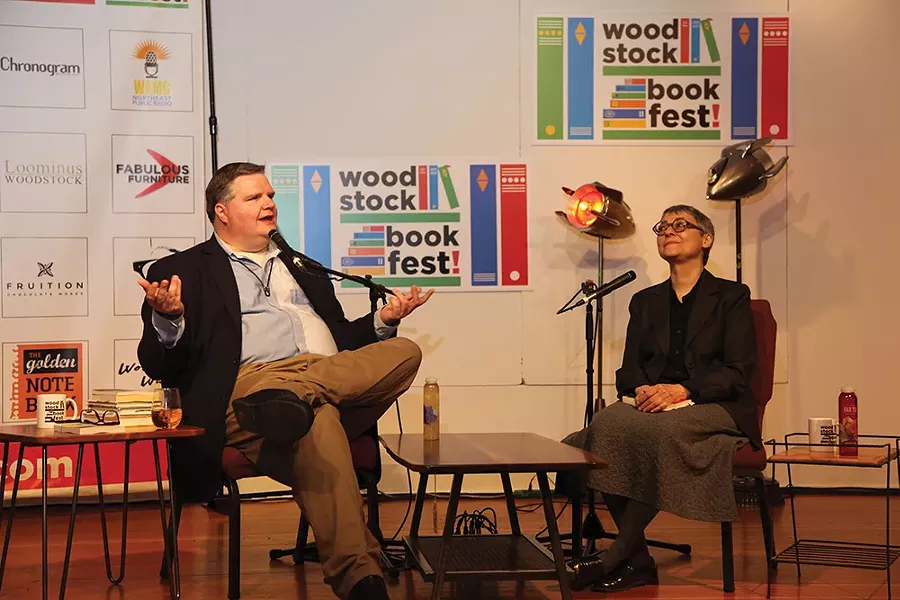 Sunday morning's panel will tackle the topic of gun violence in the US, head-on. Amye Archer and Loren Kleinman, coeditors of If I Don't Make It I Love You: Survivors in the Aftermath of School Shootings, will be in conversation with three of the book's contributors, survivors of the mass shootings at Sandy Hook and Simon's Rock College. Frankel is giving away 120 tickets to the event to students, parents, and teachers at Onteora, Kingston, and Saugerties high schools. Donations can be made at woodstockbookfest.com/be-an-angel.
Closing out the weekend, Frankel will moderate her signature panel, "Memoir-A-Go-Go," which includes Mitchell S. Jackson, author of Survival Math: Notes on an All-American Family, a powerful exploration of race and class in the US that was named one of the best books of 2019 by NPR.
Tickets for individual events and workshops can be purchased at the festival's website. A full festival pass ($250) includes access to all programming except the full-day and half-day workshops. If you're looking to sharpen your writing skills, opt for the Whole Shebang ($450), a full festival pass plus a full-day writing workshop of your choice.