On a Monday afternoon, there's a few middle-aged men hunched over half-empty pints at the Dutch Ale House in Saugerties. They're watching "American Choppers" on mute and talking about the panoramic mural of an old pub scene painted above the shelves of booze. A few locals enter just to shout a greeting to the buddies they knew would be there, but decide to order a round when "Hotel California" spills from speakers placed somewhere overhead. (They'll order the house-brewed pale ale if they know what's good for them.)
This scene of casual camaraderie is one you'll find around the village; it just takes different forms depending on the shop or café. Saugerties is set up like a row of shoebox dioramas. When you look up, you'll see the same sturdy buildings, slightly weathered from years of grit, but nearly each one houses a modern, trendy, or at least decorative storefront window at its base that peeks into an atmosphere completely different from the next.
Across the street from the Ale House you'll find W Couture, for instance, where the mood is vibrantly feminine. Although the boutique feels luxurious—note the shimmering chandelier and elegant décor—owner Wendy Coffey's effervescent personality is as approachable as her selection of clothes and accessories. "For a long time I wanted to open a shop like this that would appeal to all kinds of women—different ages, different styles—and be affordable," she says. "We sell sizes 0-18, outfits for all occasions, and items to fit any budget." Find vintage-distressed cowboy boots by Old Gringo ("The best handmade-in-America boots you can find," she says) next to budget-friendly blouses, or sleek Michael Kors purses alongside sparkly costume jewelry. "People often tell me they feel like they stepped into a Manhattan boutique," she says, "but with much better prices. Plus, I have a background as a stylist and offer those services. Once a client is in the dressing room and they see what I can do, they get pretty darn excited, and they tend to keep coming back." As if to prove her point, before she finishes this statement, she's been interrupted three times by acquaintances coming in to say "Hello" or to check out the new Coach purses, and each person is greeted by name with a warm embrace and excited smile. Her customers are more like guests, and other shop owners are companions, not competitors.
In the Nest
While W Couture is compared to boutiques in the Big Apple, customers at Lighthouse—a housewares and entertaining gift shop on Partition Street—say the store seems to be right out of Cape Cod. "We wanted to open a shop to sell home and entertaining essentials that are both lovely and affordable, in an inviting atmosphere," says Kathleen Honzik, who co-owns the store with friend-since-fifth-grade Shari Weingarten. "We've always loved the Saugerties vibe, and because the Saugerties Lighthouse is pretty iconic we used it as the theme of our shop—bright and full of light."
The store offers a large selection of kitchen wares, from French-inspired glassware and table linens to colorful knives and gadgets, displayed on delicate shelves or in glass jars. There's also a selection of soaps, baby items, and gourmet products, including local cheese, teas, and honey. Between the background music, the scents from the soaps, and the owners' gentle, hostess demeanors—they even offer you coffee or cocoa as you walk in—you immediately feel the graceful presence upon entering. It's one of those places where people shopping in pairs coo over how cute an item is or how perfect gift it would be for so-and-so, but they do so in hushed voices, so as to not disturb the ambiance.
But if "the feminine touch" isn't a requirement in décor shopping, there are no shortage of other options to outfit your home. There is also the eclectic Rock Star Rodeo, offering everything from mounted deer heads to quirky figurines, plus a small selection of vintage clothes and locally made jewelry. Find sustainably produced, fair trade, and recycled housewares at Green, also on Partition Street. This shop offers three floors of products—antiques in the basement, midcentury furniture on the top floor, and everything in-between, well, in between. "Our bread and butter is the midcentury furniture," says co-owner Charlie Walker, "and that goes all the way up to the funky 1970s." The shop appears to be half estate sale, half mod boutique, and its selection is always growing.
While "gently used" seems to be a running theme between many shops, Dry Goods—a stationary, art, office supply, and gift shop—offers trendier items. "I can't believe how many mustache posters I've sold," says owner Karyn Pavic, motioning to the framed Field Guide to Mustaches on the wall. "A friend got it for me as a gift, and I thought it was great, so I started selling them. It's been a surprisingly big seller." Geek-chic and off-beat gifts seem to be the popular choices here, as the next big seller is stationary by Pantone, the trendsetting color experts that artists and designers swear by. The shop carries tables of quirky books, unique office supplies, colorful notecard sets, and a small selection of fun barware, plus wrapping paper and a wall of greeting cards for all occasions. A singular find worth mentioning: pens with casings crafted from used Jack Daniels whisky barrels, made locally by Trees2Pens. But besides offering a unique array of goods, Pavic, who also owns the Ale House with her husband, had set intentions for opening the shop. "For one thing, it drove me crazy that I'd have to go out of town to buy a decent birthday card or wrapping paper," she laughed. "But I also do a lot of graphic design work—business cards, invitations, logos—and I wanted to be able to offer it from a storefront. I've been familiar with the community for years through the Ale House, so I knew this would be a great location. I love Saugerties—we're like a big, laid-back family."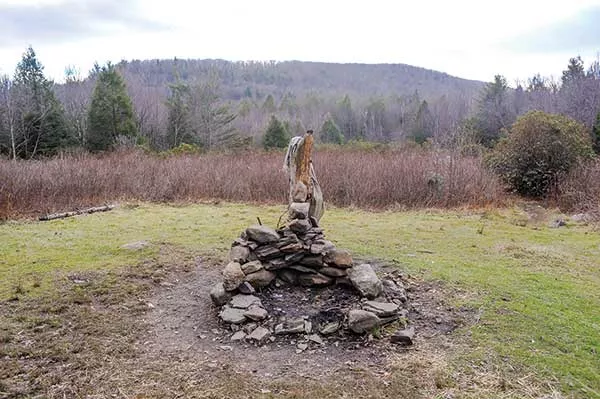 Magic Meadow in Woodstock.
Knit and Be Happy
At The Perfect Blend, a yarn and tea shop, it's no surprise to find a few regular customers showing off their latest knitted or crocheted accomplishments while sipping a sample of tea. The small space offers a spectrum of yarns in varying lengths and textures, plus a wall of packaged Tea Forté teas. Afterhours, classes are offered in knitting, spinning, and felting. The typical scene is serene; usually you'll find a few customers softly talking about one of the many town events being planned. Not surprisingly, this isn't the only place in Saugerties designed for craft enthusiasts. A short drive out of the village, down Rte. 212 toward Woodstock, you'll find FiberFlame, where discourse is much livelier and activities are more diverse. FiberFlame is an open studio where you can walk in, choose a project—from painting to pottery to jewelry—and let the creative juices flow. This mixed-media workshop—located in what looks like a jaunty warehouse—was started by a mother-daughter duo and has quickly gained popularity with artists in need of a space to hone their crafts, and as a safe place for beginners to try a hobby they've always been curious about. The studio also has a busy schedule of classes teaching the art of various media, including collage, jewelry making, clay work, needle felting, and others.
But if you're less interested in making crafts and prefer to admire the work of others, the world-famous arts colony is just under 10 minutes away. While Saugerties maintains its historic charm with decorative architecture and nods to its heritage —thriving steamboat stop and industrial factory center—Woodstock's village is more of a roving landscape, with shops tucked around bends and into hideaway corners. The town has evolved over the decades into a slightly tamer version of its youth (residents can be divided into two categories: those who remember The Joyous Lake and those who missed all the fun), but through its various incarnations there manages to remain an undercurrent of appreciation for local artisans. Timbuktu, an eclectic homewares shop that offers gifts from around the world, still carries various works by Woodstock-based artists and companies. "We sell worldly goods, fair trade items, and recycled art from all over, but I like to also support artists here," says owner Jaime Surgil, who opened the shop 16 years ago. "Actually, it goes beyond art. We carry paintings and handmade items—I make almost all the jewelry here—but we even carry a line of natural makeup that was originally made by Woodstock residents. It's now sold in major markets, but the creators are still connected to Woodstock. That's important to me."
While the connection to people is pertinent to the village's culture, it's equally as important to connect with the land. The colorful shops and top-notch culinary options do dress her up, but Woodstock is a natural beauty—strip away the tie-dye and expensive lattes and she's still gorgeous, with thick pines, stony creeks, and myriad wildlife. It's what brought Surgil here ("I wanted to raise my son in the country," she says) and it's recognized by many others. Nabile Taslimant, owner of the Woodstock General Store, fell in love with the Catskills and moved upstate from Little Italy. His store, which opened about a year and a half ago, offers stylish and durable outdoor gear, clothing, and accessories for men and women. "I know a lot of artists and other people who come up here and just want to be closer to nature," he says. "So we tried to create a store that allows them to do that. I have a background in the development side of fashion and thought I could use that experience to offer simple but good-quality clothes for outdoorsy people." Taslimant admits that he didn't know much about the outdoors when he began the shop, but his welcoming personality allows customers to open up to him, and they end up helping each other. "I've learned so much since opening the shop," he says. "And we're having fun educating people as we educate ourselves. We're building a great community here."
Resources
Dr. Rhoney Stanley
Esotec
H. Houst & Son
Mirabai of Woodstock
Moose Crossing
Sawyer Savings Bank
Woodstock Artists Association and Museum