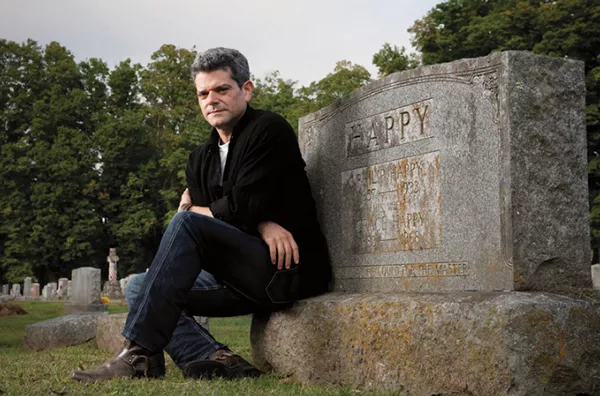 Jennifer May
Writer Shalom Auslander in the Woodstock Artists Cemetery.
The Village Green is much more than just a pleasant spot. Summertime Saturdays feature free concerts with great local acts. Sundays, there are ongoing antiwar demonstrations and drum circles.
A scene in Bruce Beresford's Peace, Love, and Misunderstanding, starring Jane Fonda, features a re-creation of one of those demonstrations and was filmed on the Green with local extras. But if you want to watch a movie that's genuine Woodstock, check out First Name: Jogger Last Name: John, a short documentary that tells the story of one of the town's formerly long-term homeless people.
Speaking of homelessness: One of the immediate aftereffects of the concert that wasn't here was an influx of wandering youth with no particular plan except to "get to Woodstock." Rather than see them become jail fodder, a few people who weren't much older started a crisis center out of their living rooms to make sure folks were fed and sheltered. That seed grew to become Family of Woodstock, a unique agency through which hundreds of people help thousands more with "any problem under the sun."
Woodstock's leaders prioritize sustainability. There's a photovoltaic solar system on the highway garage, a Green Guide to righteous living on the town website, a conservation easement on the Comeau property where the town hall sits. The town has also resolved not to accept paramilitary equipment for the police force.
Woodstock artists have their own cemetery, off Rock City Road near the Colony Café, with famous names on amazing headstones. Luminaries include painters Milton Avery and Philip Guston, as well as bluegrass great John Herald.
No, Woodstock didn't host that festival. But these days you can attend the acclaimed Woodstock Film Festival, the Woodstock Writers Festival ("innovative, fresh, poetic, electric, and inspiring," says a participant), the Woodstock Comedy Festival, the Woodstock Farm Festival (every week, all summer long) and the Invitational Luthiers Showcase.
Sleek bohemian homage to both the festival and the town is paid at the recently opened Hotel Dylan, with musician-themed rooms, designer décor by Cortney and Robert Novogratz, and a gastropub coming soon. Guests have access to a full-service gym across the street.
The legendary Levon Helm has been in rock 'n' roll heaven since 2012, but his musical legacy lives on at Levon Helm Studios. There at the Barn, great talent—including Helm's daughter Amy—still comes together to perform sizzling roots rock, often for good causes. Meanwhile, the Paul Green Rock Academy trains and showcases the next generation, who regularly stun their elders with their command of the classics.
Woodstock has been home to so many legends that instead of a subheading, Wikipedia has an entire page devoted to "List of people from Woodstock, NY." A sampler: David Bowie, Johnny Cash, Gail Godwin, Hart Crane, Uma Thurman, and Piper Laurie.
Up Meads Mountain Road you'll find an only-in-Woodstock convergence of the spirit. There's the charming, tiny, historic Church of the Holy Transfiguration of Christ on the Mount. There is the Karma Triyana Dharmachakra Buddhist monastery, offering meditation classes and guided tours on weekends. A bit past that is Magic Meadow, where hippies gather at the full moon to beat the drum.