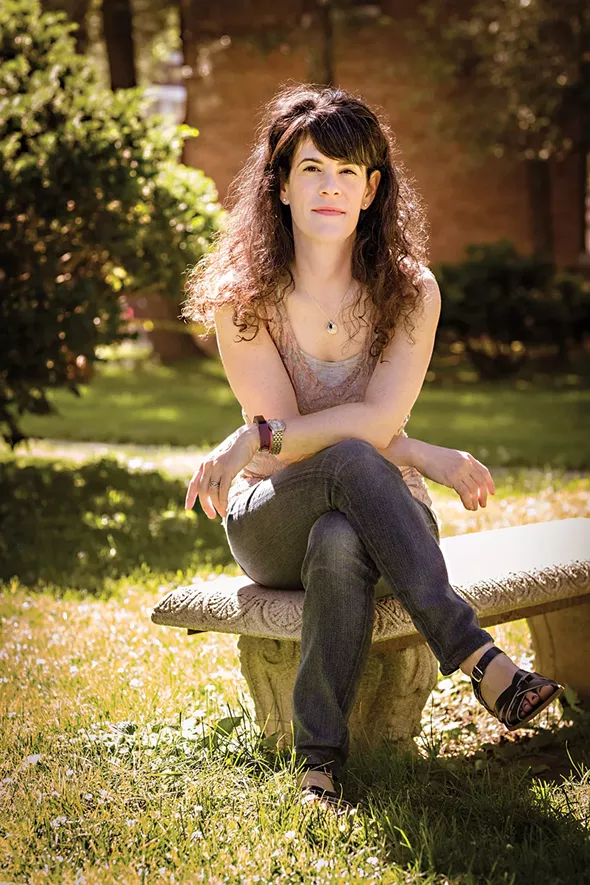 Franco Vogt
Emily Barton
Emily Barton can't resist a dare.
The award-winning author of Brookland (Farrar, Straus & Giroux, 2006) and The Testament of Yves Gundron (Farrar, Straus & Giroux, 2000) was writing a "straightforward Holocaust novel" about a Jewish typesetter in Berlin when she slipped on the ice at Bard College, shattering her wrist. Unable to use a computer throughout winter break, she was bereft. Husband Thomas Israel Hopkins, also a writer and academic, threw down the dare: Write a 50,000-word potboiler by hand in a month.
The result? "It's a lot longer than 50,000 words, it's not a potboiler, and it took me six years," Barton says of her stunning new novel The Book of Esther (Tim Duggan Books, 2016). Its opening paragraphs may cause cognitive whiplash. Dawn breaks over a walled city; the scent of baking flatbread and lentils wafts in. Place names appear Middle Eastern, if not quite familiar (the Khazar Sea? With Ottoman and Persian merchant ships and, um, aerocraft carriers?) Young Esther bat Josephus recites morning prayers, then pulls on trousers and fur-lined boots, heading for the mechanical stable.
The what? You know, where they keep the mechanical horses.
In seconds, we've vaulted from a traditional culture into a world that could only have come from the nimble brain of Barton, a 2003 Bard Fiction Prize winner. A glorious mash-up of alternate history, spiritual inquiry, and galloping adventure story, spiced with fantastic technology and a dash of Mulan, The Book of Esther is breathtaking in its ambition and scope.
In Barton's imagination, the medieval Jewish kingdom of Khazaria has somehow persisted into the 20th century, changing the course of Eurasian history—though not the sinister rise of the nation now known as Germania. It's Khazars versus Nazis, led by a Semitic Joan of Arc; highborn and fiery Esther is a teenage rebel with a cause. To save her people, she's willing to steal a temperamental mechanical horse from her father, face down werewolves and Uyghur oil thugs, and seek out a fabled Kabbalist village where golems crafted from riverbank clay serve scholars—even to alter her gender if that's what it takes.
Booklist reviewer Donna Seamon praised The Book of Esther as "a wild pageant of tumult and valor, magic and inventiveness, which, for all its humor, sensuality, steampunk brio, and full-tilt military action, is profoundly inquisitive." The New York Times Book Review's Dara Horn declared it "as addicting as a Jewish 'Game of Thrones.'"
It may also remind readers of works by Michael Chabon, Philip Roth, Vladimir Nabokov, Salman Rushdie, and others who've cross-bred literary fiction with alternate history and magical realism. But the point of view is distinctively feminist. "I feel an obligation as a writer who is a woman to write female characters as complex as all people, male and female, are in the real world," Barton says. "There's a real tendency in fiction to collapse women's roles into preconceived notions, even by women writers. It's internalized misogyny."
Petite and direct, with unruly dark hair twisted into pigtails, the author wears Elvis Costello-framed glasses, a red-and-white-striped shirt, jeans, and gray sneakers. The effect is perhaps more Where's Waldo than eminent novelist and academic who's taught at Yale, Princeton, Columbia, Smith, and NYU, as well as Bard. But Barton is all these things, as well as a longtime New York Times reviewer, former yoga instructor, beginning ballet student, and—perhaps most astonishing for someone with a new novel out—mother of two young sons.
Barton says, "When I had children, people told me my imaginative mind would change, that you learn to pick up 15 minutes wherever you can find them, that you write shorter things. But that wasn't the case. I'm still only interested in ideas that can't fit into my mind at the same time, that have to be novels."
Barton and Hopkins live in uptown Kingston, walking distance from newly expanded Greek restaurant Opa!, where she's ordered a spread straight out of her often mouth-watering novel: pita with hummus, baba ghanoush, taramosalata, stuffed grape leaves, a salad with walnuts and figs.
Scooping up baba ghanoush, she describes Esther's origin story. Early on, she laid down some ground rules: It had to have a girl hero, and there had to be a sidekick. (Esther runs away with Itakh, a foundling who's both a household slave and kid brother of sorts.)
The "mech horses" came into the picture soon after. "It had to be steampunky, to have cool technology, and it couldn't be zeppelins; everyone's sick of zeppelins." Barton's metal steeds have distinctive personalities ("Well, so does your car," she explains). They drink fuel from a bucket—"I thought it would be weird to stick a funnel into the side of a horse"—and mimic such equine behaviors as grazing, head-tossing, and snorting. With the help of a mechanic friend at Brooklyn's Scooter Bodega, Barton modeled them loosely on Vespa scooters.
She wrote the first draft by hand, hiring Woodstock resident Susan Ray—widow of filmmaker Nicholas Ray—to type the manuscript. She was an enthusiastic early reader, as was Hopkins.
Barton did "five or six" drafts, with a yearlong hiatus. Her research was broad and deep. She'd studied the vanished Khazar kingdom during religious instruction classes for her husband's conversion to Judaism, but needed more details. Her acknowledgments include people who helped her with Khazar culture and history, racing pigeons, horses, rabbinical studies, linguistics (in several languages), and Yiddish idioms. It took a village.
But story and character always came first. "Research can take over and become an enterprise unto itself. I do my best to avoid that, to let the research serve the work," says Barton. "I always imagine it first and then see if I'm right." Brookland is set in 18th-century Brooklyn and The Testament of Yves Gudron in an invented quasi-medieval village, so she knew the terrain.
Writing first and fact-checking later can have pitfalls, as Barton discovered when she set a 180-page sequence during a treacherous mountain crossing and later discovered the region is flat, part of the vast Eurasian steppe. She shrugged and retrofitted, as determined as her young heroine.
Strong as she is, Esther is riddled with doubts and conflicting urges. Sometimes she bristles at gender-based slights, itching to crush a delicate tea glass, but she's torn about surrendering her female identity—if that's even possible. "Esther is complex. She has a good heart, her intentions are good, but her actions are not always good. An authentic hero can't be a paragon of virtue. She has to be someone just like us, who rises to the occasion as circumstances demand it," Barton says, adding, "Esther is nothing if not righteous. That's what I want for my children. I want them to be happy, and I want them to be righteous men."
Barton grew up in northern New Jersey. Her father's forebears hailed from Odessa; her mother's were among the few Jews to live in imperial St. Petersburg. "They picked up some German and French people as they went along, wherever they were pogrommed out of," she says. Hopkins can trace his ancestry back to the American Revolution—one of them led the Battle of Bennington—but there are rumors of Jewish conversos and Romanian blood in his gene pool. "Anything's possible," Barton says with a grin. "We're all related. How about Gilda Radner? She's who I most want to be."
Though her upbringing was "relatively secular," Barton found herself "longing for spiritual connection. I practiced yoga and meditation, but those are not practices people I'm related to have been doing for centuries." Members of the Woodstock Jewish Congregation, she and Hopkins keep kosher at home. "Kosher-ish," she amends. "No pork or shellfish. We don't mix milk and meat, but we wash the same dishes in the dishwasher. I don't invite kosher friends over to eat."
They moved to Kingston in 2007, relocating to Northampton, Massachusetts, for two years while Barton taught at Smith. "Kingston changed a lot in the two years we were gone," she observes. "It's so much livelier now—more art, more restaurants, so many people moving up from the city. There's a lot of ambivalence about that, but as someone who came up from the city herself, I welcome the diversity and different life choices that brings."
Diversity animates The Book of Esther. Along with the hulking, unkillable golems, Esther's band-of-outsiders army includes Uyghur warlords, heretics, refugees, badass women, and a pioneering trans man. Despite its fantastic elements, it's a novel of ideas, with much philosophical inquiry about various Jewish traditions, what women and slaves can and can't do. "Also non-Jews, things we make out of clay, mechanical things," Barton says. "What rights does a pigeon have? I wanted to ask that on every level, not just within Judaism. What does it mean to be a person, a Jewish person, a Jewish woman? There's a slow questioning that unfolds over many chapters, but also an adventure plot that barrels forward at 110 miles per hour. That friction, that tension, is what interests me."
The only time the genial, hyperarticulate Barton seems briefly flustered is when she's asked what she's not good at (housework ranks high, as does long-distance running). "I could never write again and my days would still be full—teaching, raising kids. I'd get a job; I'd open a store. But I'm going to write, so that's off the table."
Spoken like a boss.