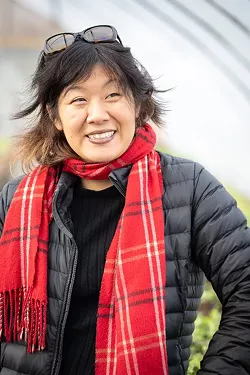 Amy Wu is a resident of the Village of Rhinebeck and an award-winning journalist and filmmaker. She spent over two decades reporting for media including the USA Today Network, the New York Times and the San Francisco Chronicle. Wu like many people are now self-quarantining and adjusting to a life of working and socializing from home while limiting going out to essentials. The idea for the portrait series came from a desire to make a difference, and uplift the voices of ordinary people during these challenging times. She takes a photo and records the story of one person a day here in Rhinebeck.

Wu is producing the portrait series in collaboration with Rhinebeck's Starr Library. Every Monday and Thursday the library posts a new profile for the Witness to History Program on their Facebook page. As a history major Wu hopes that the visuals and voices can be preserved for the next generation as one day the pandemic will be a part of history.
Morgan Wells
Amy Wu
Morgan Wells, Rhinebeck resident, a junior at Rhinebeck High School and works at Samuel's Sweets
"I am a cashier here. Probably the biggest impact for me has that I've not been able to see family and friends because I am a fairly sociable person. My friends and I have done a lot of group Facetime calls, a lot of group chats and things like that; it doesn't really help that much with the loneliness but it does give you something. We create a group chat and then you create a FaceTime call and each individual person has their own window so everyone is on the screen. We've had some pretty fun times. There's a lot of really weird clothing stacking such as people just pile hats on their head. Someone just walked into the camera and they had 18 hats on their head. I also miss working here [Samuel's Sweets] because I do see a lot of regulars, and it is nice to catch up with them once in a while. I haven't really connected with them as much. As of now we just chat with the regulars a little bit when they call for their orders, but it's not really the same because when people came in here before we had their drink ready for them already, we know what they want, we'd have a nice conversation and sometimes they'd try new things that we recommended. I really miss my school, I really do. I am in high school there's a lot of people I don't necessarily see outside of school and they are mostly in school classes, and I miss a lot of classes. A lot of them were really fun, like chorus and my art classes and doing group projects. Everything is online now. I feel like it would be a little better if we did some class Zoom calls, but my school is not participating in that as much. We had one call but it wasn't really academic or mandatory. I started picking up hobbies that I completely forgot about like knitting. I am going to knit a sweater. I've been focusing on music and I started painting. I painted these pants the other day. For chorus, we had vocal warmups, but it's not the same. For participation, we can't really hear the weird tones and weird harmonies and the displacement of the notes. Right now, I just did all of my projects and we just did a project in our forensics class where we looked up a poison and had to do a PowerPoint based on the poison. It was a solo or optional group project, I did it solo just for the sake of time. I did it fairly late and I did do the entire project in about two hours or so. I haven't gotten the grade back so I don't actually know how I actually did." (April 24)
Scott Eckert

Amy Wu
Scott Eckert, manager of "Changes" a men's clothing store. Scott is now helping out the owners at Gigi Trattoria
"At this point, we have half a store full of spring and summer merchandise for this season, we've canceled a ton of orders, we also have a store in Woodstock that is sitting empty. It is heartbreaking—I come to Changes every day just to check messages and get the mail so I am helping out here (Gigi). We are like a family. We have joined together and it's really nice. There's a lot of camaraderie like the people who owned Hundred Mile Home just moved upstairs they are really lovely and Terr those guys are great. Everyone is just doing what they can. We are not killing it here but we are keeping it going and keeping the name out there…It's a mental relief for me to do something because after two weeks I was home and going insane and bouncing off the walls, I totally need a routine and the irony is that I run a store named Changes is beyond is way beyond (laughs). Earlier today I had a lovely woman who is all by herself and she just wanted to treat herself to Easter dinner. She had spoken with all her family and Skyped, and she said it's nice to talk to everybody, but you know what nobody is here. When I brought her order out, I brought her some tulips and she said `you made my day.' Just the fact that I was able to do that I felt really great. I had another woman who was so happy and chipper. Right before this pandemic started, she reunited with someone she had dated 30 years ago and it's full-on honeymoon mode for her. I thought `that's fantastic I am so happy for you.' It goes in both directions some people it really brings out the best and put a 50% tip on there and I'm like `stop,' while others tell me to put the orders on their car trunk and step back and it's like `ok.' People are all over the spectrum with it…The three of us at Gigi have worked so closely in the last couple of weeks that we are comfortable with one another. I Being able to assist with my friends here is keeping me going completely and totally." (April 12)
Jessica Condes
Amy Wu
Jessica Condes is a resident of Rhinebeck and a trained physical therapist. She and her 12-year-old son recently moved to Rhinebeck from Buffalo, NY. I interviewed Jessica at Drayton Grant Park at Burger Hill during an early evening where they were enjoying the outdoors.
"Not to be crass but we are absolutely out of toilet paper as of today and no one is carrying any. I live in a building where everyone is caring for one another like one big family. I know that we are supposed to be social distancing, but we all live in a giant mansion where there are different apartment units, so we are all sharing food and sharing toilet paper without touching each other of course. A lot of the positives have happened are my son and I live here by ourselves, we have no family here, we just moved here. We really have gotten a lot more outside. Now that this is happening, we are spending a lot more time outside, we are meeting new people even though we are keeping out distance. We are spending a lot more time playing boardgames and doing things that aren't Xbox and things like that. We've been doing a lot of teleconferencing with family; it is kind of interesting because our family is all spread out, we actually see each other more on Zoom and Skype than we see each other in person which is pretty neat. We've been doing a lot more reading, just kind of going back to the basics and learning how to use things sparingly, so a couple of sheets of toilet paper, a couple of paper towels here and there. We are really learning to manage things better…I think people supporting each other mentally even from faraway places. I mean I know a lot of people that are suffering, but I think a lot of good has come out of people just reaching out to reach other and asking what do you need, do you need this, how can I get this to you? There's a lady I know who is a cancer survivor and she can't work now, so we are all calling and getting some groceries to her. Every day she wakes up and goes to her door and there's a rotisserie chicken or canned goods or something like that. I especially want to reach out to people who don't have family or friends, and I wanted to start some kind of network or get some sort of dialogue here for people who don't have anybody. For people who do have somebody I recommend don't text make a phone call, let people hear your voice, ask people how they are feeling, ask them if there is anything that they need. I like to tell people don't talk about the Coronavirus so much, talk about your childhood, talk about what your interests are, and talk about the future. Call people and let them hear your voice, humans were not meant to be secluded and isolated." (April 4)
Christian Ruger
"I have self-quarantined myself from my family for their health benefits and my health benefits. Really my work hasn't changed much in that I work out in the garden outside, so I can continue although I hear some of those laws will be changing very soon. I heard that contractors can only do structural work so I don't know if my work will be essential since I do green scaping and landscaping. Every day I wake up early, I get my day started with some chores and some work and I come into Bread Alone and have a cup of coffee at around 7:30 and I enjoy that 15 minutes — that's kind of like my ritual and it's my time to see my people and come into town and say hello and good morning and maybe some business texting or calls. My life in particular at this time of year is very busy and I work all the time I wake up. I go to work and I come home and go to sleep so my life hasn't changed per se that much, but the lives of my children have. They've quarantined in their home and I've stayed away from them. My daughter moved up from the city and she has an apartment in the house as well…I think this is going to be a positive thing. To be honest the wheels were about to come off of the bus with me anyway and I'd been going nonstop. I'd been taking my son to soccer about an hour and a half away for training every weekend in southern Jersey or Connecticut or all over in Long Island so I think this is going to teach people a lot about life. I think life is going to change as we know it and simplicity is going to come back, and by all means, I hope that we are humble because we should be if we're not. This just shows that life can change in a moment, and it shows that the most important things are right in front of us, our home our family our friends. I think by all means this pandemic will make us better people."
(April 1)