For nearly 20 years, Clarkson University's Beacon Institute for Rivers and Estuaries has been developing sustainable solutions to ensure healthy ecosystems throughout the Hudson Valley. With Clarkson and SUNY College of Environmental Science and Forestry (ESF) partnering earlier this year to launch the new Center of Excellence (CoE) in Healthy Water Solutions, the Beacon Institute stands ready to provide support for this important work that will focus on improving New York State's water assets.
Dr. Robyn Hannigan, Clarkson University's Provost and Co-Director of CoE
"We're much stronger together than we are separately," says Dr. Robyn Hannigan, Clarkson's provost and co-director of the CoE. "We believe it's much more impactful when the engineer who is developing a new water treatment technology is right next to the aquatic biologist who is working on the animals who live in the river."

Exterior drawing of the new Clarkson facility on Denning's Point with the solar array parking structure
Dedicated to minimally disrupting the natural environments they work in, the experts and students of the CoE will work with state government agencies and local communities to
identify and address emerging and historic contaminants, as well as help fix aging water management systems. They're also putting together a series of workshops around the state, designed to bring experts and local communities together.

"The community is always on the front line of any water issue they're facing," Dr. Hannigan explains. "And local communities know way more about their water systems than we do. They know how their systems respond to storms; they know how their systems respond to drought. We want to gain their expertise, and we also want to build a long-term partnership with them."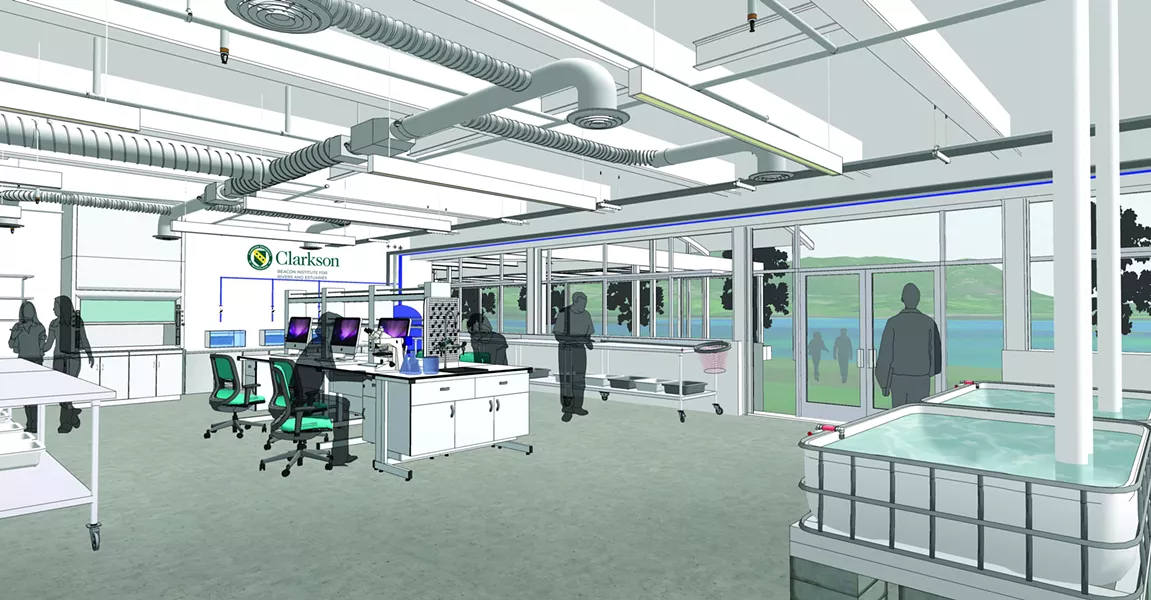 Future water research labs at the Beacon Institute
To increase current capabilities and efforts, Clarkson is raising funds to expand the research and education facilities at the Beacon Institute for Rivers and Estuaries on Denning's Point. The university plans to create a world-class learning environment for students and the community as well as build a state-of-the-art laboratory, equipped to help experts research emerging contaminants, invasive species, best practices for resilience planning, and more.


Dr. Hannigan adds, "At Denning's Point, we're planning to have an experimental lab outside, which will allow us to see how our technology solutions work when we deploy them. That's really exciting because right now, there is no such place in New York State."

To learn more, or to contribute to the organization's current capital-raising initiative, please visit the Beacon Institute website.