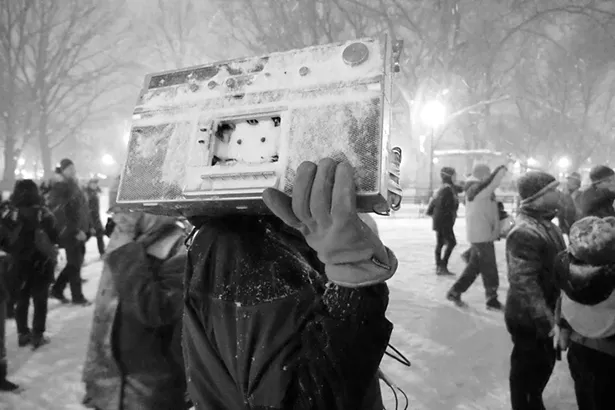 Unsilent Night at ArtOmi.
`Twas the holiday season, when all through the Hudson Valley, events were stirring, both annual and new. Whether you need a place to take the kids for a day out, a place to shop for some gifts, or a date night, there's definitely something for you to fill your time with this season. Parades, fireworks, festivals, Santa's village, light shows, markets, and train rides—the events this December will not disappoint you. Our guide to holiday events this season across the region should help you plan accordingly.


Made in Kingston
December 5

Kingston's annual holiday craft fair,
Made in Kingston
, returns on December 5 from 3 to 8pm at the historic theater at BSP. In its seventh year, the fair is a showcase of the talents of the creative talents of Kingston. Over 50 vendors will be present, including Kingston Ceramics Studio, Hudson Valley Design Collective, Hudson Valley Silverworks, Toucan Hats, and Marysa Sacerdote Jewelry. There'll also be food vendors, locally made beverages, and music and dance performances.
Kingston Snowflake Festival
December 6

Whether or not snow is falling, Uptown Kingston's
Snowflake Festival
will be in full force on December 6. Wall, North Front, John, and Fair streets will be full of holiday cheer and activities from 6 to 8pm, including performances, art exhibitions, and food. Live entertainers will be doing magic, juggling fire torches, caroling, and sculpting ice as stores open their doors to offer warm treats and drinks to visitors. Mr. and Mrs. Claus headline the night by lighting the tree, and arrive on an antique fire truck with the help of their elves.
Poughkeepsie Celebration of Lights
December 6
A partnership between the Bardavon and the City of Poughkeepsie, the
26th annual Celebration of Lights
will be on December 6 at 6:30pm. Head over to downtown Poughkeepsie to watch the parade—including float replicas designed by Cocoon Theater director Andres San Millan—see the fireworks display, and then head to the Bardavon at 8pm to watch coming-of-age comedy
The Sandlot
.
A Holiday on Huguenot Street
December 6-8
Historic Huguenot Street
celebrates both the rich history of New Paltz and the holiday spirit this month. On Saturday, December 6 and Sunday, December 7, experience, free holiday concerts, a Cookie Walk, and special history tours with costumed actors playing Huguenot Street residents of yore. Saturday, head to the Soup and Stoop for a warm meal, and take pictures with Mr. and Mrs. Claus. Sunday, you can visit the craft fair and museum shop to look for gifts, eat at the Christmas Cafe, take a horse-drawn wagon ride, and pet farm animals.
Winter Walk on Warren Street
December 7

Warren Street in Hudson will transform into a holiday wonderland out of a movie with the
Winter Walk
on December 7, from 5 to 8pm. Storefronts will be decorated, carolers will be singing, street performers will share their talents, Mr. and Mrs. Claus will spread Christmas cheer, and at night, fireworks will light up the sky over the Hudson River.
Sinterklaas in Rhinebeck
December 7

The Dutch roots of Rhinebeck come out in its annual
Sinterklaas holiday celebration
. Starting at 10am on December 7 the town will become the grounds for the Sinterklaas festival, featuring children's workshops, dance, theater, music. The not-to-be missed event is the Children's Starlight Parade, which features animated puppets that are two stories tall.
Unsilent Night
December 21
For the past three years, Hudson has been home to Phil Kline's
Unsilent Night
, a promenade in which the audience becomes the performer, walking a carefully chosen route together while music plays from boomboxes and mobile devices. The
New York Times
describes the event like so: "During the procession, the sense of wonder spreads outward as onlookers are enveloped in a nebula of phosphorescent sound." This year, on December 21 at 5:30pm
Unsilent Night will play out on the grounds of the ArtOmi
sculpture park in Ghent, with a walk among contemporary artworks and architectural pavilions. (A selection of Kline's own boomboxes will be available to borrow on a first-come, first-served basis!)
A Frosty Fest
Weekends through December 22
Although Headless Horseman Hayrides and Haunted Houses is closed for the winter, a land of Christmas delight will appear on weekends through December 22.
A Frosty Fest
is a dedication to everything holiday themed—even treats. Walk through Candy Cane Lane, take a hayride through the lit-up Enchanted Forest, explore the Glistening Gardens and/or Frosty's 3D Magical Adventure, and visit Santa in the Magical Mansion and North Pole.
Polar Express Train Ride
Weekends through December 28

All aboard the train to a journey into one of the most famous holiday children's book and movie: the Polar Express. Weekends through December 28 you can ride the
Polar Express with Catskill Mountain Railroad
from the Westbrook Station in Kingston. Experience the book and movie brought to life while your ticket gets punched, you're bought hot chocolate and cookies with carols, and are given the first gift of Christmas by Santa and his elves.
Holiday Spirit Festival
Weekends through December 28

The
Holiday Spirit Festival of Wappingers Falls
is one of the Hudson Valley's oldest recreations of Santa's village in the North Pole. Calling itself the original, one-of-a-kind family holiday event, the Holiday Spirit Festival is open weekends through December 28. Explore and interact with the many attractions: the Legend of the Frost Fairies, Winter Wonderland, Enchanted Forest of Lights, Holiday Trains, Misfit Toy Hunt, Santa's Chalet, Holiday Stage Show and Meet and Greet, and Peppermint Palace Sweets and Treats.