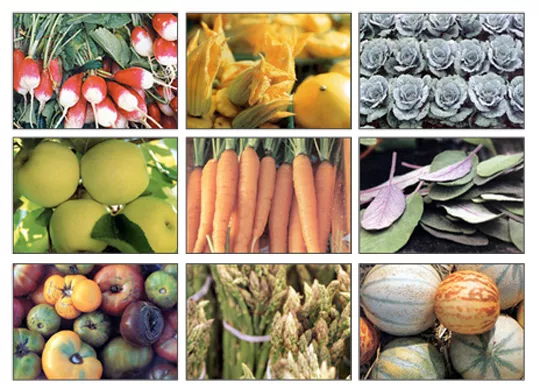 WINTER FARMERS' MARKETS
AMENIA
Amenia Farm Market
First and Third Saturday, 10am-2pm
Amenia Town Hall
Bread, fruit, cheese, produce, more.
BEACON
Beacon Farmers' Market
Sunday, 11am-3pm
Mill Street Loft Art Center on 8 Long Dock Road
Local produce, foods, and crafts.
COLD SPRING
Cold Spring Indoor Farmers Market
Saturdays, 8:30 a.m. to 1:30 p.m.
Philipstown Community Center, Route 9D and Glenclyffe Drive, Garrison
Vegetables, fish, cheese, prepared foods.
HUDSON
Acres Co-op Indoor Market
Saturdays, 10 a.m. to 2 p.m.
702-704 Columbia Street
Cheese, chicken, pesto, pickles, tamales, and more.
KINGSTON
Kingston Indoor Farmers' Market
First and Third Saturday, 10 a.m. to 2p.m.
Old Dutch Church, 272 Wall Street
Vegetables, olive oil, pickles, baked goods, coffee, prepared food, more.
NEW PALTZ
New Paltz Indoor Market
Second Saturday, 10 a.m. to 3 p.m.
New Paltz Community Center, Route 32
Meat, eggs, root crops, microgreens, goat cheese, bakery items, quiches, soups, maple syrup, heirloom seeds and more.
MILLERTON
Millerton Farmers' Market
Select Saturdays: January 28th, February 11th and 25th, March 10th and 24th, and April 14th and 28th
Gilmor Glass, 2 Main Street
twelve local farmers, producers, and bakers offering fine, seasonal items
PINE ISLAND
Pine Island Farmers' Market
Last Saturday, 10 a.m. to 3 p.m.
Rogowski Farm, 327-329 Glenwood Road
Vegetables, cheese, wine, chef demos, live music, and more.
POUGHKEEPSIE
Vassar College Indoor Farmers' Market
Third Saturday, 10 a.m. to 1 p.m.
College Center, Vassar College
Meat, eggs, root crops, bakery items, cheese, pickles, infused olive oils, and more.
RHINEBECK
Rhinebeck Farmers' Market
Rhinebeck Town Hall
Alternate Sundays through April 29m 
10 a.m. to 2 p.m.
Cheese, tamales, fiber, wine, granola, root vegetables, more.
ROSENDALE
Rosendale Farmers Market
First Sunday of the month
, 10 a.m. to 2 p.m.
Rosendale Community Center, Route 32
Fruits, jellies, jams, pies, beef, pork, chicken, vegetables, cookies, cakes, breads, mozzarella, cheeses, maple syrup, wines, flavored butters, and more.
SAUGERTIES
Saugerties Winter Holiday Markets
Sundays: February 13, March 13, April 17, May 8
, 12 p.m. to 4 p.m.
Saugerties Senior Center, 207 Market Street, Saugerties
Brussels sprouts, celeriac, broccoli, onions, garlic, many varieties of potatoes and sweet potatoes, root vegetables, mesclun, and cabbage; apples and pears. And eggs, wine, honey, maple syrup, snacks, jam, preserves, mustard, chocolates, baked goods, breads, granola, cheeses. Dairy including ice cream, milk, yogurt, butter. Food bases for soup, sauce or stew.