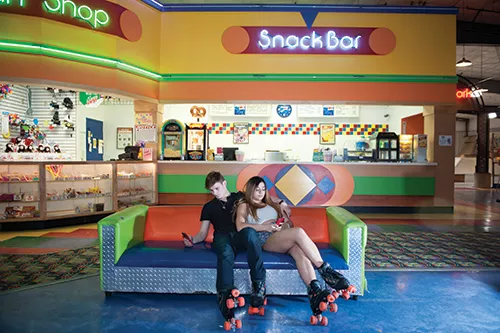 In the 1950s, Barbara Cardone graduated from a small grammar school into a large high school. She had a few dates and a steady boyfriend her sophomore year, but mostly spent time with one good girlfriend. Her granddaughter lives with her now in Chappaqua, and Stephanie is not so different. A sophomore, she's dating Andrei, a senior, and sits with a group of girlfriends at lunch. Stephanie and Andrei are obviously close, gently teasing each other during our interview. They share things Cardone would never have brought up with her high school boyfriend, and they're close with each other's families. Thinking about the rigidity of the '50s, Cardone says, "I think that being a dating teen now is much healthier and open."
But when we talk about teens dating, we often talk about openness gone awry. When Stephanie describes high school parties, they sound a lot like the ones anyone attended—with loud music, drinking, and people sneaking off in pairs. But her classmates might hook up with multiple people in a night. They might get to know their hookup partner afterward through social media. Or not. "Hooking up" is a blanket term that can mean anything from kissing to sex. "I don't know many people my age in serious relationships," says Stephanie. "Some people are together, but it's a casual thing. They're with other people on the side." According to many teens, dating is an outdated ritual.
In a survey of 13-to-17-year-olds conducted by the Pew Research Institute in 2014 and 2015, 64 percent of teens reported they've never been in a romantic relationship. "When you're a young adult, you're figuring out who you are and what your place is in the world," explains Andrei. "People don't want to be held down during that time." One 13-year-old I talked to framed her current decision not to date as a recognition of her developmental stage. "When you're 13, what are you going to do? You're going to break up in a week. What's the point?" Knowing it's a classic that friends fall by the wayside in the wake of a date, she'd rather maintain her friendships. Andrei uses the photo-driven app Instagram to connect with friends he doesn't see as often now that he's always hanging out with Stephanie.
Maybe They Like Me
Andrei's and Stephanie's school schedules are different. So they text briefly during downtime in class. The two Facetime all night while doing homework, the way today's adults might have tethered themselves to the wall with a curly telephone wire. Snapchat is their favorite. It's like digital small talk. "Texting someone you don't know, it's awkward," Andrei explains. "But a photo, they'll just think, 'Maybe this person likes me, but maybe they send it to everyone.'" Andrei is cautious about navigating social media's public forum, and doesn't like to draw too much attention to himself.
Snapchat is designed to minimize the lifelong trail that most digital media leaves. In a Snapchat, users send each other images and video that disappear from view within 24 hours. A Snapchat that's been private messaged to a particular contact will disappear within three to 10 seconds. Users are able to take a screen shot (a capture that saves the image to the user's device), and that can lead to unwelcome territory. A Colorado community was rocked last November when it discovered that hundreds of high school students were engaged in a sexting game involving scorekeeping and a secret app that disguised photo collections.
Nudity as Way of Life
According to Nancy Jo Sales, a journalist who has written extensively on youth culture, sexting and slut pages (a digital aggregate of nude and seminude photos of female students) were found at almost every school she researched for her new book, American Girls: Social Media and the Secret Lives of Teenagers (Knopf, 2016). Sales investigated the stories of girls ages 13 to 19 in almost a dozen states. "What's happening with teens and kids is a window into American culture," says Sales. "Teens' experience of culture is very raw because they're doing everything for the first time. Reading about it is very moving, and it breaks down boundaries and our ability to understand how much of an impact this is having on kids, and also on us." (Sales will be the featured keynote speaker at the Woodstock Writers Festival on April 9.)
Sales found that teenage girls are social media's number one users. "Your daughter is spending nine to 11 hours of her day interacting with tech that was created by frat boys," she says. (Snapchat was created in 2011 by three fraternity brothers at Stanford University.) The trend, according to Sales, is for girls to take selfies, preferably looking sexy, and accept friendship from anyone so they can get more likes on the photos and, thereby, validation. "This seismic shift in how girls spend their time is having a profound effect on the way they think and act," writes Sales, "as well as how they make friends, the way they date, and their introduction to the world of sex."
Living Online
That Pew Research survey found that the digital realm is a huge piece of the teen dating experience. "Online spaces are used infrequently for meeting romantic partners but play a major role in how teens flirt, woo, and communicate with potential and current flames." By friending someone, liking, commenting, or otherwise interacting with that person, half of all teens use social media to express attraction. A third of teens have sent flirtatious messages through social media, and about 10 percent have sent flirty or sexy pictures or video. Or, Sales says, they don't admit to it—the numbers are, after all, self-reported by children. In her research, she's seen how common sexting is. "It used to be, on Saturday night, we'll go have dinner and go to a movie, and then go sit in the car and park or pet," she explains. "Now, it's 7am and I open my eyes, and I pick up my phone, and there's a sext that a boy sent me at 3am. How should I respond? I have to get dressed. I should be thinking about my math test, but this boy wants a picture of my boobs."
Girls told Sales about giving presentations in class while boys watch porn, being approached for sexy photos that boys can masturbate to, and being sent photos of boys' genitals regularly. She says technology is what makes this possible. "Teens have always been interested in sex," Sales tells me. "Nobody's surprised by that. What is different is their access to porn, which is itself new and different, and it's only accelerated by phone use." It's not just that kids aren't as willing to commit; it's that the influence of social media leads to an overall decrease in respect. Sales says we want to empower teens, but we're abdicating our responsibility to protect them. "Girls don't have the power to change this industry and social media culture, at least not alone," she says.
A Conversation About Sexuality
This is the first generation to grow up on social media. "By the time they hit the job market, today's teens will have already been using social media since they were 11. So if someone wants to know what kind of person you are, they have a decade of info," says Ashley Condit, victim services coordinator for the Rape Crisis Program through Orange County Mental Health Association. It's that lack of privacy in social media where many people get into trouble. Teens, like most of us, say self-involved things a lot, and the seeming anonymity of writing something digitally leads to oversharing and cyberbullying, as well as that digital trail. Condit says the teens she teaches in Orange County's school-based Safe Dates program know more about technology than she, who is not much older at 26. But being young, they're not always cautious, so teaching them Internet safety is huge. Geared to eighth graders, Safe Dates draws sexuality into the conversation around teen health, including consent and tech propriety alongside health, contraception, and abstinence. Condit feels it's an important educational piece that a lot of districts shy away from when they hear her title. Sales agrees, "People are having to explain to young men and women what consent is. We're having a national conversation about what rape is. This is a serious moment."