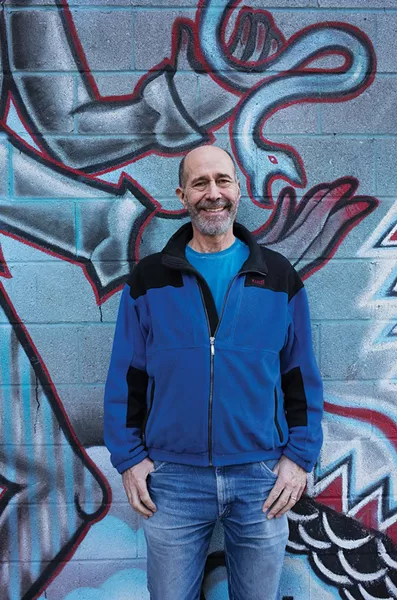 A sprawling dump occupies what was once Winston Farm in Saugerties, every year taking in over 200,000 tons of solid waste, most of it trucked up from Manhattan, to be turned into on-site landfill or burned up in the facility's two massive incinerators. Topping this public eyesore and health hazard are a pair of 315-foot smokestacks, which spew toxic smog throughout the surrounding landscape and far beyond. Just up Route 9W in the hamlet of Cementon the Greene County Nuclear Power Plant looms like a Death Star. Constructed using reactor equipment manufactured by the very same company that made the components used in Pennsylvania's infamous Three Mile Island plant, it's a meltdown waiting to happen, one that was rubber-stamped into existence in the late 1970s by economically baited county officials.
Of course, thankfully, neither of these scenarios ever came to pass. The historic, 800-acre Winston Farm, which hosted the 1994 Woodstock and 2014 Hudson Project music festivals, remains largely untouched, while the plans for the Cementon nuke plant were scuttled in 1979. And instrumental in blocking the building of these frightening abominations was former New York State Representative John Hall, who led the fight against them and other potential environmental threats over the course of his career in politics, a career that has at times crossed over into his other vocation as a musician/activist. A singer-songwriter and guitarist, Hall is also the leader of Orleans, a band responsible for two of the biggest hits of the 1970s, and the author of the newly published memoir Still the One: A Rock 'n' Roll Journey to Congress and Back (Independent, 2016).
"There are a lot of similarities [between politics and rock 'n' roll]," says Hall, who formerly represented the state's 19th district in the Mid-Hudson Valley from 2007 to 2011. "By the time I'd decided to run for office, I was already used to being up in front of big crowds and I'd dealt with hecklers, people throwing things, getting microphones knocked in my face by dancing drunks. Once you've been through that, dealing with some loud Tea Party offshoot group at a rally is no big deal."
Hall, 68, hails from the Chemung County town of Elmira, where his father, an electrical engineer, worked at the local Westinghouse plant and his devout Catholic mother was the first woman in America to graduate from a Jesuit seminary. "One parent wanted the kids to be scientists and the other wanted them to be priests," recalls Hall, whose older brother, Jim, became an actuary and younger brother, Jerry, entered the clergy. John started piano lessons soon after he'd plinked out the "Marines' Hymn" on the instrument at age four; by high school he'd studied French horn and taught himself guitar. He was also prodigious academically, winning three National Science Foundation summer scholarships and skipping two grades in school before enrolling at the University of Notre Dame to study physics at 16.
At Notre Dame, Hall got his first, tantalizing taste of being a working musician while playing in frat rock bands. During his junior year he transferred to Loyola when his father took a job in the Baltimore area and the family moved to Maryland. Less than a year later, his parents were decidedly unthrilled when he dropped out and with brother Jim formed the Wad, a quartet that worked the thriving clubs of nearby Washington, DC. Next came a stint in the wonderfully named Chocolate Snowflake and his replacing legendary guitarist Roy Buchanan in the British Walkers, a Beatles-styled unit whose manager made them speak with fake English accents. It wasn't long, though, before Hall tired of the forced Beatlemania and walked away from the British Walkers, beating it up to Greenwich Village. There, he put together Kangaroo, a group that opened for the Who and the Doors and became favorites at the Cafe Wha?, where Jimi Hendrix regularly attended their gigs.
For Hall, the move to New York proved pivotal personally as well as professionally. At the Cafe Wha? he met his first wife, the writer Johanna Hall (nee Schier), and with Kangaroo he hopped into composing music theatrical productions. One December night when Janis Joplin dropped by the couple's apartment to be interviewed by Johanna for a Village Voice piece, Hall and the iconic singer got to jamming and, amid the revelry, Joplin suggested he and Johanna write her a song to sing. The result was "Half Moon," which made its way onto Joplin's final album, 1970's Pearl, establishing Hall as a rising songwriter. He made a solo LP for Columbia, Action, and also became an in-demand session guitarist, playing on recordings by Jackie Lomax, Felix Cavaliere, Seals and Crofts, and Bonnie Raitt (in addition to writing songs for Raitt, he produced her 1973 album, Takin' My Time). At the behest of producer-pianist John Simon, he joined Taj Mahal's touring band and began taking trips up to Woodstock to test run the newly constructed Bearsville Studios. The couple liked what they saw upstate, so much so that they bought a humble, saltbox-style house in Saugerties.
While touring with folk blues singer Karen Dalton, Hall had another career revelation. Upset at not getting a sound check one night, the famously erratic Dalton refused to go on, forcing Hall to lead the band. After a set that had the enraptured audience howling for an encore, he knew what he had to do. "I should start my own band, sing my own songs," he thought. Back in Woodstock, he began doing weekly dates at the Cafe Espresso with a changing cast of area musicians. Out of these jams came the John Hall Band, which, after settling on the configuration of Hall, Wells Kelly (drums, keyboards), and brothers Lance (guitar) and Larry Hoppen (bass), was renamed Orleans in honor of the New Orleans R&B covers they played early on. The group became a room-packing draw on the club circuit and made two albums for ABC Records before signing with Asylum for 1975's Let There Be Music, whose "Dance with Me" became an archetypal soft rock smash, going to number six nationally. Second drummer Jerry Marrotta joined for 1976's Waking and Dreaming, which yielded the giddy, inescapable, Top Five anthem "Still the One." But eventually the rocket ride of fast fame and constant touring brought out personal fissures within the band, and by 1977 Hall had left to pursue a solo career.
Awakened one morning by the sound of grinding metal, he discovered that one of his neighbors in the Saugerties woods was running a self-styled junk yard. After learning that there were other, similarly unregulated operations in town, he formed the group Saugerties Concerned Citizens, which succeeded in getting local zoning laws rewritten to shut them down. In 1977 Hall heard about the plans to construct a nuclear facility in Cementon and worked with the grassroots collective Mid-Hudson Nuclear Opponents (MHNO), helping to stage protests and reuniting with Orleans for a MHNO benefit. With public pressure mounting against them, the plant's backers finally relented.
But for Hall there was still another anti-nuke event just around the corner, this one much grander. With Raitt, Jackson Browne, and Graham Nash, he cofounded the organization MUSE (Musicians United for Safe Energy), which staged a series of No Nukes concerts at Madison Square Garden in September 1979. A forerunner of events like the Us Festival and Farm Aid, the sold-out, five-night engagement spawned a popular concert film and live album.
They say politics start at the local level. Such was certainly the case for Hall. When news broke of the proposed Winston Farm dump and incinerator construction, Hall found himself running for a seat on the Ulster County Legislature with the prevention of the project a central plank of his platform. NRBQ and Raitt played a benefit for his campaign, and he went on to win the 1989 election; the plans for the incinerator site were proven to be environmentally illegal by outside experts and its development was scrapped.
After 25 years, he and Johanna had grown apart and ultimately divorced, and Hall worked as a ski instructor at Hunter Mountain before reforming Orleans in 1985 with the Hoppen brothers (Kelly died of a drug overdose in 1984). He met his second wife, guitarist Pamela Melanie Hall (nee Bingham), in Nashville, and in the 1990s the new couple resettled in Dutchess County. In 2004, Hall, a progressive Democrat, was incensed to learn that George W. Bush's reelection campaign was using "Still the One" as its theme song and duly launched a barrage of cease-and-desist letters and phone calls to the Bush team, who eventually dropped the song—although the GOP inexplicably repeated the move for the McCain campaign in 2008. "The concept of intellectual property seems to be a hard concept for Republicans to grasp," says Hall.
Bush's appropriation of Hall's song was still burning in his mind when it was suggested to him in 2005 that he run for Congress himself. Although initially resistant, mainly due to his wariness about the costs of running a congressional campaign, he threw his "tree-hugging guitarist" hat in the ring against Republican incumbent Sue Kelly. With the support of, among others, Jackson Browne, who headlined a series of fund-raising barn concerts, Hall easily won the primary and, with 51 percent of the vote, the 2006 midterm election. Mr. Guitar was on his way to Washington.
Hall served two terms in Congress and cites among his proudest accomplishments during his time in office his helping to pass the Affordable Care Act, the Veterans Disability Benefits Claims Information Modernization Act, and a bill that streamlines PTSD care for vets—the latter a law that he personally lobbied President Obama to sign. He consistently voted to enforce limits on CO2 emissions; provide tax incentives for companies using renewable energy; invest in homegrown biofuel; criminalize oil cartels; and remove oil and gas exploration subsidies and other related causes. "When John was running for reelection, he told me about the fight over oil rights to the Arctic Circle if the ice sheets melted," says Dar Williams, another Hudson Valley musician-activist. "I think that particular body politic really tested him. But I know he brought more light into the Capitol building than it tried to take from him."
Hall lost to Nan Hayworth during the Republican wave of 2010 and now, like many of us watching the current, highly divisive presidential election from the sidelines, he's shaking his head. "Journalism has become entertainment," he admonishes. "Individuals really owe it to themselves—and their country—to not get their news from only one source." After some soul searching, Hall decided not to seek a rematch with Hayworth in 2010. He wanted to, yes, spend more time with his family—and get back to rocking. And despite some health scares—prostate cancer and an aortic aneurysm, both successfully treated—that's just what he's been doing, largely with the revamped Orleans.
"There've been times when I've been out at the supermarket and 'Still the One' or 'Dance with Me' has come over the store speakers and the people next to me, without paying attention or even knowing it's me on the song, just started singing along," says Hall. "For me, that's still a thrill."
Still the One: A Rock 'n' Roll Journey to Congress and Back is out now. Johnhallmusic.com.