Though summer is coming to a close, it doesn't mean that the educational, immersive, and thoughtful experiences your child might get at summer camp have to hibernate through the fall in winter. Founded in 2004, Wild Earth continues to provide programs that send children (and adults too!) "into the woods and off the trails" to engage with the environment, learn wilderness skills, connect with friends and mentors, and develop their creative side.
"Wild Earth's vision is for every person from every walk of life to have the opportunity to explore, play, and learn in nature and while building strong connections to themselves, each other and the Earth," according to their website.
We've rounded up a few of their exciting fall programs for kids and adults designed to keep attendees connected to themselves, their peers, and the earth with empowering outdoor experiences that foster gratitude, respect, and stewardship.
Fall Programs for Youth (Sundays: October 6, 20, and November 3)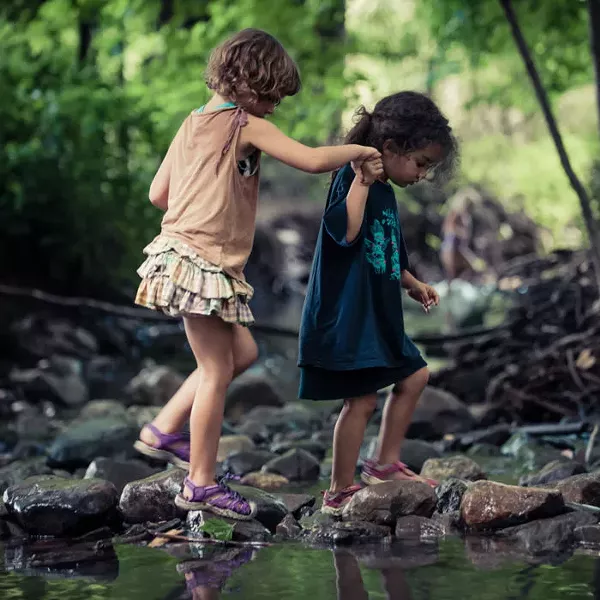 Gathering communities of young children, Wild Earth's 3 Autumn Sundays programs offer children the chance to stay connected with nature over three weekends in the fall. At Screech Owl (ages 4-7), Kestral (ages 7-10), and Raven (ages 10-14), kids are given the chance to play and explore in the forest with experienced teachers and naturalists, to connect their minds and bodies with nature, and to practice wilderness skills, awareness, quiet-mind, animal forms, curiosity, exploration, and gratitude.
"The days are filled with nature-based games that expand our awareness, storytelling from skilled instructors and visiting elders, songs inspired by nature's beauty, stream wanders that cool us down," according to Wild Earth. "At the end of the day, with leaf and flower crowns on our heads, our faces painted and smiles on our faces, we'll return, energized from a day in the woods!"
Fall Programs for Adults
Photos Courtesy of Wild Earth
The kids don't get to have all the fun! At Wild Earth, older teens and adults also have a chance to attend educational workshops and events informed by their philosophy.
This season, they've got a Make Your Own Bow Drill program on Saturday, November 2. If you've ever wondered how exactly a person can make fire from friction alone, you can learn from the pros the basics of this effective and useful survival skill
On December 14 and 15, the Using the Whole Deer program takes a respectful and reverential approach to hunting by offering attendees the insights of master craftsman and reverent Neill Bovaird of Wolfree Programs on how to make use of every part of an animal. The two-day workshop has attendees working hands-on with a deer's body to learn about harvesting its hide and meat, plus how to process and make use of parts of a deer that might otherwise go to waste.
Coming up at the end of September, Master Craftsman Josh Finn will host a two-day canoe-making workshop (Build Your Own Canoe) in High Falls where folks can learn hands-on how to build a 15-foot "six hour canoe." Though the event is currently full, you can still reach out Wild Earth to get on the waiting list or to find out about future events just like it.
Interested in learning more about Wild Earth? Visit Wildearth.org