In a social-experiment-meets-live-theater-entertainment event, 14 different actors will take on a script they've never seen before each night at the Denizen Theatre in New Paltz.
Playing July 17 through August 3 (with shows at 8pm and a Sunday show at 2pm), "White Rabbit Red Rabbit" lets actors take on the material without a director, a set, or rehearsals— interpreting work that's only been unsealed moments before.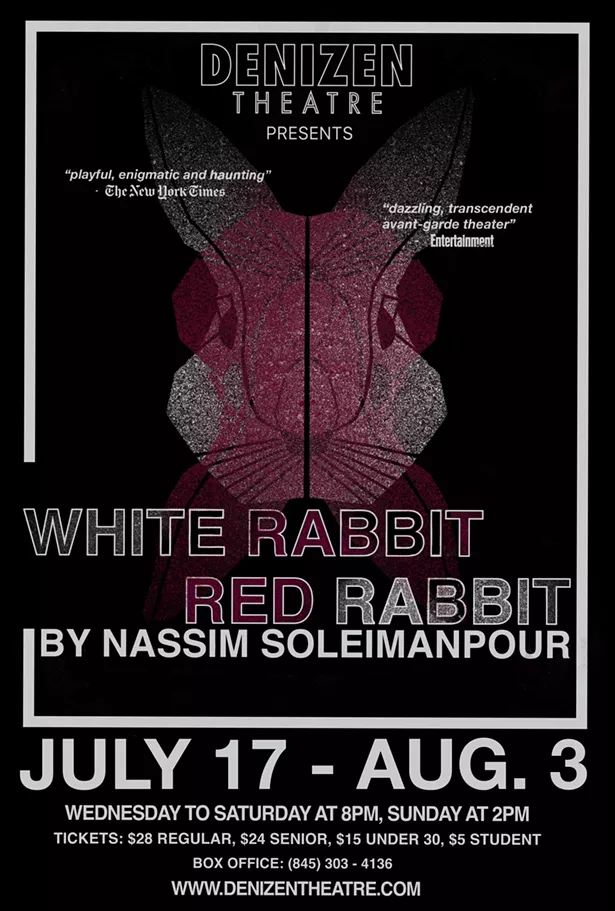 Courtesy of Denizen Theatre
"Each actor will personalize and resonate with different parts of the script as they read it for the very first time and that is what creates a unique evening of theatre for the audience," says Harry Lipstein, Producing Artistic Director and Founder of DENIZEN Theatre who has performed the piece before.


Iranian playwright Nassim Soleimanpour's "White Rabbit Red Rabbit" was born out of his inability to leave Iran as a conscientious objector to military service—playing with the idea of a show that leaves a great deal of control in the hands of the writer. The play made its joint premiere in 2011 in Edinburgh and Summerworks festival and has since been translated into more than 25 different languages and been performed over 1000 times. Some famous participants include John Hurt, Whoopi Goldberg, Nathan Lane, Patrick Wilson, Bobby Cannavale, Cynthia Nixon, and Alan Cumming.

Courtesy of Denizen Theatre
During the Denizen run, they've enlisted a diverse group of talent to take on the play. Some of the names you may see include TV, film, and Broadway Actor Connie Ray, Stage and Film Actor Thomas Sadoski, Broadway Actor and Choreographer Hettie Barnhill, Shadowland Stages' Brendan Burke, Rosendale Theater's Ann Citron, TV, film, and Broadway Actor Sean Cullen, Playwright ('Agnes of God'), Actor John Pielmeier, DENIZEN Theatre's Brittany Proia, and Ben Williamson, among others.
As a show that only gets better when viewed more than once, through different actors, Denizen has set up a $5 discount for audience members who make it out to multiple shows, with a free subscription to the theater's 2020 season ($196 value) going to the patron who attends the show the most.
For tickets and more information on "White Rabbit Red Rabbit" head over the Denizen Theatre's website.