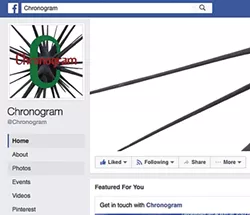 Too much time spent on Facebook could be making you unhappy. A recent study published by the Happiness Research Institute, an independent think tank based in Denmark, found that taking a break from the social media site increased positive emotions and life satisfaction. In 2015, Danish researcher Morten Tromholt conducted a randomized controlled trial of 1,095 Danish participants. One group was told not to use Facebook for one week, and the other was told to continue using the site normally. There was a 0.37 difference on a 1-to-10 scale in life satisfaction between the two groups. Those who stayed off the site—described variously by participants in the study as a "nonstop great news channel" and a "constant flow of edited lives which distorts our perception of reality"—felt that they wasted their time less, worried less, and were more enthusiastic.
Source: Discover
The increase in hate acts following the presidential election has changed the coverage agenda of the New York Times. On November 29, the paper debuted a new opinion column, "This Week in Hate," to track instances of hate crimes in the United States. Each post includes a link to a reported story and resources for responding to harassment. From that week: Adam Yauch Park in Brooklyn was vandalized with swastikas and "Go Trump" scrawls. Collins Hills High School in Georgia was defaced with swastikas, racial slurs, and the name "Trump." In Astoria, Queens, an Arab-American Uber driver recorded a video in which he was threatened with deportation by another driver. An African-American man was beaten to the ground in Bangor, Maine, and told that he should "watch out" because Trump could deport him.
Source: New York Times, FishbowlDC
Prescription medication prices for impotence and other sex-drive-related problems are increasing. Viagra and Cialis currently cost about $50 per pill, triple their 2010 price. Many insurance plans do not cover the expenses. According to QuintilesIMS, a health-care data site, the number of Viagra prescriptions in the United States has fallen 42 percent since 2010. People are finding workarounds to the high prices by using off-label drugs. One hospital technician takes several Revatio blood pressure pills before sex. The pills contain one-fifth the dose of Viagra's active ingredient Sildenafil. Generic versions of Viagra and Cialis are in the works, which could lower overall costs once they're on the market.
Source: Associated Press
Fake news has real consequences. A man fired an assault rifle inside Comet Ping Pong after finding out about the "Pizzagate" conspiracy theory. During the election campaign, a false news story spread that Hillary Clinton and campaign chairman John Podestra were running a child sex ring out of Comet Ping Pong, a pizza parlor in an affluent Washington, DC, neighborhood. Edgar Welch traveled from North Carolina to "self-investigate" claims of the child sex ring after reading about them on the Internet. Two of Welch's other firearms were also recovered from inside the restaurant, and there was an additional weapon in his vehicle. The pizza parlor has been a target of death threats and other harassment since the false news story was posted, and other nearby businesses have received similar threats. Speaking to a New York Times reporter after his arrest, Welch was quoted as saying: "The intel on this wasn't 100 percent."
Source: Independent (UK)
Call them the climate change denial cabinet instead of the kitchen cabinet. President-elect Donald Trump's picks for his transition team include nine people who openly question and deny global warming as a result of human activity and burning fossil fuels. These picks are those in charge of the agencies responsible for monitoring or dealing with climate change, including the EPA, Department of the Interior, NASA, and the Department of Energy. Trump's plan for an "energy revolution" involves tapping shale, oil, and natural gas reserves, as well as expanding onshore and offshore drilling. Trump has invested in Shell, Halliburton, Total, and Chevron in the past, and recently invested up to a little over $1 million in mining company BHP Billiton. Former Koch Industries lobbyist and American Energy Alliance group president Thomas Pyle is leading the Department of Energy transition team. Scott Pruitt, former Oklahoma attorney general and climate change denier, is head of the EPA. Among the other picks are Cathy McMorris Rodgers for the interior, who once claimed that Al Gore deserved an "F" in science, former Breitbart chief Steve Bannon, and Exxon Mobil's CEO Rex Tillerson as secretary of state.
Source: Guardian (UK)
The shelf life of your produce may soon be extended. Apeel Sciences has created two products from natural plant extracts, Edipeel and Invisipeel, that make an edible barrier to extend produce life. The products take leaves, stems, banana peels, and other fresh plant material waste, turning them into a molecular coating that controls the amount of water and gas produce absorbs. James Rogers, chief executive and founder, discovered the formula as a doctoral student at the University of California, Santa Barbara. The product can be applied when crops are still growing, in harvest, or even on the conveyor belt, and can be washed away with water. It is already positively affecting cassava longevity in Africa, and is expected to reduce spoilage, food waste, and energy and water consumption. Though the Food and Drug Administration has deemed the product to be fit for human consumption, it still has not been tested at the commercial level.
Source: New York Times
A banking computer glitch gave $1.3 million to a broke law student from Australia. Luke Moore spent his newly found cash on luxury holidays, an Aston Martin, a Maserati, a speedboat, strippers, cocaine, a signed Michael Jordan Jersey—and more-practical things, like insurance, mortgage payments, and other bills. His Complete Freedom account with St. George, an Australian banking chain with headquarters in Sydney, was opened in 2010, and his million-dollar overdraft activities went unnoticed for two years. When found out, Moore was sentenced to a four-year jail term. He was freed in early December after just five months, as he "had not been deceptive" in his spending of the funds. Moore now lives at home with his mom, and is back at law school.
Source: New York Post, Tech Times