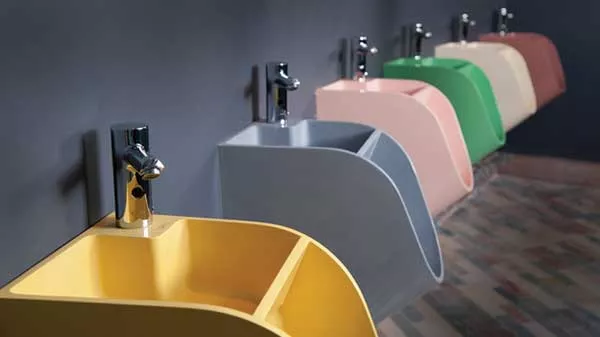 Designer Kaspars Jursons's latest invention: an environmentally friendly urinal-sink unit which uses the water from the sink to flush the toilet.
Latvian designer Kaspars Jursons is doing his part to help solve European water shortages through his latest invention: a compact urinal-sink unit that uses the water that drains from the sink to flush. The design, called Stand, costs $590 and is currently being manufactured on a small production scale. So far, buyers in Norway, Germany, Russia, Poland, and Jursons's home country have purchased them. A number of them are currently installed in a Latvian concert venue where Jursons reports they have already saved the establishment thousands of liters of water. The urinal's design, he said, also acts to encourage good hygiene due to its convenience. Next, he's working on a sink-toilet combo for women's restrooms.
Source: National Public Radio
The three-day stand of Phish concerts at SPAC in early July accounted for 55 arrests and one death. Forty-year-old Brent Wallace's cause of death was cardiac stenosis, a thickening of an artery to the heart or heart attack. Wallace had small trances of marijuana in his system and his blood alcohol level was 0.05, below the legal level of intoxication. Saratoga Hospital reported treating 45 concert-goers, primarily due to drug or alcohol use. With each night topping 25,000 attendees, four assistant district attorneys were assigned to the weekend due to the heavy volume of complaints and arrests. Forty-one complaints were drug or alcohol related, 14 ambulance services, 17 calls for assistance, 15 vehicle and traffic complaints, five motor vehicle accidents, and 53 other emergency calls. Of all the arrests made, 30 were sent to jail and 25 posted bail at the station. Of the arrests made, 32 were felony charges. Some of the confiscated drugs found by law enforcements over the course of the weekend included MDMA (Ecstasy), mushrooms, pot, ketamine, bath salts, cocaine, heroin, nitrous oxide, and gummy-bear laced LSD.
Source: Albany Times Union
Two men could face up to 15 years in prison for plotting to design a radiation weapon. They were thwarted when the FBI's Joint Terrorism Task Force in Albany uncovered their plan, charging Saratoga County resident Glendon Scott Crawford and Columbia County resident Eric J. Feight with conspiring to sell the weapon to Jewish organizations or the Ku Klux Klan. Crawford, an employee at General Electric and a member of the Klan, said his target was the Muslim community and began seeking out local synagogues for support in April of last year. At one synagogue, he asked to speak with someone about the type of technology Israel used to kill its enemies in their sleep, later stating that he was developing a device to protect Jewish people. Crawford enlisted the help of Feight, a software expert, whose role it was to design and build the electronic triggering device which would allow the radiation to be released from almost half a mile away. He and Feight planned to test it at a hotel in the Albany area. Crawford was arrested at a vacant auto body shop in Rensselaer County where he worked on the device. The FBI suspects there are up to eight others who might have been assisting them in their plots.
Source: Albany Times Union
In a 21 to 9 vote, the California Senate passed a bill allowing transgender students in public K-12 schools to use the restrooms and join the school teams that they feel reflect their gender identities. Though California law already prohibits discrimination based on gender identity, this law is more descriptive and explicit in its language, marking the first time a state has mandated such treatment by statute. Opponents of the bill felt that the legislation might be at odds with other students' rights to privacy and comfort. However, supporters maintained the bill is necessary to protect transgender students from bullying in the school setting and is consistent with California's passing of same-sex marriage. Still, opponents claimed there is a risk that some students might take advantage of the bill. Boys who aren't thriving on their own gender's sports team might look to join the girls' team or young sex offenders could use the bill as an excuse to use the facilities of the opposite sex, said the opposition. In response, Senator Ricardo Lara noted other California school districts have had similar policies for years without such incidents. Lara continued to emphasize that it's important not to confuse behavioral difficulties with the sensitive nature of gender identity issues.
Source: CBS News
Last September, Leslie James Pickering found a handwritten card labeled confidential in his mail stating, "Show all mail to [supervisor] for copying prior to going out on the street." Pickering was once a spokesman for a radical environmental group called the Earth Liberation Front, deemed an eco-terrorist organization by the FBI. Now he has a child and owns a small bookstore with his wife in Buffalo. Postal officers confirmed that they were in fact tracking his mail under the Mail Isolation Control and Tracking program, an initiative which allows postal workers to photocopy the outside of all letters and parcels. The program was created in 2001 after a series of anthrax attacks resulted in five deaths. Law enforcement officials can fill out a request and be approved by the Postal Service without ever appealing to a judge. Their requests are rarely denied. Mail covers are exclusively related to either criminal activity or national security, with requests for the former averaging 15 to 20,000 a year. They have been used effectively in a number of cases, including the recent investigation of ricin-laced letters mailed to President Obama and Mayor Michael Bloomberg. However, the ease of obtaining this information leaves room for abuse of the program: Maricopa County Supervisor Mary Rose Wilcox received almost $1 million in compensation when she claimed a sheriff's request to track her mail was politically motivated.
Source: New York Times
Since its passage in 2010, the Affordable Care Act (aka Obamacare) has been unpopular with businesses, many of which have looked for ways to dodge its insurance requirements. Restaurant chains and state universities alike have begun cutting the work of part-time employees below 30 hours in order to avoid having to provide their workers with the affordable health care when the mandate takes effect. Bowing to pressure from business, the Obama administration has delayed the implementation of a provision known as the Employer Mandate that will require businesses employing over 50 workers to pay health insurance to their employees until 2015. The announcement of this delay follows a series of compromises made by the administration, including refusing multiple healthcare options for small business employees and scrapping a plan to institute nonprofit insurers. Business leaders have responded enthusiastically to delay enforcement of the Employer Mandate, saying it gives them needed time to study the new law's requirements. Meanwhile, America's 48.5 million uninsured will go at least another year without coverage.
Sources: Bloomberg News, "Today" Show
A 2011 study called "The American Dream or the American Delusion," conducted by Professor Grace Wong Bucchianeri of University of Pennsylvania, concluded that homeowners weren't any happier than renters. Although purchasing property is viewed as a part of the American dream, researchers found after controlling for income, housing quality and health, the 600 female homeowners studied were not better off than renters by a variety of measures, both global and situational. Saving money for a home may actually cause a dip in happiness, for some. Experts in the scientific field that focuses on understanding emotional well-being say that individuals are happier when they spend money on experiences rather than material goods, such as expensive houses and cars. A psychology professor and the director of the Center for Customer Insight at Yale School of Management, Ravi Dhar, says as with any item, the impact of happiness diminishes with time. In a theory called hedonic adaptation, Dhar cited, "Things give us more joy when they are first acquired than over time, as we adapt to them."

Source: New York Times