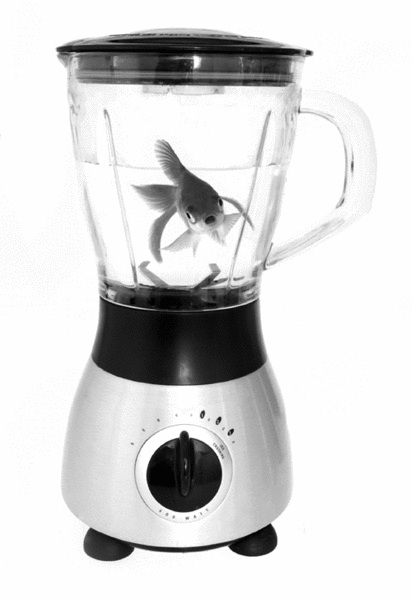 Marco Evaristti's goldfish will soon have a new purpose.
You can donate your body to science, but what about art? Marco Evaristti, the artist who first gained notoriety with his goldfish-in-blenders exhibit at Denmark's Trapholt Art Museum, has another project in the pipeline. In a demonstration of his opposition to capital punishment, the artist has secured Texas death-row convict Gene Hathorn's permission to deep freeze the man's body after his execution and make it into fish food.
Visitors to Evaristti's future exhibition will have the opportunity to feed Hathorn's freeze-dried remains to a new generation of goldfish
. Lawyers in the US dispute the validity of Hathorn's testament and bequeathal.
Source: The Guardian
According to a Census Bureau report released in late August, the number of Americans with health insurance has increased—likely the result of growth in government-sponsored programs. Although the number of people covered by private or employment-based health insurance continued to decline, the overall .5 percent increase from 2006 to 2007 suggests that more are seeking coverage from public programs, especially on behalf of their children. Of the remaining 45.7 million uninsured Americans, 8.1 million of them are under 18. Massachusetts now has one of the lowest rates of uninsured people in the country at 8.3 percent (down from 12.6 percent in 1997), owing to the state's recent health care overhaul. In New York, the uninsured rate is 13.4 percent, 2 percent lower than the national average.
Source: New York Times
In an effort to curb outbreaks of food-borne illnesses, the government has long allowed radiation treatment for beef, eggs, poultry, oysters, and spices. Fresh spinach and iceberg lettuce will soon join this list. Although the process kills E. coli (which accounts for eight percent of all produce-related outbreaks) and Salmonella (eighteen percent of all outbreaks), FDA-approved gamma radiation treatment does not affect Norovirus, which accounts for 40 percent of all produce-related outbreaks.
Source: Center for Science in the Public Interest,
New York Times
The United States has become a nation of half-home owners: For the first time since World War II, the portion of their homes that Americans actually own has fallen to less than 50 percent (down from 70 percent in the 1980s). In the six years between 1982 and 1988, equity loans outstanding grew from $1 billion to $100 billion as federal laws began to allow mainstream banks to offer second mortgages (under the euphemism "home equity loan"). While banks have continued their persuasive advertising in the hope of transforming the public notion of "debt" into "luxury," the total amount of outstanding balances on home equity loans now stands at $1.12 trillion. The portion of people who have home equity lines more than 30 days past due stands 55 percent above its average since the American Bankers' Association began tracking it around 1990.
Source: New York Times
According to a report by Nielsen, product placement on primetime programming was down nearly 15 percent for the first six months of 2008. This still amounts to some 204,919 conspicuous brand appearances. The drop is largely the result of many former product-placement stalwarts of cable television, such as MTV's "Pimp My Ride," A&E's "Dog the Bounty Hunter," and TLC's "Miami Ink," airing less frequently or not at all during this time.
Source: Variety
The nation's first region-by-region analysis of mercury in women's blood reveals that, in coastal states, sixteen percent of women exceeded blood mercury levels potentially toxic to a fetus, compared with 6 percent among their inland counterparts. The study also found that women with higher incomes tend to have higher mercury levels, likely because they are better able to afford more highly contaminated species of fish, such as swordfish or high-grade tuna.
Source: Chicago Tribune
Microchip tracking devices have moved from automobiles and electronic devices, to pets, and, finally, people. An epidemic of kidnappings has led some wealthy and middle-class Mexicans to pay $4,000 to have tiny transmitters implanted that can pinpoint their location by satellite. Chipping people has already begun in the US, where VeriChip has inserted chips in 200 Alzheimer's patients for a pilot program. Other purported uses of the chip include "patient identification," "wander prevention," and "emergency management."
Source: New York Times
In America, taxpayers have spent over a billion dollars on abstinence-only sex education programs that are generally taught to students in grades 9 through 12. With more than 400,000 pregnant teenagers in the country, America has the highest number of teenage birthrates and abortions among wealthy nations. In Denmark, where 90 percent of teens report having had sex, birthrates and abortions among teenagers are low, at 8.1 (per 1,000 women) and 15.4, respectively (compared to 52.1 and 30.2 in the US). The difference may boil down to the thoroughness and quality of sex education, which begins no later than third grade in Denmark.
Source: New York Times
A government study published in September found that the medicines most often prescribed to combat psychotic symptoms in children—Zyprexa, Risperdal, or molindone—are not only less effective than older, cheaper alternatives, but they may also be more dangerous for those most prescribed to them. The fivefold increase in child prescriptions in the past 15 years underscores the widespread assumption that "newer" means "safer and more effective than what we had before," but children's bodies are quicker to show the detrimental side effects of these drugs, which can change cholesterol and insulin levels in the body and also contribute to rapid and severe weight gain.
Source: New York Times
The "quintessentially Indian" question of how to turn occupied farmland into workable industrial space has sparked protests and halted production of the world's cheapest car, the $2,250 Tata "Nano." The Tata group acquired 1,000 acres of land in the Singur region to establish a factory for manufacturing the vehicle, but some farmers who had sold land to the company—for a compensation that some economists have criticized as "measly"—later demanded that their land be returned. Protesters have surrounded the plant, blocked main roads, and prevented Tata workers from accessing their workplace in such numbers that the company will now make only a quarter of the number of cars it had originally planned to manufacture.
Source: New York Times