The number of people living in African cities will triple over the next 40 years, according to UN-Habitat's State of African Cities 2010 report. Urbanization is happening faster in Africa than anywhere else in the world, the report indicates. In 2015,
it is estimated Lagos will have 12.4 million inhabitants and overtake the Egyptian capital Cairo as Africa's biggest city
. By 2050, Africa's urban population is expected to reach 1.23 billion. UN-Habitat's Executive Director Joan Clos said agricultural reform and poverty in rural areas is the reason for the trend.
Source: BBC

Netcare, South Africa's largest private medical group, has pleaded guilty to performing illegal kidney transplants at a hospital in Durban. Poor donors, some of them children, were flown in from Brazil and Romania and given thousands of dollars to have a kidney removed. Netcare agreed to pay fines of nearly $1.1 million. The charges are related to more than 100 operations carried out between 2001 and 2003. Those involved in the transplant scandal have been fired by Netcare.
Source: BBC
The Senate approved the Food Safety Modernization Act on November 30 by a vote of 73 to 25. The House passed it as well on December 21 and President Obama is expected to sign the bill into law. The legislation would greatly strengthen the Food and Drug Administration's enforcement by granting powers to immediately recall tainted foods, increase inspections, demand accountability from food companies, and oversee farming. The bill also gives the FDA the ability to inspect foreign processing plants and set standards for how fruits and vegetables that are to be imported into the US are grown abroad.
Source: New York Times
According to the annual survey conducted by the Chronicle of Higher Education, several US college presidents receive more than $1 million in annual compensation. Touro College paid President Bernard Lander $4.7 million, the highest salary in the country. The president of Southern Methodist University in Dallas earned $2.7 million. Quinnipiac University in Connecticut paid its president $1.8 million. The Chronicle report predicts more presidents will surpass $1 million annual salaries as the baby boomers retire and receive large payouts.
Source: Boston Globe
Kentucky's Democratic Gov. Steve Beshear announced he had secured a deal with Ark Encounter LLC to build a creationism theme park, which is set to open in 2014. The $150 million amusement park is expected to bring 900 jobs and $250 million in revenue to the state, according to a press release from the governor's office. It will be located on 800 acres in Grant County and will include a full-size Noah's Ark, Walled City, live animal shows, a replica of the Tower of Babel, a 500-seat special effects theater, an aviary, and a first-century Middle Eastern village.
Sources: Gawker; Courier-Journal
The Troubled Assets Relief Program's $700 billion bailout is now expected to cost the federal government $25 billion. The Congressional Budget Office's report released on November 29 said when TARP was created in 2008 it was not apparent that the cost would turn out to be this low, but the financial system stabilized and improved. So far, $389 billion has been distributed through TARP, which expired in October. The CBO estimates that an additional $44 billion will go to American International Group and federal mortgage programs. That would bring total TARP spending to $433 billion, of which $216 billion has been repaid.
Source: Washington Post
Last year, America's Health Insurance Plans gave the US Chamber of Commerce $86.2 million that was used to oppose the health care overhaul law. The money paid for advertisements, polling, and grassroots events in opposition to the bill, said Chamber of Commerce spokesman Tom Collamore. Other large donations have been given to the Chamber, such as a $15.4 million 2008 transaction from an unidentified contributor and an anonymous $4.5 million contribution in 2009. Funneling the money through the Chamber allowed insurers to negotiate with Democrats while still getting the bill criticized by a credible source, said Trevor Potter, the head of the political activity practice at Washington law firm Caplin and Drysdale.
Source: Bloomberg
An electrical transformer exploded at Indian Point on November 7 and resulted in 20,000 gallons of oil being released into the Hudson River. Private contractors hired by Entergy Corporation, the owner of Indian Point, hastily attempted to contain and remediate the oil spill. As of November 21, less than 10,000 gallons had been recovered. This is the second transformer explosion at Indian Point in three years.
Source: Riverkeeper
For a study published by Psychiatric Services, Portland State University researcher Mark Kaplan collected information about female deaths by suicide in 16 states. He found that female veterans age 18 to 34 are three times as likely as their civilian peers to commit suicide. Dr. Jan Kemp, director of the Department of Veterans Affairs' National Suicide Prevention Hotline, says many of the women who call are struggling to deal with military rapes they experienced during their deployments. Veteran mothers with post-traumatic stress disorder also call the hotline with concerns about being unable to take care of their children.
Source: NPR
The approximate amount of the Bush tax cuts on income above $250,000 a year would cost the government $60 billion. Households benefiting from these cuts will, on average, save $25,000 annually. The $60 billion could buy triple the amount of federal funding for medical research, a 15 percent cut in corporate taxes, and a $500 tax cut for all households. It could also buy tuition and room and board for about half of all full-time college students, twice as much money for clean-energy research, and a larger troop surge in Afghanistan.
Source: New York Times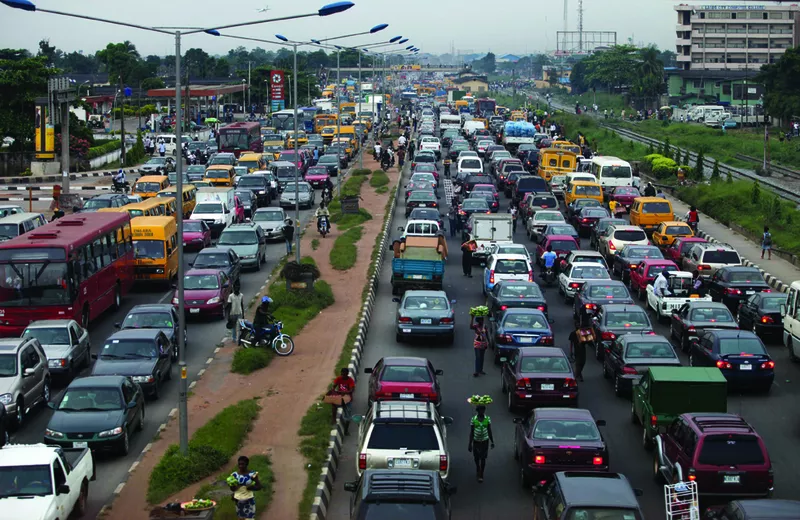 Heavy traffic is seen on the Lagos-Abeokuta Expressway in Nigeria's commercial capital Lagos on November 11, 2010.