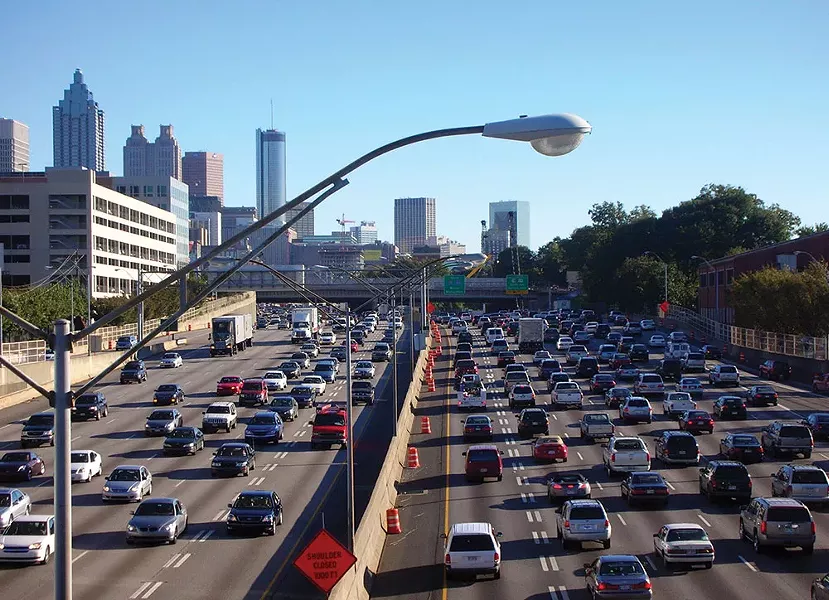 The number of automobiles on the world's roads is on pace to double—to more than two billion—by 2030. And more likely than not, most of those cars will be burning carbon-emitting gasoline or diesel fuels. That is because much of the expansion will be propelled by the rise of the consumer class in industrializing parts of the globe, especially in China and India, as hundreds of millions of new drivers discover the glory of the open road.
The countries with the most cars today have set aggressive goals for improving fuel mileage. The US, under Obama's fleet-wide standards for carmakers, is aiming for an average of 54.5 miles per gallon by 2025, up from about 30 mpg currently. China is aiming for 50.1 miles per gallon, and the European Union 60.6.The math is daunting, however. If the number of cars doubles, and the average mileage improves by only 50 percent, all of the fuel-economy gains would be offset by the emissions from the new vehicles.
Source: New York Times
After a man and a woman burst into a social services center in San Bernadino and opened fire on December 2, killing 14 people and injuring dozens more, Ulster County Sheriff Paul Van Blarcum posted a message on the Ulster County Sherriff Department's Facebook the next day urging licensed gun owners to carry their firearms in public. The post drew outrage and support online, and drew national media attention. A few days later, Dutchess County Sheriff Adrian "Butch" Anderson announced his support for Van Blarcum's position, calling on licensed pistol permit holders in New York State and across the country to "exercise their Second Amendment right." There are approximately 10,000 licensed pistol permit holders in Ulster County and 40,000 in Dutchess County.
Sources: Poughkeepsie Journal, WDST
Alcohol is banned in Saudi Arabia. Yet there are people who manage to get their hands on booze in the country. How? An episode from November sheds some light: The Saudi authorities at the border with the United Arab Emirates caught a man with 48,000 cans of Heineken—all disguised as cans of Pepsi. This isn't an isolated incident: earlier this year a Saudi man was caught on the border with Bahrain with 12 bottles of liquor sewn into this pants. Getting caught with alcohol is serious business in Saudi Arabia—offenders can be sentenced to prison and floggings. The World Health Organization estimates that the rate of alcohol consumption per capita in Saudi Arabia is 0.2 liters per adult, one of the lowest in the world. This estimate may be inaccurate, however, given the illicit drinking market.
Source: Washington Post
In less than 10 years, Uruguay has slashed its carbon footprint—renewables provide 94.5 percent of the country's electricity and prices are lower than in the past relative to inflation. There are also fewer power cuts because a diverse energy mix means greater resilience to droughts. Fifty-five percent of the country's overall energy mix (including transport fuel) come from compared with a global average share of 12 percent. At the recent climate change talks in Paris, Ramón Méndez, Uruguay's head of climate change policy, made an ambitious pledge: an 88% cut in carbon emissions by 2017. Méndez attributes Uruguay's success to three key factors: credibility (a stable democracy); helpful natural conditions (good wind, decent solar radiation, and lots of biomass from agriculture); and strong public companies (which are a reliable partner for private firms and can work with the state to create an attractive operating environment).
Source: Guardian (UK)
In early December, fired Oklahoma City police officer Daniel Holtzclaw was found guilty of sex crimes against eight women, all committed while on duty. According to Kimberly Lonsway, a research director at End Violence Against Women International, most rapes go unpunished in America, and sex crime convictions are even more unlikely when law enforcement officers are accused, The Associated Press recently conducted a yearlong probe into sex crimes committed by officers which revealed about 1,000 police officers had lost their licenses for sex crimes or other sexual misconduct over a six-year period; many were never charged, let alone prosecuted. "There's a natural tendency to believe the officer," said Joshua Marquis, the district attorney in Clatsop County, Oregon, who has prosecuted numerous cases against police, including some sexual offenses. "A lot of people have a hard time wrapping their head around the idea that they could ever do this."
The accused officer typically has no criminal background, passionate supporters often show up in the gallery, and juries may believe an officer's firing is punishment enough, Marquis said.
Source: Associated Press
Former State Assembly leader Sheldon Silver was convicted in early December of federal corruption charges related to schemes by which he received nearly $4 million in exchange for using his longtime position as the speaker of the Assembly to benefit real estate developers and a cancer researcher. Days later, Silver filed for state pension, which is estimated to be worth $100,000 a year. (Ex-Senate Majority Leader Dean Skelos, convicted on corruption charges days after Silver, could receive an $80,00 annual pension.) The State Constitution assures that pensions "shall not be diminished or impaired," a rule which has allowed other convicted lawmakers to collect in the past. US Attorney Preet Bharara, who prosecuted cases against both legislators, will likely seek to seize any pension funds paid to Silver or Skelos.
Sources: New York Times, New York Post
According to the Center for Housing Solutions and Urban Initiatives annual 2015 report, published by Pattern for Progress in late November, more than 90 percent of the homes for sale in the Hudson Valley are not affordable for households earning the area's median income (Dutchess: $72,525; Ulster: $59590). The lack of affordable housing is cause for concern when it comes to the future of the economic health of the Hudson Valley, experts said. Stagnant wages, a short supply of affordable housing and increases in rents have made it difficult for residents to afford housing in the Hudson Valley. (The Department of Housing and Urban Development considers a home affordable when a housing payment is no more than 30 percent of household monthly income.)
Source: Pattern for Progress