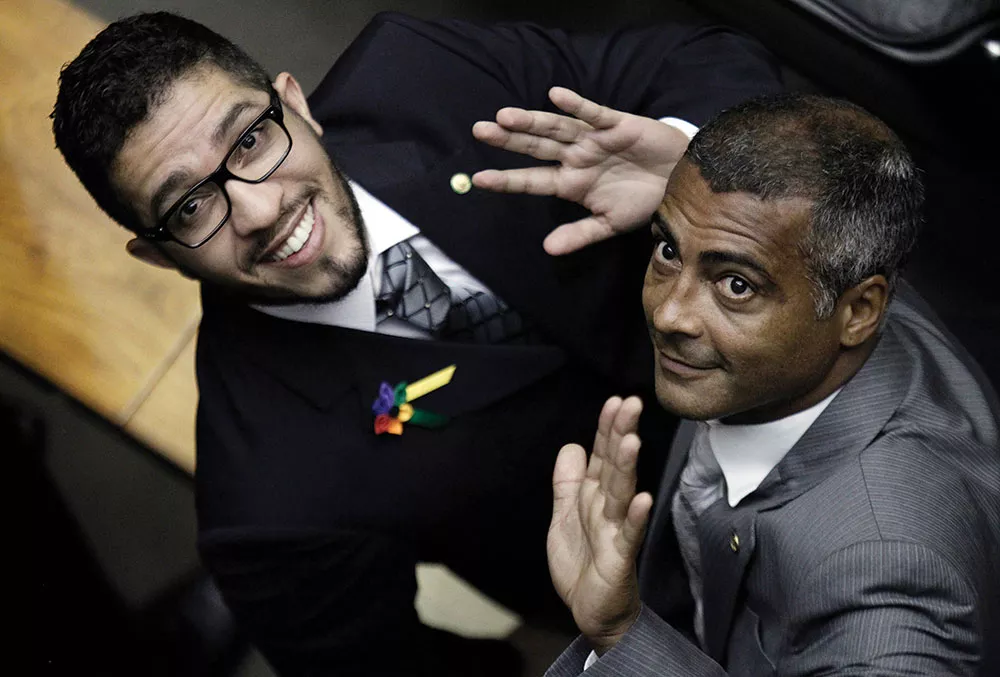 REUTERS/Ueslei Marcelino
Brazilian Rep. former soccer player Romario (R) and Congressman Jean Wyllys wave during the inauguration ceremony in Brasilia in 2011.
An epidemic of anti gay and anti trans violence has (by some counts) earned Brazil the ranking of the world's deadliest place for sexual and gender minorities. Nearly 1,600 people have died in hate-motivated attacks there since 2012, according to Grupo Gay da Bahia—meaning a gay or transgender person is killed in Brazil almost every day. Such statistics can be hard to believe from a nation that holds the world's biggest gay pride parade, in São Paulo. "We live off this image as an open and tolerant place," said Jandira Queiroz, the mobilization coordinator at Amnesty International Brazil. "Homophobic violence has hit crisis levels, and it's getting worse." The Brazilian government has introduced numerous laws and policies aimed at improving the lives of sexual minorities. In 1996, it was among the first to offer free antiretroviral drugs to people with HIV. Brazil was among the earliest countries in Latin America to allow gay couples to adopt children. In 2013, the Brazilian judiciary effectively legalized same-sex marriage. However, Jean Wyllys, Brazil's only openly gay member of its congress, said evangelical lawmakers have prevented legislation that would punish anti gay discrimination and increase penalties for hate crimes.
Source: New York Times
Bigoted hosts—not hotels—are the greatest threat to Airbnb's business. In recent months, Airbnb has banned several hosts who were racist or transphobic. When Airbnb's hosts deny guest accommodations on account of their race or gender, can the company be held liable for those actions? The law is unclear. The Fair Housing Act excludes rentals in buildings with five or fewer rooms. Airbnb could also seek protection from the Communications Decency Act that shields Internet companies for user-generated content. It was used to defend Craigslist in a 2008 lawsuit that alleged the online classifieds company had violated the Fair Housing Act by posting rental ads with explicitly discriminatory phrases such as "no minorities."
Source: QZ
In late June, Defense Secretary Ashton B. Carter declared transgender Americans may serve openly in the military. "Americans who want to serve and can meet our standards should be afforded the opportunity to compete to do so," said Carter. Approximately 2,450 transgender active-duty military members no longer have to serve in secrecy: It is now illegal to discharge someone solely on account of being transgender. The Pentagon will also cover the medical costs for military personnel seeking transition surgery, estimated at 65 service members a year, according to a RAND Corporation study.
Source: New York Times
On July 17 three police officers were fatally shot and four were wounded after a gunfight in Baton Rouge. Five policemen died and seven were wounded during a Black Lives Matter protest in Dallas in July. Two police officers were shot to death in Brooklyn while sitting in their patrol car. Officer Darren H. Goforth was killed getting gas. The total number of police killed by firearms has increased by 72 percent since this time last year. In 2015, US police killed over 300 black men, 25 percent of whom were unarmed. So far in 2016, police have killed at least 147 African-Americans—131 were shot to death. Philando Castile, the 123rd person murdered, was shot three times because his vehicle had a broken taillight. The night before Castile died, Alton Sterling was fatally shot after Baton Rouge police received reports of him selling CDs, armed, in Baton Rouge. According to data kept by the FBI, violence against police is still at an all time low.
Source: Huffington Post, Washington Post, Guardian, PBS NewsHour, National Law Enforcement Memorial Fund
In July a group of inmates broke out of their holding cell at a jail in Weatherford, Texas, to save a prison guard who had lost consciousness after falling. After witnessing him fall, the six inmates yelled for help, while breaking out of their cell and banging on doors. Even though the unconscious guard had a firearm and keys, the inmates remained committed to helping him. "It never crossed my mind not to help whether he's got a gun or a badge. If he falls down, I'm gonna help him," inmate Nick Kelton remarked. Surveillance videos show officers ushering the inmates back into their holding cell, before they administered CPR to the guard. The prison guard was thankful for the inmates' response and will return to work.
Source: Guardian (UK)
The US Fish and Wildlife Service has developed a plan to save North America's only native ferret, the black-footed ferret. The US government is set to unleash drones that fire vaccine-covered M&Ms to protect both black-footed ferrets and prairie dogs from the sylvatic plague, a flea-borne disease spread from rats that were introduced from ships arriving in California in the 1800s. While individual ferrets can be vaccinated by an injection, wildlife officials have found it difficult to protect prairie dogs over large areas. Black-footed ferrets feast upon prairie dogs, meaning that the disappearance of their codependent prey would prove disastrous for the species. The black-footed ferret was briefly thought to be extinct in 1981. The current population originates from just seven ferrets that were brought into captivity and selectively bred.
Source: Guardian (UK)
On July 5, a South Carolina town passed ordinance banning residents from wearing saggy pants that intentionally display their underwear. Timmonsville Town Council established the new rules after a five-to-one vote. The new legislation also prohibits individuals from being naked in public and showing pornographic material. First offenders will get a verbal warning from law enforcement, while second offenders may become included in a registry of repeat offenders. Offenders breaking the ordinance three times or more may receive a fine from $100 to $600. The ordinance was well received on the Timmonsville town Facebook page.
Source: USA Today
Americans waste an estimated 50 percent of the produce grown each year due to unrealistic cosmetic standards. Perfectly edible produce is left in the field to rot, fed to livestock, placed in landfills, or abandoned in a warehouse because of slight blemishes. Food waste is the number one cause of landfill and incinerators, according to the Environmental Protection Agency. Tarnished crops are often abandoned in the field by farmers to reduce labor costs. "At times there is 25 percent of the crop that is just thrown away or fed to cattle," remarked Wayde Kirschmen, whose family has been farming in California since the 1930s. The Obama administration and the United Nations have pledged to reduce avoidable food waste by 2030.
Source: Guardian (UK)
In 2015, 65 million people were displaced from their homelands. On August 5 the first-ever team of refugees will compete in the 2016 Summer Olympics. Unlike other teams, these 10 individuals will march under the Olympic rings, instead of a national flag. The team includes swimmers from Syria, judokas from the Democratic Republic of Congo, and runners from South Sudan and Ethiopia. "I would never imagine this was possible. I got back to judo without knowing. Now I'm really touched. I think about it every time, and I just can't believe it," remarked Yolande Bukasa Mabika, a judoka who fled the Democratic Republic of Congo and now resides in Brazil. The formation of the refugee team was created by the International Olympic Committee to address the refugee crisis and give refugee athletes a chance to compete for the gold.
Source: Times of Israel