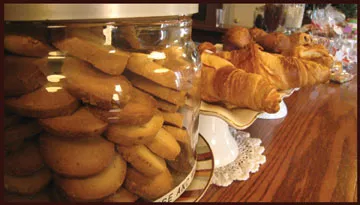 Baked goods at Caffe Macchiato in Newburgh.

Caffé Macchiato
While many people expect the top restaurants in Newburgh to be lined along the riverfront, Caffé Macchiato is a jazzy little breakfast and lunch spot located across from Washington's Headquarters. The intimate eatery offers a warm atmosphere to enjoy a panini with a lightly dressed organic salad and a glass of wine with a friend. The cinnamon latte macchiato is also irresistible. Breakfast- and brunchgoers can choose from a variety of pastries, frittata, and smaller dishes, but when crepes are listed on the specials menu you're in for a treat.
Caffemacchiatonewburgh.com
—Melissa Esposito
Flatiron
Two years since my last visit and I had forgotten about the creamed spinach. A side dish can so often be an afterthought, but not spinach brought to the point of an effervescent bubbling creaminess by chef/co-owner Craig Stafford. Attention to detail is a specialty of the house, from the fresh oysters (Martha's Vineyard on a recent visit) to the expansive, airy space they're served in. Barbecued rabbit was on the specials board recently, and the steak frites is among the best in the region. The ground duck burger served with fried egg and cracklins is a delicious novelty worthy of the trip alone.
Flatironsteakhouse.com
—Brian K. Mahoney

Karma Lounge
Karma Lounge is Poughkeepsie's latest (and possibly first) gastropub. One-part flower child and one-part rocker, Karma's brick walls are lined with electric guitars, skull-painted canvases, and Moroccan touches. Savory cocktails like the Thai Chili Blood Orange Margarita and Black Currant Basil Mojito are little meals in themselves. An all-tapas menu includes the popular Wild Game Sliders made with elk, Kurobuta pork, Kobe beef, and duck, topped with crumbled blue cheese, caramelized onions and black bean BBQ sauce. Tomato-onion relish and fontina cheese garnish the bacon-wrapped knockwurst Karma Dog, nestled into a soft pretzel bun. Outdoor courtyard in the summer.
Karmalounge.us
—Lindsay Pietroluongo
Sunfrost Juice Bar & Café
Wholesome and delicious meals featuring local and organic ingredients are on tap at Sunfrost Juice Bar & Café, the (wheatgrass) watering hole where everybody knows your name. Musicians and handymen sit beside yogis fresh from class to enjoy salads, soups, wraps, smoothies, and breakfast served all day—including a fragrantly curried tofu scramble that has garnered a cultish following among the vegetarian set. A black bean burrito enfolds homemade guacamole and mango salsa, while specials might include wild-caught salmon or Caribbean Kale Soup with a coconut base. Washed down with a ginger-laced green drink, this is good, clean food that will leave you feeling nourished and energized in true Woodstock style.
Sunfrostfarms.com
.
—Wendy Kagan