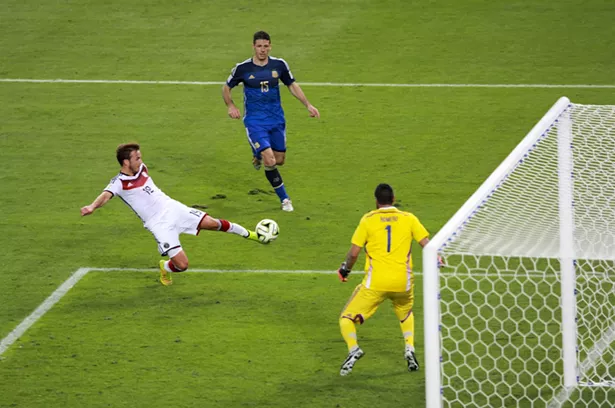 For one month every four years, the world slows down a little bit. In every pub, restaurant, and bodega in every tiny town across Europe, Africa, and South America, you can hear the lilted intonation of commentators, the shouts of drink-addled spectators, and the drone of the televised crowd. It's World Cup season, and fútbol reigns supreme.
Here in the good old US of A, it's taken us some time to catch on. With the Stanley Cup, the Super Bowl, and the World Series, our fanaticism is already spread pretty thin. But when the US hosted the 1994 World Cup, a slow-growing seed was planted. Over 3.6 million fans attended the tournament at stadiums across the country. Two years later Major League Soccer was born.

Fútbol Fever
In 2004, it was basically impossible to find a World Cup game on at a bar outside a major city. In 2008, you could ferret out the major matches at select establishments owned by hipster soccer fans (you know the type). And now suddenly, in 2018, it seems to be popping up everywhere from bookstores to restaurants to classic divey sports bars.
So, dear soccer fans of the Hudson Valley, in honor of the World Cup and America finally catching up, we've rounded up a list of the local spots to watch the games. Disclaimer: This list is by no means exhaustive. If you know of other places to tune in, feel free comment below or shoot us an email.
And in case it's not already saved on your phone, here is the 2018 FIFA World Cup Russia official match schedule.

Rough Draft Bar & Books in Uptown Kingston
KINGSTON

For those who haven't discovered it yet, Rough Draft is new hotspot in Uptown that traffics in beer and books. Aside from a communal work table and people watching counters, the chill spot has couches and a pull-down projector screen that, for the rest of the month, is solely dedicated to World Cup matches. Grab a beer or an espresso and a pot pie and kick back.
Uptown's beloved Americanized gourmet taco joint on John Street is showing the games on their flat screen above the bar (usually reserved for muted surfing videos). Rub elbows with the owner, Isaac, while you watch.
Vincenzo's Pizzeria & Ristorante
The Argentinian-owned pizza place on Wall Street is definitely showing the World Cup (you know how they love their soccer). The owner told us, "Oh yeah, every single game is on." Get a slice and root for your team.
For delicious authentic Salvadoran food and a dose of Mundial fever, head to Mi Ranchito on Broadway in Midtown.
RHINEBECK
With locations in Ellenville and Rhinebeck, Gaby's is a budding Mexican restaurant empire. Like their earthquake-triggering compatriots in the homeland, enthusiasm runs strong at Gaby's and you can find the games on at both locations. (And while you're there, treat yourself to a pineapple tequila).
POUGHKEEPSIE
Mahoney's Irish Pub & Steakhouse
This Irish chophouse will be showing "Every game on Channel 5," i.e. all of them. According to the bar manager, a good handful of people have been coming in to watch, so you won't be cheering alone.
Schatzi's is proud of its German heritage, and as any good German bar would do, they are showing all the Cup matches in both their New Paltz and Poughkeepsie locations. Enjoy gastropub fare and their rotating selection of 16 German and American draft beer lines while you watch. "We open at noon so we catch the second half of the second game and the entire 3rd game," the New Paltz manager says. "Sundays we open at 11 do we get 2 of the three games.
NEW PALTZ
Same hours, same deal as the Poughkeepsie location.
'Nuf said.
NEWBURGH
The trendy and unassuming Ms. Fairfax serves up simple, locally sourced dishes focused around cured meats and fine cheese. Add football to the menu this month and you've got the perfect hangout.
Aside from serving a mean ceviche, Peruvian restaurant Macchu Picchu is also dishing up the World Cup games. Chow down on some South American-style seafood and watch the tournament. (Peru next plays Tuesday, 6/26 against Australia).
BEACON
We hear Bank Square is turning into quite the soccer mecca this month. A coworker tells us there is "always a crowd for the games." With couches, coffee, and beer you have all the conveniences of a bar and all the comfort of watching in someone's living room.
On Fishkill Avenue, this is a proper American sports bar with the chicken wings and jalapeño poppers to prove it. They are showing all the Cup matches, so head over for your fill of fried food and fútbol.
HIGH FALLS
Egg's Nest
This quirky, colorful bar and restaurant reopened earlier this year under new owners Eric and Cristina Silver. To the relief of longtime local fans, the much of the Jim Murphy murals and kitschy decor has stayed, though things feel less cluttered. The Egg's Nest will be showing all World Cup games at the bar and at their new outdoor patio.
ELLENVILLE
Gaby's Cafe
Same drill as Rhinebeck.
CATSKILL
For hearty stick-to-your-ribs Polish-American food and a cool vibe, head to Catskill's New York Restaurant. They'll be showing all the FIFA games that areon during business hours, "unless a group of customers requests something like baseball and no one else is watching it."
Not only is this brewing company's Catskill outpost showing the games, but yesterday they opened two hours early to broadcast the entire match! That is commitment. A manager told us, "We're opening at 2pm today again (Thursday 621) and tomorrow, and we will continue to alter hours as we sit fit depending on demand." So get out there.
HUDSON
The Half Moon
One Yelper said it all: "One of the few places in Hudson open past 10PM so thank you bb Jesus for that. A dive bar by definition with a great pool table and clearly an establishment frequented by the locals. No frills and good outdoor area. Bartenders could give more of a shit but otherwise a great spot." They're showing matches, so go forth and watch.
SAUGERTIES
The newly renovated bar and restaurant has the World Cup "running 24/7!" (There's only three games a day, but given the enthusiasm, we'll let it slide.) According to new owner Dallas Gilpin, "Crowds have been generally good, but it seems to depend which game is on."
ROSENDALE
This laid-back Rosendale joint serves a great slice of proper New York-style pizza. When asked if they are showing the World Cup owner answered, "Of course, we're watching all of them." Duh.
HIGHLAND
This Highland joint has you covered all day long. They sell coffee and beer and a good selection of well-executed pub food in a chill environment. When we called on a Thursday morning, the bartender admitted, "I have it on right now, because I am super invested in whether France wins. It kind of depends on who is behind the bar, but if you ask they should be able to put it on." So order a pint, and ask away.
RED HOOK
Though there was a distinct lack of enthusiasm over the phone, the manager at this sports bar confirmed that "if the games are on regular channels we can show them." So not our first choice, but a good back pocket option.