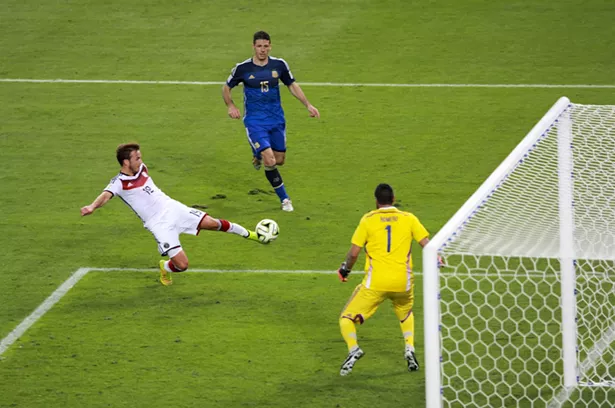 For one month every four years, the world slows down a little bit. In every pub, restaurant, and bodega in every tiny town across Europe, Africa, and South America, you can hear the lilted intonation of commentators, the shouts of drink-addled spectators, and the drone of the televised crowd. It's World Cup season, and fútbol reigns supreme.
Here in the good old US of A, it's taken us some time to catch on. With the Stanley Cup, the Super Bowl, and the World Series, our fanaticism is already spread pretty thin. But when the US hosted the 1994 World Cup, a slow-growing seed was planted. Over 3.6 million fans attended the tournament at stadiums across the country. Two years later Major League Soccer was born.

Fútbol Fever
In 2004, it was basically impossible to find a World Cup game on at a bar outside a major city. In 2008, you could ferret out the major matches at select establishments owned by hipster soccer fans (you know the type). And now suddenly, in 2018, it seems to be popping up everywhere from bookstores to restaurants to classic divey sports bars.
So, dear soccer fans of the Hudson Valley, in honor of the World Cup and America finally catching up, we've rounded up a list of the local spots to watch the games. Disclaimer: This list is by no means exhaustive. If you know of other places to tune in, feel free comment below or shoot us an email.
And in case it's not already saved on your phone, here is the 2018 FIFA World Cup Russia official match schedule.

Rough Draft Bar & Books in Uptown Kingston
KINGSTON

For those who haven't discovered it yet, Rough Draft is new hotspot in Uptown that traffics in beer and books. Aside from a communal work table and people watching counters, the chill spot has couches and a pull-down projector screen that, for the rest of the month, is solely dedicated to World Cup matches. Grab a beer or an espresso and a pot pie and kick back.
Uptown's beloved Americanized gourmet taco joint on John Street is showing the games on their flat screen above the bar (usually reserved for muted surfing videos). Rub elbows with the owner, Isaac, while you watch.
Vincenzo's Pizzeria & Ristorante
The Argentinian-owned pizza place on Wall Street is definitely showing the World Cup (you know how they love their soccer). The owner told us, "Oh yeah, every single game is on." Get a slice and root for your team.
For delicious authentic Salvadoran food and a dose of Mundial fever, head to Mi Ranchito on Broadway in Midtown.
RHINEBECK
With locations in Ellenville and Rhinebeck, Gaby's is a budding Mexican restaurant empire. Like their earthquake-triggering compatriots in the homeland, enthusiasm runs strong at Gaby's and you can find the games on at both locations. (And while you're there, treat yourself to a pineapple tequila).
POUGHKEEPSIE
Mahoney's Irish Pub & Steakhouse
This Irish chophouse will be showing "Every game on Channel 5," i.e. all of them. According to the bar manager, a good handful of people have been coming in to watch, so you won't be cheering alone.