The air is warm, trees are green and the sky is blue. Summer in the Hudson Valley is upon us, and a stuffy movie theater is not the place to spend some time. But, you might not want to go all summer without watching a movie, so we've rounded up some of the best spots to catch a flick under the stars. Gather your family and friends, a blanket and some snacks, and head into the fresh air for these outdoor movie screenings in the Hudson Valley.

Movies Under the Walkway
Looking down from the towering
Walkway Over the Hudson
, which spans from Highland to Poughkeepsie, you will notice a pleasant patch of greenery that's home to a weekly outdoor cinema. Upper Landing Park will host five different movies this summer season. Enjoy pre-game festivities the whole family can enjoy, including a variety of food trucks, live music, and other activities. The season kicks off with a showing of Mary Poppins on June 29 and ends with Captain Marvel on August 10. Make sure to visit the venue site for a
full outdoor movie schedule
and more information. Don't forget your blanket and chairs!
Monday Movies at Water Street Market
Nestled among a collection of antique shops, cafes, and exceptional eateries is the intimate free movie night at the Water Street Market. Located towards the bottom of Main Street, in New Paltz, NY, the market will host a weekly outdoor movie night from now until August 26 to brighten your Mondays. All restaurants will stay open for the duration of the film night, making it easy to grab a drink or a bite to eat anytime. Some of the films in this year's lineup includes Jaws, Ponyo, The Muppet Movie, and the Hudson Valley Short Film Festival on August 12. The final film will be A Quiet Place, which was partly filmed on the Wallkill Valley Rail Trail near the village. Before you head out, check the dates for these fantastic fresh-air films.
Greenville Drive-In
The Greenville Drive-In is a quaint, old-school car theater located in a quiet grassy field off of Route 32. As the sun sets, lamps on their block-lettered billboard light up to reveal the night's movie pick. Doors open at 7pm at the venue, where popular classic films have served as the foundation of the business since it opened way back in 1959. A sizeable selection of locally sourced food and beverage will be available for purchase. On June 7, the Greenville Drive In will screening the ever-popular Babe followed by stoner hit Dazed and Confused on June 14. The venue is also excited to welcome local filmmakers to showcase, open mic night, and even ukulele jam sessions in the upcoming months.
The Four Brothers Drive In
This retro outdoor theater is decked out with custom local artwork and decorations creating a Southern Californian-esque environment. Four Brothers' business model is centered around customer satisfaction, offering special services such as food delivery, pet accommodations, and windshield cleaners. Restless moviegoers can totter off to the mini-golf course or bask in the warm glow of a firepit. The venue offers showings seven days a week including the upcoming Godzilla: King Of The Monsters on June 8, Men In Black: International on June 15, and Toy Story 4 on July 2. See Four Brothers' Full movie schedule.
Bannerman Castle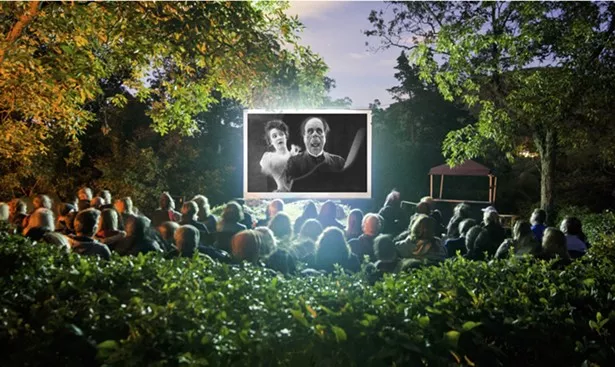 Peering out from the first peak of Breakneck Ridge, near Cold Spring, NY, Bannerman Castle looks like a crumbling doll house on an isolated island. Once a haven for bootleggers and other shady characters, the ruins are now home to arts and cultural performances and family-friendly events. After ordering tickets, your confirmation email will direct you to the Beacon Institute Floating Dock where you will meet up with other show-goers to be ferried toward this mysterious patch of land situated in the Hudson River. On June 8, the castle will be showing Alfred Hitchcock's masterpiece Psycho, followed by The Wizard of Oz on July 5, and Jurassic Park, on August 2.
Boondocks Film Society at Troutbeck, Amenia, NY
At Troubeck's cute, curated country estate, the Boondocks Film Society will once again host an indie-film screening this summer. On June 8, the society will show Frances Ha (2012) which follows a young woman chasing a professional dance career, while slowly coming to terms with the probable failure of her dream. Doors open at 7:30pm, giving you a little over an hour to explore the picturesque property, laced with streams, trails, and stone bridges, or to enjoy a fresh farm-to-table dinner at the onsite restaurant. Before the screening, choreographers from the film, Xan Burley and Alex Springer, will stage a modern dance performance on site, followed by a Q&A after the film. Themed cocktails will be offered as well as a complimentary poster when you buy your ticket.
Kingston City Park Movie Nights, Kingston, NY
Free movie night is back in numerous parks across the City of Kingston. Every Friday, keep your eyes peeled to the Parks and Recreation Facebook Page to track where the latest venue and film is happening. Bring a blanket, snacks, and cozy up with family and friends for a calm, community movie night. Stay tuned to the city Facebook account for the movie schedule which will begin in late July.