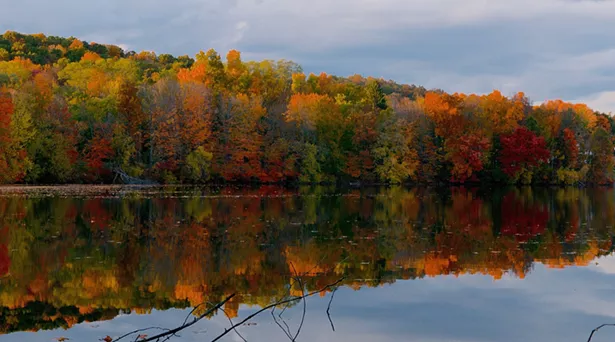 The crisp, colorful days of autumn and the cozy weekends of winter are a great time to get to know Putnam County, the glorious slice of the Hudson Highlands just about an hour from Manhattan or Kingston with a personality all its own. With outdoor fun, dining, nightlife, and shops, there is way too much here to do in a single visit, but here are four must-hit Putnam County attractions to get your wheels turning.
Newly revitalized, with an educational institute, new farm animals, and gorgeous trails to explore, the farm is a great place to spend an afternoon. Or enjoy a farm-to-fork feast of seafood and steak at Tilly's Table on Thursday, Friday, and Saturday evenings, with live music and stand-up comedy on weekend nights. Or head here on Sunday morning for a picturesque, unforgettable brunch experience.
Eat and shop at restaurants and boutiques that blend urban sophistication with small-town welcome. Holiday shopping in Cold Spring is a sweet mix of glam and down-to-earth, all of it top quality; the culinary options along the way will please the choosiest foodie. Get inspired by the exquisite detailing of the 19th-century architecture, then find yourself the perfect antique to bring home.
With 18 kilometers of groomed, tracked, and mapped trails to explore beside a sledding hill and an outdoor fireplace, Fahnestock is a renowned winter recreation spot for families. Rent skis, snowshoes, or tubes for a day in the winter sunshine, then warm up with hot chocolate from the Acorn Cafe. You'll find more great winter family fun nearby at Thunder Ridge in Patterson. Complete with a lift and a lodge with a cafeteria and pub, Thunder Ridge is the perfect place for your young ones to learn to ski or snowboard.
From black box-minimal to tromp l'oeil-elaborate, from solo performers to full ensemble, the Depot blends live theater with a curated series of documentary screenings attended by the filmmakers along with select musical performances, serving as a cultural hub for the community. From October 31 through November 17, you can catch a live performance of Mel Brooks's hilarious "Young Frankenstein."
Photo from Philipstown Depot Theatre.