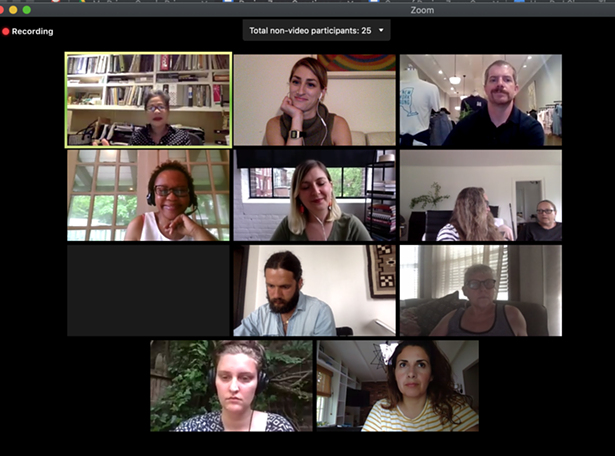 In late May, Chronogram Media teamed up with Maryline Damour, founder of Kingston Design Connection, to host a panel discussion on the impacts of COVID-19 on brick-and-mortar design shops and the industry at large.

Held via Zoom, the call, hosted by Damour and Chronogram Media's digital editor, Marie Doyon, brought together three Hudson Valley panelists and over 40 remote participants for a rich discussion on pandemic pivots, e-commerce, and the future of design. Watch the full discussion below, or read on for a recap.


Panelist Maria Mendoza has been in the design industry for over 15 years. Her interior design and home furnishing business, Marigold Homes, has three Hudson Valley locations in Rhinebeck, Woodstock, and their flagship design center in Kingston, which sits in a 100-year-old dollhouse-style building on Route 28.
Mendoza says business was booming, but when the pandemic gripped New York, Marigold Homes' physical location had to close. That didn't stop her from forging ahead. Due to the stay at home orders, Mendoza said clients were more inclined to want to spruce up their humble abode and seek out her design expertise. In addition to that, she gained new clients as people began moving up from the city in an attempt to escape tiny apartments and the epicenter of the pandemic. "Each order is a blessing," she says.
Jessica Williams started her holistic and heritage-focused interior design business, Hendley & Co, two years ago after moving to the Hudson Valley from Brooklyn. Williams chose Newburgh for her storefront location because of the area's historic architecture. "It immediately felt like home," she says.
Luckily, Williams was prepared for the impending shut down. "I was always planning for a sort of doomsday situation," she says. "The physical projects couldn't be built out, but we could still work with our clients in many of the same ways." From design consultations to CAD mockups, Williams was well suited to take her business virtual, and when restrictions are lifted Hendley & Co. will hit the ground running on a number of construction projects.
Prior to the pandemic, Hamilton & Adams, a menswear boutique in Uptown Kingston had a small online presence. Finding quarantine's silver lining, co-owner Andrew Addotta took advantage of the shop's closure to update his online inventory—a major project he had been putting off for ages. "Before this started, we had maybe 30 percent of our products on the website," says Addotta. "Now we have 99 percent."
Having to operate in solely an online capacity is both a blessing and a curse according to Addotta. Although it allows local designers to stay in business during a time where customers can't visit their showrooms, some aspects of design are hard to render through a computer screen. "Customers can see something when they're physically in a space that you might not think to show them, and those things are going to be really hard to translate digitally," he says. Not to mention the tactile component of design.
Despite this, Instagram's visual-centric platform has been a big driver of business for local designers, especially during the pandemic. "You can't possibly show everything that you have on Instagram," says Mendoza. "But your social media presence is really, really key." Even prior to the pandemic, Williams says that Instagram was a business booster for her. "Instagram was the number one reason why people would come to Newburgh to see what was here, and check out our shop," she says.
Even as the state starts to open back up, local designers have a mix of wariness and optimism about what the future holds. "There will be trends in apparel fashion that we don't know yet," says Addotta, who has noticed a decrease in the sale of men's bottoms during the last few months.
Mendoza on the other hand, believes that customers will be understanding as businesses adapt to the new protocols and changing tastes. "They are all in this with us," she says.
Interior design and retail businesses are now allowed to open their storefronts as long as they adhere to strict guidelines set by the state.