There was a time not so long ago when broaching the subject of boarding school could leave a child shaking in their boots. The name alone can make you shudder by conjuring up images of dark halls, stringent headmistresses, and isolation. A parent could use this as a scare tactic to coerce good behavior out of a youngster. If you've read Catcher in the Rye then you know that the young mind of Holden Caulfield despised nothing more than phonies at Pency Prep—so much so that his actions led to his expulsion. For many Americans, especially those who have not lived on the East Coast, where boarding schools are more prevalent, the life of a boarder remains a mystery, a bit intriguing and possibly a misconception.
Today, boarding school life is nothing like that of Holden Caulfield's era, when prep school was often associated with an upper echelon of class, the social elite. Now, financial aid is more readily available and students are applying to boarding schools like they would a university. Kathryn Sullivan, the director of admissions at Connecticut's Kent School, says, "It's a college process, but at a high school level." She also believes it's the students who are making the final decisions on where they'll be attending boarding school.

HERE AND ABROAD
There are three main types of boarding schools: college-prep or secondary schools; junior boarding schools; and therapeutic boarding schools. Military and religious boarding schools are also somewhat common in the US.
College-prep boarding schools are typically for the high school-age students and often offer advanced course studies. These schools prepare the students to thrive academically in college. The schools can be small or large, coed or not. Richard Brande, the director of enrollment and external affairs at South Kent School, an all-boys secondary school in South Kent, Connecticut, reflects on what particular type of student thrives in a boarding school environment: "The kid who is excited to live away from home, who is intellectually curious and motivated to do well. Also, those who might get lost in the big sea of public school." (There are only 153 students currently enrolled at South Kent.) Sullivan's perspective is similar in that the student must want to be there. "The classes are smaller," she says. "They do want to be away from home, and have the opportunity to be the lead in the school musical and take six different language options."
The junior boarding schools are for children from first through eight grades, and, according to www.boardingschoolsinfo.com, "most junior schools are part of a larger campus that includes middle and high school grades as well. A junior school can greatly benefit younger students who have trouble developing the discipline necessary to study and stay organized. The smaller class sizes also enable teachers to give each student more focused attention."
A 1994 article in the London Times discussed the increasing number of working parents who were opting for junior boarding schools over public or private day schools. The burden of a daily commute combined with the weekly costs of after-school childcare, it read, could be put toward an education at boarding school. A mother and two boys chronicled their positive experience with boarding school and the superior education, independence, and personal relationships because of this decision. Since then, statistics show that the number of pupils in boarding schools has increased for the first time since the 1980s, despite higher fees. We should assume that women will continue to grow in the work force, so perhaps junior boarding school is the solution to a happy and harmonious home life.
Mike Stubbs is the associate director of admissions at Indian Mountain School, a coed junior boarding school in Lakeville, Connecticut. Boarding students at Indian Mountain are generally 11 to 16 years old. Stubbs feels that the unique dynamic of the junior boarding school is much more nurturing a day school. While it seems that secondary boarding schools put more academic pressure on the student, junior boarding schools do not, he says. "It's not sink or swim," says Stubbs. "We provide them with the tools and skills to succeed. They have lots of options—music, art." Stubbs gives an inspiring example of a ninth-grade student who was playing five instruments by graduation day. That's not to say that there's not a rigorous academic curriculum at Indian Mountain. "We just don't have our students [only] doing calculus," he says.
So why do parents send an 11-year-old to boarding school? There are a number of reasons why a young person can thrive in this environment. The first could be unfit social or family conditions in the home. In these circumstances, the child or young adult can learn better away from the home. There are also cases where some young people who have learning issues will benefit in boarding school environments. Indian Mountain is equipped to support these students and to give more attention to students with extensive tutoring, such as those with mild dyslexia. There are also parents who want to remove children from city environments. One particular parent brought her daughter to Indian Mountain because the 15-year-daughter was living in a metropolitan area and able to enter a bar without being stopped. "We like kids to be kids as long as possible," Stubbs says. As in the case of the London mother, some parents find it difficult to offer round-the-clock support. Stubbs says that where he works he's not just a teacher, he's a fellow human being. "These students not only see me teaching math, but as a coach and a dorm affiliate," he explains. "They are making connections with adults that can be appreciated on so many levels."
Finally, therapeutic boarding schools are for kids with special learning needs or unstable home lives. These schools have staff trained especially for these therapeutic schools.
SPEAKING FROM EXPERIENCE
A variety of online forums can be found with discussions pertaining to boarding schools. A question was posed on www.47things.com from a sophomore asking a group of peers of their opinion of boarding school and their thoughts on a transfer. The responses were surprisingly well thought out for such young minds. One member says that, "although it was intense, it changed me immeasurably." On the message board of a newlywed site, www.TheNest.com, married women discuss their experiences at boarding schools. The only non-glowing report was from a member whose husband had been a day boarder. She says that this made him feel like a "second-class citizen." The thread hosts discussions of how these women would not have had opportunities to meet people of other backgrounds, races, and religions were it not for their years at boarding school. More than one had plans of sending their own children to boarding school. The tightly knit relationships that are formed are apparent in the online thread. One member speaks of the need to attend a Latin teacher's memorial and another member tells of meeting her spouse at boarding school.
Katherine Pereira, 19, describes her experience at Portsmouth Abbey School in Portsmouth, Rhode Island, where she attended the last two years of high school. Enrolling was her own idea, and it initially shocked her parents. She had attended a summer school program at Portsmouth Abbey and "fell in love with the place," she says, adding that, "I had a great two years at boarding school. Of course it was intense, and having class on Saturdays and mass twice a week took some getting used to, but I really enjoyed it. It was a lot of work but it was also a lot of fun. How many kids can say that they used to hang out with a bunch of cool monks?"
As far as the negative points go, Pereira's parents live in Puerto Rico and she was only able to visit for Christmas, spring, and summer breaks, which made it especially difficult when her father was diagnosed with kidney failure. But she states that this distance also made the relationship stronger. "It made me really excited to see my parents and get to spend time with them," she says. "Plus, I had so much to tell them and so much to share with them. We also fought a lot less." During the time that Pereira was attending the school, her first and closest friend that she made at school committed suicide on campus. Despite this she says, "If I were given the choice, I would do it all over again. I think nothing compares to the bonds that are made at a boarding school, whether with faculty members or fellow students."
Boarding schools work to prepare students for college life, not only academically, but mentally as well. Pereira, who now attends Fordham University, says that boarding school made the transition to college a lot smoother and a lot easier. "I was already used to having a roommate and sharing a bathroom, being away from home, and all that stuff, so it wasn't a big deal." She said that some of her classes at Portsmouth were actually more difficult and intense than her college courses, therefore she has rarely felt overwhelmed by the workload in college thus far. "I've always been a procrastinator and I still am," Pereira says. "But the Abbey helped me start managing my time better, which definitely comes in handy when you're in college."
Rachel Carey attended the Millbrook School, a coed school in Millbrook. Carey, who is 20 and now attends Trinity College in Hartford, Connecticut, says something similar about her preparation for college. "Had one of my teachers at Millbrook not recommended applying to Trinity, I don't know if I would have come to college here, or even, have heard of it," she says. "Coming into college, I definitely felt as if I had an advantage, for I felt academically prepared."
Resources
Boarding School Directory www.boardingschoolsinfo.com
Indian Mountain School www.indianmountain.org
Kent School www.kent-school.edu
Millbrook School www.millbrook.org
South Kent School www.southkentschool.org
Indian Mountain School's main building.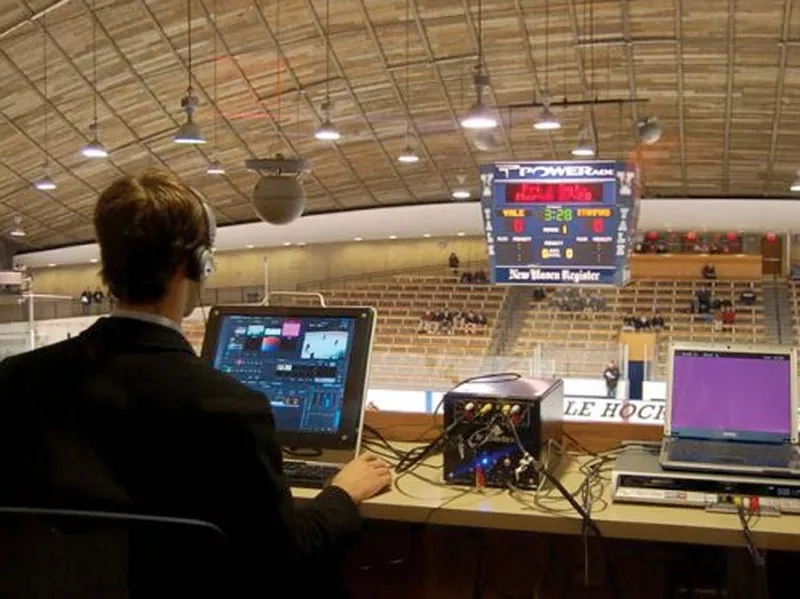 Jesse Bruen of South Kent School filming a live webcast of the Varsity 'A' hockey team at Yale University.