Ladybug Girl and the Rescue Dogs
David Soman and Jacky Davis
Penguin Random House, 2018, $17.99
Ladybug Girl is onto her next adventure: holding a pet parade. When she discovers rescue dogs at an adoption fair, she becomes inspired to get others to adopt them. Rosendale writer-illustrator duo Jacky Davis and David Soman tell the series' tenth story of beloved Ladybug Girl and her superhero friends. Davis, a former Chronogram staffer, and her husband, Soman, co-write the New York Times bestselling series, now with almost four million books sold.


Twentieth-Century Boy: Notebooks of the Seventies
Duncan Hannah
Alfred A. Knopf, 2018, $28.95
Painter Duncan Hannah saw it all in 1970s New York City—from struggling as an artist and appearing in movies to attending parties alongside celebrities like David Bowie. He chronicled his "sex, drugs & rock 'n' roll"-lifestyle in journal entries throughout the decade, which now compose his debut book release. The rip-roaring account includes stories of his time attending Bard College from 1971-1973. Reading at The White Hart Inn in Salisbury, CT, on March 22 at 6pm.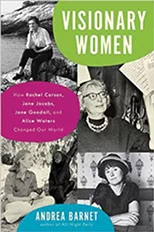 Visionary Women: How Rachel Carson, Jane Jacobs, Jane Goodall, and Alice Water Changed Our World
Andrea Barnet
Ecco, 2018, $28.99
The progressive movement of the 20th century would not have transpired without visionaries. Hudson Valley author Andrea Barnet tells the tales of four influential activists who broke convention and sparked action for animal rights, environmental justice, urban planning, and food sustainability. The women's careers are not directly related, but Barnet frames their powerful lives as all shaping history in their own way. Reading at The White Hart Inn in Salisbury, CT, on April 19 at 6pm.


Roses and Radicals: The Epic Story of How American Women Won the Right to Vote
Susan Zimet
Viking, 2018, $19.99
She was the first woman to be elected New Paltz Town Supervisor, and now she's looking back on woman suffragists' invaluable achievements. Susan Zimet, who now lives in Athens, writes that as a student, she was sick of history books ridden with only white men and "wanted a history of people like me, ordinary women who changed the world." Roses and Radicals offers an easily digestible, educational tool for young women—and men—who may feel the same.


The History of the Hudson River Valley: Volumes One and Two Boxed Set
Vernon Benjamin
The Overlook Press, 2017, $85
Historian Vernon Benjamin has been researching, writing about, and lecturing on Hudson Valley history for decades. He recounts the region's rich, storied past in The History of the Hudson River Valley. Previously published separately, the two volumes, From Wilderness to Civil War and From Civil War to Modern Times, can now be purchased as a boxed set. From colonization all the way through post-9/11, it's the most extensive look at Valley history to date.


Breaking the Ruhls: A Memoir
Larry Ruhl
Central Recovery Press, 2018, $16.95
Hudson Valley author Larry Ruhl has called publishing his life story "one of the most difficult decisions I've had to make." As a survivor of childhood sexual abuse, Ruhl had been taught to keep quiet about the family's shameful secrets. Now as an adult, and as the tongue-in-cheek title suggests, Ruhl tell his story of trauma, addiction, sexual confusion, and ultimately, recovery and healing, in hopes of helping other survivors. Reading at the Golden Notebook in Woodstock on March 17.