"Art" at the Old Dutch Church | October 13–23
Voice Theater stages "Art" at the Old Dutch Church in Kingston.
Yasmina Reza's Tony- and Pulitzer Prize-winning drama from 1994 is being staged by
Voice Theater
at their new home in Kingston's
Old Dutch Church
. The play centers around three friends, one of whom buys an expensive modernist painting that is completely white. The painting, first a cause of tension between the men, then becomes an instrument through which the friends reveal their true feelings about each other. The cast includes: Robert Langdon Lloyd as Marc, Neil Howard as Serge, and John Gazzale as Yvan. The production is directed by Shauna Kanter.
"Sexual Misconduct of the Middle Classes" | Bridge Street Theater | October 13-23
Here making its premiere this month at Catskills' Bridge Street Theater is a new play by Hannah Moscovitch, the winner of the 2021 Canadian Governor General's Literary Award for English-Language Drama. In the story,
an acclaimed novelist and a star professor named Jon is racked with guilt when he finds himself becoming attracted to Annie, one of his students, after his third marriage falls apart. The 19-year-old student is a big fan of Jon's work and just happens to live right down the street. Their mutual admiration grows, the sexual tension escalates, and the archetypal student-teacher romance gets turned on its head.
"I'm Not a Comedian, I'm Lenny Bruce" at the Mahaiwe Theater | October 14–15
Critically acclaimed actor Ronnie Marmo brings his one-man show, directed by Joe Mantegna, to Great Barrington's
Mahaiwe Theater
for two nights this fall. "I'm Not a Comedian" chronicles the life and death of Bruce, one of the greatest stand-ups of all time, from his early material to his numerous arrests on obscenity charges and accidental drug overdose in 1966. With free speech under fire in school censorship battles across the country, Bruce's championing of the First Amendment is more relevant than ever.
"Richard Segalman: Contemporary American Impressionist" at WAAM | October 14–December 31
E292 Scarlet Ribbon by Richard Segalman, Oil on Canvas 42×60 c.2019
Richard Segalman (1934–2021) is best known for his light-filled large-scale paintings of women on the beach clothed in voluminous dresses, showcasing masterful painterly technique. This retrospective, curated by
Woodstock Artists Association and Museum's
Executive Director Nicole Goldberg spans Segalman's six-decade career and features 24 works of art including oil paintings, watercolors, pastels, drawings, and monotypes. The works are drawn from regionally based collectors, the artist's estate, and WAAM's permanent collection.
"Kurt Seligmann: Beyond the Quotidian" at the Kurt Seligmann Center | October 14–November 30
A Swiss-American Surrealist,
Kurt Seligmann
(1900-1962) was one of the first in the movement to emigrate from Europe to the US in the 1930s. This exhibition presents the juxtaposition of the mysteries of the subconscious embedded in ordinary domestic life through the catalyzing setting of the Seligmann homestead in Sugar Loaf. Through the lens of the Seligmann homestead, these works, together with various ephemera, photos, and other artifacts, present an understanding of the artist as depicted through the trivialities of everydayness.
Al Bilali Soudan at Half Moon | October 15
Al Bilali Soudan
's moniker is an ancient name for the group's home city of Timbuktu, Mali. Their traditional repertoire is played on the Tuareg stringed instrument known as the tehardent (AKA ngoni) and the calabash, a percussion instrument. In his review of the band's 2020 album,
Tombouctou
, Robert Christgau writes, "should you instead suspect that this noisy, indelicate stuff is the roughest African music ever recorded, that's because you haven't heard their [self-titled] 2012 debut. A-." They play the
Half Moon
in Hudson on October 15 at 8:30pm, tickets available online. $10.
Sheep & Wool Festival | October 15–16
Located at the Dutchess County Fairgrounds in Rhinebeck, the 41st New York State
Sheep and Wool Festival
is offering a hybrid event this year. Attend in person sheep and goat shows, author talks, and see who will take home a ribbon in this year's fleece to shawl fiber competition, where three teams spin and weave fibers to make a shawl from start to finish. There are multiple yarn-related products to peruse, including handmade portable spinning wheels from Athena Spinning, yarn from the sheep at Bay Haven Short Tails, and ceramic beads and buttons from Lisa Peters ART. Farm tours and workshops on yarn making will be offered virtually.
"Robert Bordo: now till then" at Foreland | October 15–November 27
Courtesy of the artist and Bortolami Gallery
"Criss Cross," 2000, Robert Bordo
Bortolami Gallery
takes over
Foreland's
largest gallery space in Catskill to present new and past works by renowned painter
Robert Bordo
. The New York-based, Canadian-American artist is known for paintings positioned between representation and abstraction that blend modernist formal concerns with postmodern approaches to image, subject matter, and metaphor. Bordo's ultimate subject may be painting itself and his body of work a conversation between its various forms and functions.

Rosendale Pickle Festival | October 16
Pickle lovers, rejoice! The small town of Rosendale's annual homage to all things pickled returns to the Rosendale Rec Center this Sunday, October 16. The 25th annual fest will feature over 100 vendors selling every kind of pickle you can imagine from sweet to salty to spice, sliced and diced, speared and relished, plus baked goods, hot food, clothing, and accessories. For amateur picklers, there is a contest for the tastiest homemade product. And if your digestive track is feeling up for it, you can even sign up for the Pickle Triathlon, which features pickle eating, pickle juice drinking, and a pickle toss. Don't find yourself in a pickle—clear the calendar and head to Rosendale this Sunday.
"Holograms: Dimensions in Light" at Cornell Creative Arts Center | September 16-October 31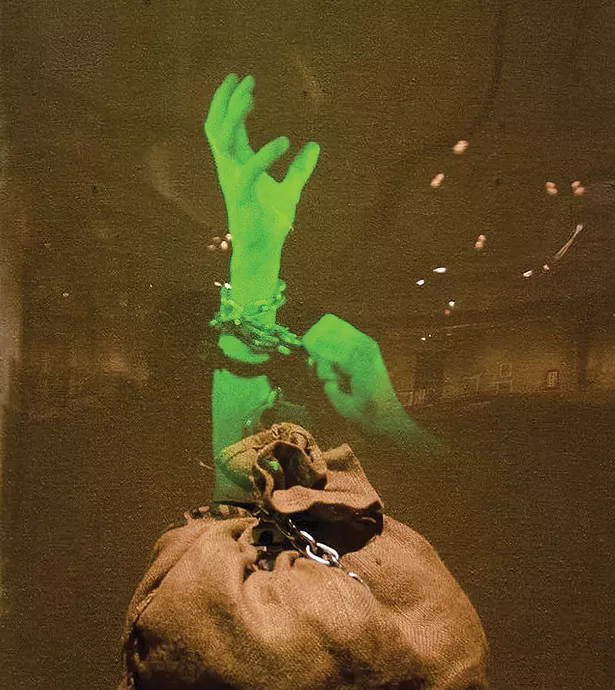 Materialization, a laser transmission hologram by Ikuo Nakamura from the exhibition "Holograms: Dimensions in Light" at Cornell Creative Arts Center.
New York City's
HoloCenter
, an organization dedicated to the holographic arts, has temporarily moved into the
Cornell Creative Arts Center
while it relocates permanently to Kingston. "Holograms: Dimensions in Light" features work from the center's 23-year history, including art by those at the forefront of holographic media: Rudie Berkhout, Betsy Connors, Melissa Crenshaw, Jacques Desbiens, Eva Davidova, Matthew Gantt, Linda Law, Sam Moree, Martina Mrongovius, August Muth, Ikuo Nakamura, Ana Maria Nicholson, and Dan Schweitzer. These 3-D photographs possess a spectral quality that seemingly connects to the spirit world via technology and are quite unlike anything else on view this season.