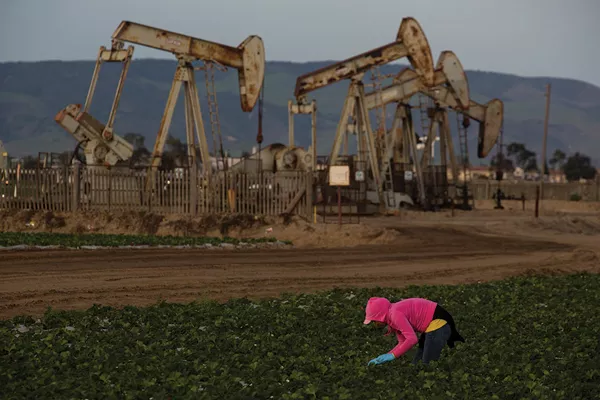 Big Big Oil and big agriculture exist side-by-side in California.
Since 2008, the drilling and fracking industries have boomed across the United States. Currently, more than 20 million people live within a mile of an oil or gas well. Author and filmmaker Jon Bowermaster has spent the last three years crisscrossing the country documenting the effects of fracking. His latest film, Dear President Obama: The Clean Energy Revolution Is Now, narrated by actor and activist Mark Ruffalo, is a direct appeal to President Obama as he shapes his environmental legacy during his last year in office. Bowermaster and I corresponded about Obama's environmental record in late February. Dear President Obama will be screened at the Rosendale Theater on March 15 and Upstate Films in Rhinebeck on March 17. Oceans8films.com.
You say that Dear President Obama is a direct appeal to President Obama as he shapes his environmental legacy. How would you describe the president's action on the environment to date? Has he built a strong foundation for a lasting environmental legacy?
President Obama has very clearly said he wanted an "all of the above" energy policy that was to include gas, oil, wind, solar, nuclear, geothermal, the works. Early in his first term, like many politicians across the US, he easily bought into the myth—promoted by the oil and gas industry—that fracking was going to give us access to "100 years of natural gas," that we were "the Saudi Arabia" of natural gas. He, like many politicians, claimed this "shale gas revolution" going on across the country would deliver a never- before-seen "American energy independence."
Where exactly did that "all of the above" policy get us? Deepwater drilling slowed after the explosion of the BP rig in the Gulf of Mexico. Nuclear is a no-go, due to costs, the mess we watched at Fukushima, and the fact that no one knows what to do with all that spent nuclear waste. And the fracking boom has already turned to bust, with $27-a-barrel oil meaning layoffs, cutbacks, and bankruptcies from North Dakota to Texas, California back to Pennsylvania.
On the plus side, the president does recognize the negative link between burning fossil fuels and climate change. His administration is making efforts to shut down the coal industry, and he has turned into a global leader in efforts to reduce emissions nation by nation.
As his tenure closes out the president is definitely attempting to polish his environmental legacy, including declaring more wild lands to be public and putting more money into solar and wind technology research. There are more things he could do: Stop drilling on public lands. Make his EPA more accountable for investigations they've already conducted. And, as my fractivists friends like to say, "Real climate leaders don't frack."
If leaving fossil fuels in the ground is the only path forward, how can we sustain our current level of economic activity relying solely on renewables?
The call internationally is to leave 70 percent of fossil fuels currently in the ground—in the ground. That's the only way we'll be able to rein in a fast-changing climate. Is that doable? I'm skeptical.
We are a rapacious species. Ever since man could walk, our favored way to create energy is burn stuff. That's what we know. To truly adapt to an energy powered by alternatives we need to commit now. Not tomorrow. That will require sacrifice, which we're not very good at. We drive, we fly, we overheat our homes. We continue to buy produce grown several thousand miles away and are addicted to meat. In order for our energy demands to shrink, we have to use less energy. Too often we as a species only react when forced to. Let's hope when it comes to our energy future that it doesn't come to that. A transition to a new energy future it going to take at least two generations and will require sacrifice from each of us. Are we ready?
How damaging has the widespread adoption of fracking in the US been to the switch to renewables?
The false promise of the shale gas revolution—that "100 years of natural gas" turned into something between 10 and 20 years—definitely slowed investment in solar and wind and other alternatives. Sales of electric cars have dropped thanks to cheap gas at the pump, while sales of big pickups have boomed.
Ironically, the innovative technology that allowed the fracking boom in the first place was funded by the federal government; one thing this president could do before leaving office is make sure federal studies of renewable technologies grows.
In the oil patches, the future beyond fracking poses lots of problems: As those mid-size oil/gas production companies in the fracking boom states (North Dakota, Texas, Oklahoma, Pennsylvania) tighten their belts due to overproduction and low prices, as they lay workers off and ultimately declare bankruptcy, many will walk away from the maintenance of all those wells, pipelines, compressor stations, trains, etc., that are part and parcel of their industry.
What are some big possible wins still possible on the environmental front for the Obama administration?
I really think the president understands the link between our continuing to burn fossil fuels and the impact that has on climate change. Keep in mind that he's the first president to make that link while in office. I hope that in the remaining 11 months of his term he, and Environmental Protection Agency head Gina McCarthy, are strategizing on executive orders they can put in place before he leaves office that will be good for the environment.
Having interviewed scientists, economists, and health professionals across the US for Dear President Obama, what would you do on the environmental front if you were president?
We've been working on this new film for nearly three years, which has introduced me to many of the smartest thinkers in the country focused on our energy and environmental future. If I were president, I would seek advice from many of those same thinkers, with one caution: I would not take counsel from anyone who has recently pushed through the revolving door that too often connects industry and government.
I've often asked our experts how President Obama sometimes seems to be so ill-advised (back to that "100 years of natural gas" notion), and it's explained to me that too many of his advisers tend to come and go from the gas and oil industry. Which, in my mind, makes their counsel questionable.
I was glad when President Obama ventured to Alaska last year, to see firsthand the retreat of glaciers caused by the planet's fast-warming climate. It was good to see him in hiking boots and on a trail that didn't involve a golf course. Ironically, I think his most powerful impacts on our environmental future may come as an ex-president, when he may feel more free to dive in as a global influencer and grassroots organizer, something he's proven to be very good at in his past.