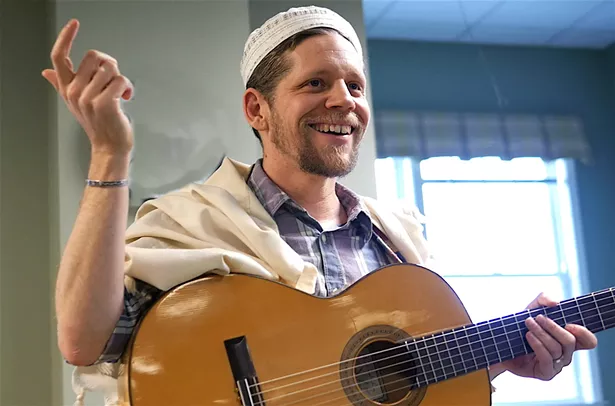 A New Operating System for Judaism
The Jewish Renewal movement was started by Rabbi Zalman Schachter-Shalomi, a
Hasidic refugee who arrived in New York after fleeing Nazi persecution. While living through
the transformations of the '60s in America, including the New Age movement and second-
wave feminism, Zalman struggled to find a framework that could reconcile his cherished
root tradition with the awakening and equality of the modern era.

What emerged was a syncretic, modern movement of Judaism that was open to everyone.
Reb Zalman spoke about Jewish Renewal as an upgraded operating system for Judaism,
one that could still run the previous system files. "For example, Reb Zalman approached
Jewish law as an evolving method of thinking about our ethical behavior," says Shir Yaakov
Feit, founder of Kol Hai, a Hudson Valley Jewish Renewal spiritual community in Ulster

County. Zalman extended the kosher system of Jewish dietary laws, to address modern
environmental, social, and ethical issues, and promote sustainability—a movement he
called Eco-Kashrut.


"He would ask questions like, 'Is styrofoam kosher, knowing the impact it has on the
environment and ozone?' He took an ancient conversation about community action and
ethics and applied it to the most pressing issues of what it means to to be human on the
planet today."
Jewish renewal services include a mixture of meditation, prayer, music, and study. Women
are invited to participate in previously male-only rituals. "Renewal Judaism is a paradoxical
partnership of Hasidim and feminism, with strong mystical influences," says Shir Yaakov.
"Reb Zalman took the best of what Judaism has to offer and saw it in global and
universalistic light, while never jettisoning specific cultures and traditions."
Jewish Renewal in the Hudson Valley
"Judaism is a millennia-old sacred conversation with which we can be in contact to help us
navigate the unprecedented complexity of information and communication in this modern
global village," says Shir Yaakov. With Kol Hai, which he founded three years ago, Shir
Yaakov is working to create an inviting and sacred community in the Hudson Valley where
people can support one another. "I called it Kol Hai, which means 'all life,' because we need
to first become fully alive, then contribute from that fullness. Like Walt Whitman says, we all
contain multitudes," Yaakov says.

Kol Hai, and the Jewish renewal movement at large, strives to move away from a parochial,
triumphalist attitude toward Judaism. "We need to see the unity and interconnectedness of
all life. One of the ways we can see that is through the particulars of Hebrew language,
through Jewish customs and culture," Shir Yaakov says. "It is more urgent than ever we fix
our hearts in service of repairing the world."

Kol Hai's music-filled services are held in New Paltz, and are open to all ages, races,
genders, sexual orientations, and faiths. Kol Hai supports the spiritual journey of the Jewish
community who live in New York's mid-Hudson Valley, as well as New York City seekers
longing to experience Shabbat and holidays surrounded by nature, through lifecycle
celebrations, educational experiences, and spiritual practices that are multigenerational,
ecological, and embodied.


"All ritual has to do with safety and access," Shir Yaakov says. "It has to do with creating a safe place for conversation, silence, movement, stillness, to awaken the heart, awaken our empathy, and to awaken our memory of the future."
This content was sponsored by our partner Kol Hai.