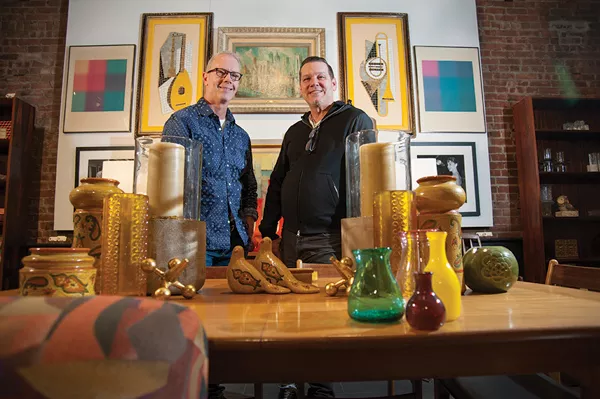 Roy Gumpel
John Krenek and Jamie Niblock of Exit Nineteen in Kingston.
March is hunker-down month: It's nearly spring, but not quite. In the meantime, stay warm. Reach for a blanket, light a candle, ease back in the best chair ever, pen a letter. Here's a roundup of local decor to keep your nest feathered 'til the sun comes out.
Enter Exit Nineteen
No self-respecting urban renaissance is complete without a great home and decor store. Why? That brand of visual deliciousness makes us want to buy a place just to furnish it, or at least run home and redecorate. Enter Exit Nineteen, which brings a well-curated pizzazz to Uptown Kingston. As owners John Krenek and Jamie Niblock saw it, Kingston was ready.
"Five years ago, we set up a pop-up shop near Boitson's, and it was a huge success," explained Krenek. "But the response to the new store has just been overwhelming." He and Niblock are also the driving force behind Rhinebeck-based Spruce Design + Decor, a well-established interior design firm marked by elegantly inviting spaces and a top-shelf client list: Clearly, this pair knows how to work a room. Within their 2,200-square-foot Kingston shop, they also get to spread their wings.
Exit Nineteen feels a bit like four stores in one: a quartet of furnished vignettes all offer different flavor and flair yet flow together, variations on the same theme of measured, eclectic exuberance. The mid-century modern area features terrific examples of great design. The country cabin section is stalwartly rustic, but without overdosing on tropes like buffalo plaid. The Asian modern collection is serene yet seductive. Last but very not least is a whole section devoted to the art and furnishing of the dinner party.
"Everyone wants to have a party, but there wasn't a venue where you could purchase it all, from table to cocktail napkins," noted Krenek. Mix in dinnerware, crystal, tableware, and dining chairs, and the demand, particularly from Kingston's new breed of transplants, is so brisk that the section is set to expand in the coming months.
What marks Exit Nineteen is a studied, well-curated kind of more-is-more. It's a refreshing antidote to the austerely "Let's be Norwegian" look that isolated artisanal objects can suffer when left all alone; but it's also a skilled lesson in how to combine this, that, and everything else into a cogent whole. Consider the many styles filling Hudson Valley homes: Hippie Global, New-Era Americana Handcraft, Farmhouse Rickety, Ye Olde Fusty. Here's a shop that teaches us how to make it look like the mix is intentional. And, in fact, that's what they go for as interior designers. "We definitely have a strong point of view," said Krenek.
What also makes it work is that they start with great pieces: You won't find design tragedies here, such as disastrous refurbishments. They source pieces for condition as well as quality, so little in the way of redone: A few marks are a sign of a life well lived. A recent visit to the shop found a handsomely proportioned oak and leather seat Arts and Crafts rocker in its original condition ($1,150), gleaming with respectable patina. In the window, a snazzy herd of reproduction Asian lidded ginger jars held court on a sleek rosewood and glass table. The jars come in a range of sizes (small $240; large $325), adding festive, strong-shouldered appeal. There was an astonishing set of rare ribbon chairs by Frank Gehry ($2,250 apiece). And just begging for an occasion, a full range of Canvas brand dinnerware that looks like old campfire tin but is made of microwaveable and dishwasher-safe solid ceramic—a witty upgrade on hobo-classic (dinner plate, $17.50). The air was kissed with the scents of piñon and fir, wafting from coconut wax and cotton-wicked candles by Haus ($35 each).
Everywhere you look in Exit Nineteen, there's something inviting, tactile, attractive; it's a seductive place. So don't be surprised if you walk in and just feel like staying a while. As Krenek and Niblock might say, make yourself at home.
Exit Nineteen, 309 Wall Street, Kingston. (845) 514-2485.
Analog artisanal
Penco pencil from Mutiny in Hudson.
Pick up some well-hewn tools of the trade from new home and menswear shop Mutiny in Hudson, headquartered in Washington, DC. White prime timber pencils by Penco are built to last ($15 each). Reclaimed yellow pine vinegar barrels are crafted into an inviting pen pot by Field, made in USA ($80). Nestle your best pens into a leather and pressed linen toolbox by Postalco. ($210). And warm up under the pure cotton pleasure of a Wings + Horns double brushed fleece blanket, made in Canada ($175). Mutinydc.com
Fuss-free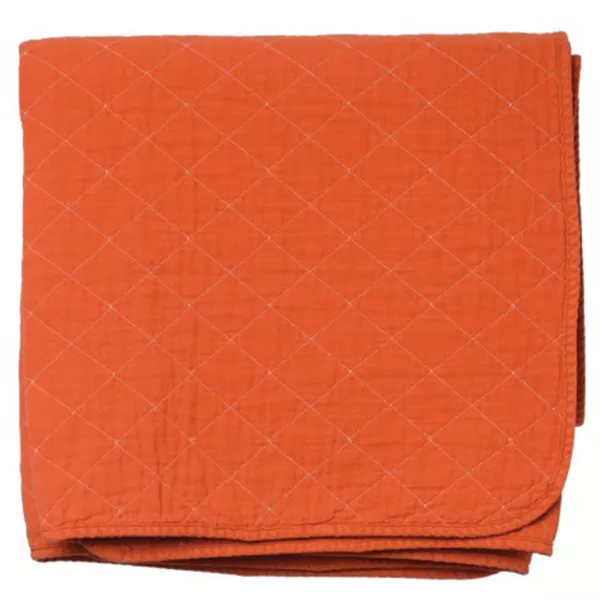 Quilted blanket from Utility Canvas in Gardiner.
Utility Canvas combines smart workmanship with an unfussy aesthetic in goods for home, kids, and grownups. At their Gardiner warehouse: cotton canvas curtains in bright orange, a creamy natural, or go-with-everything charcoal, with convenient grommets along the top. Sized for a shower, they'd be great on a window too ($98). Well-designed soft and sturdy quilted throw blankets get a refreshing pop in orange ($135); see the website for 17 other colors. Utilitycanvas.com
Well turned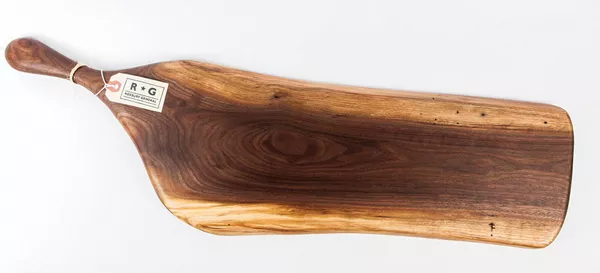 Hand-carved cutting board from Roxbury General Store.
Form follows function at Roxbury General Store in (yup) Roxbury. The classic farmhouse pitcher by master potter Michael Boyer is glazed in peppery brown and cream. At 7.5" high it's the perfect size for pooling cream over berries, syrup across pancakes, or grog into goblets ($45). A hand-carved wood cutting board made from local black walnut adds a touch of rustic wabi-sabi to any table. And why relegate it to chopping when it's this good-looking? Use it as a sleek cheese and charcuterie board too ($100). Roxburygeneral.com
Tongue in cheek
Monkey lamp from Burkelman in Cold Spring.
Modern home and design shop Burkelman in Cold Spring kicks up the homey skirts with tongue-in-cheek storage canisters that look like tin cans but are made of silver-glazed porcelain. Quite functional, with airtight lids, they'll clever up your bathroom or kitchen. Set of three, designed by Selab and Allessandro Zeletti ($28). Celebrate the Year of the Monkey (2016) with these curiously riveting electric monkey lamps, disconcertingly lifelike but in ghost-white resin. Sitting, standing or (our favorite) hanging ($398). Shopburkelman.com