The massage and yoga room at Savor Spa in Woodstock.
We bring you Well Spent, our new shopping column, a monthly paean to retail therapy done just the way we like it: all local, all the time. No better way to spend well than with the artists, makers, sellers, bakers, doers, shops, and galleries that fill this Hudson Valley. Fittingly, our first column is dedicated to love. Here's to a locavore Valentine's Day, traditional to twisted.
Love Is Sweet
Feign the classic Valentine's Day faux-pas—forgetting the chocolates and bringing home a pizza instead—with a Chocolate Pizza by Lucky Chocolates in Saugerties. Choose three toppings, such as marshmallows, dried blueberries, and candied ginger ($30). Comes in a pizza box for that oops effect. Or really push the joke with a great big Hate You chocolate lollipop ($3.50).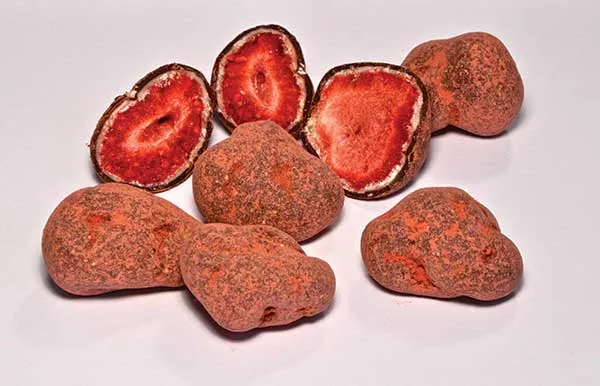 Fruition Chocolates's Strawberries and Champagne, freeze-dried strawberries coated in white chocolate and pop rocks, then dipped in dark chocolate.
Chocolate, strawberries, or champagne? No need to decide: Shokan's Fruition Chocolates makes Strawberries and Champagne, intoxicating morsels of freeze-dried strawberries coated in white chocolate and unflavored pop rocks (which lend the bubbles), then dipped in dark chocolate. They're potent explosions of flavor ($10–$12).
Love Is New
If you're going for flowers, go extraordinary. Bella Fiori in Red Hook uses roses sourced from farms in Bogotá, Columbia—the South American region is famed for cultivating exquisite blooms. Or choose a bespoke bouquet, like ranunculus and orchids, set into an antique or modern vase from the shop's extensive collection (arrangements start at $40).
Since 1978, New Paltz's own Colonial Flower Shop has been arming anxious lovers with heartwarming blooms. Each Valentine's Day brings a line out the door, and the florist stays open late to serve it. Love is personal, they say, so express yourself with a profusion of spring flowers like irises, tulips, lilies, and—to be safe—a rose ($10 and up). They'll treat the bouquet to French wrap and ribbon, and the rest is up to you.
Love Is Shiny
Hudson jeweler Shana Lee crafts edgy riffs on Valentine tropes. The men's Anchored Heart bracelet, in black or brown latigo leather, closes with a sterling silver heart and anchor ($195). The women's Anchored Heart necklace sports a tough-looking valentine on a glittering chain, in sterling silver, or rose or yellow gold vermeil ($110).
Longtime Poughkeepsie institution Zimmer Brothers offers jewelry from estate antiques to modern designers. Valentine favorites include sterling silver secret heart earrings by Ed Levin ($165) or, for a real statement, a Hearts on Fire Fulfillment pendant—a gleaming planet of diamonds in 18k gold or platinum ($1,490 and up).
Hummingbird Jewelers in Rhinebeck is filled with delicate rarities. Artisanal jeweler Denise Betesh hand makes 22k gold rings, set with white, champagne, or chocolate diamonds, that mix art and luxe ($2,000–$7,500). Gift your man some bold glimmer with a David Heston sterling silver ring that's inset with a row of black diamonds ($2,795), or an 18k gold signet ring set with, yes, a fossilized dinosaur bone ($1,230).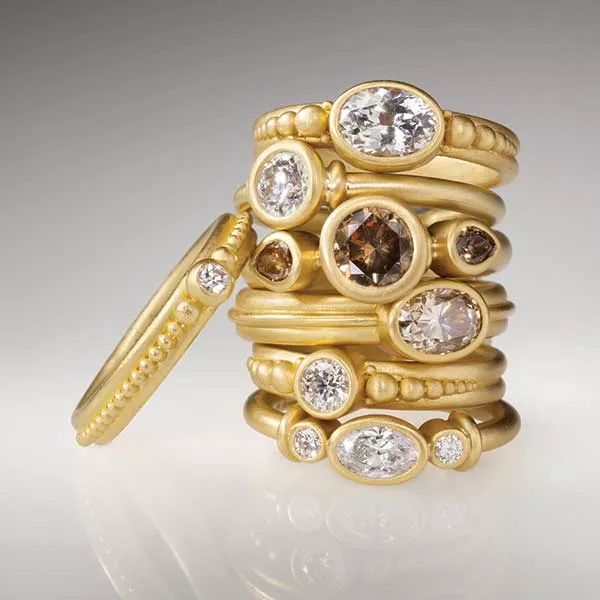 Rings by Denise Betesh from Hummingbird Jewelers in Rhinebeck
Love Is Hot
Mermaids are so in right now. Dip into the trend with über cute mermaid panties by Meerwiibli, from The Tailored Mermaid in Beacon: Y-front boy briefs in black or red, or bikini panties in black or pink, S–XL (on sale, $20).
Vidakafka Boutique in Woodstock's got you covered (or uncovered): Get serious with a red silk G-string by Only Hearts, embellished with roses and lace, S–L ($28); go glamorous with silk crepe and charmeuse pajamas by Anne Klein in fuschia or black, XS–L ($298); or turn on the flirt with a risqué garter skirt by Felina in black or ivory, S–L. ($36).
Joovay in Rhinebeck stocks gorgeous couture silk georgette robes by Andra Gabrielle. Hand-embroidered, hand-beaded, and hand-painted, in shades like lustrous cream and a dreamy, smoky blue, no two are alike ($295).
Love Is Healing
Soothe each other at the Buttermilk Falls Spa in Milton, an eco-friendly wonderland of treatments, including Shiatsu or bamboo massage, raindrop healing therapy, and an array of facials and body wraps. Plus, they serve complimentary glasses of Prosecco for the occasion (prices vary).
Get your mutual melt on at Savor Spa in Woodstock, which offers a couples massage for Valentine's Day. Choose from Swedish, deep-tissue, prenatal, Hawaiian Lomilomi—whatever your fancy, including locally made, organic, chemical-free Om Aroma skin-care products, like divine Chardonnay body cream and heat-activated cinnamon arnica oil ($210).
Love Is Warm
For your lumbersexual, Woodstock General Supply has Made in America pure wool crewneck sweaters in lighthouse red, knit at a mill in Maine, men's S–L (on sale, $112). Warm those hands with fleece-lined, red Shetland wool gloves by local knitters, with deerskin palms, unisex Small or Big ($45).
In Hudson, De Marchin has cozy-luxe mohair blend scarves for her by Delphine Quirin from Belgium, in romantic hot pink, red, or dark purple ($89), and exquisitely soft French angora neck warmers, hand knit by Marcia Townsend ($125).
Love's All in Your Head
In Kingston, Outdated has personalized gewgaws and whatnots to set your lover's heart aflutter. Peruse the ever-changing assortment for that perfect Victorian / Industrial / Farm Primitive something ($50 and under).
Geek your royal in a Game of Thrones-y way: a brass Heart Seal from Rhinebeck's Paper Trail makes a sexy smack when plunged into hot wax. What a way to seal a love letter ($12).
Impress your music lover with ultra-rare vinyl from Rocket Number Nine in Kingston, such as the first US pressing of Pink Floyd's The Piper at the Gates of Dawn, or the original mono recording of John Coltrane's Kulu Se Mama (both $50).
No turntable? Grab a new-old-stock concert T-shirt from Dig. The Saugerties boutique unearthed a trove of band shirts straight from the merch table—from Sonic Youth to the Eagles, men's S–XL (approx. $28).
Great for everyone: universal sap Charlie Brown gets romantic in A Valentine for Charlie Brown, lovingly reissued by Fantagraphics, at The Golden Notebook ($9.99). And for a darker read there's Elisa Albert's After Birth, a witty novel about the flip side of new motherhood: a cautionary tale that's humorously apropos ($22.50).
Love Sucks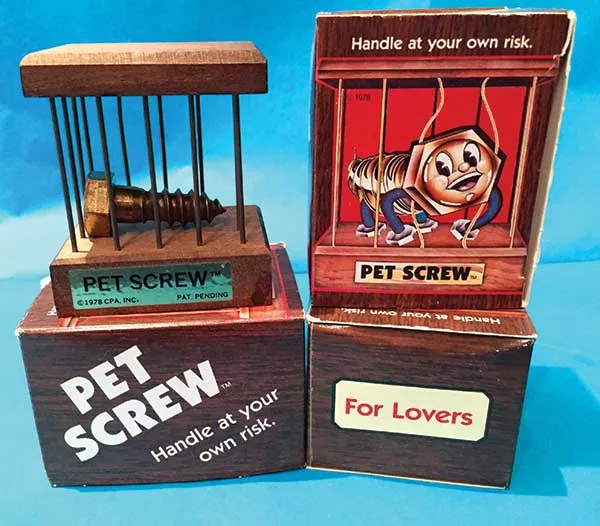 Pet Screw from Play in Beacon.
Dateless, mateless, sick of romance? Then, from Play in Beacon, Grow a Boyfriend or Girlfriend—"never argues, always agrees" says the package—by dropping the toy figure in water ($2.99), or trot out your Pet Screw, a 1972-era spoof on the Pet Rock craze that's, well, a big bolt in a little cage—for lovers, enemies, or friends ($3.99).