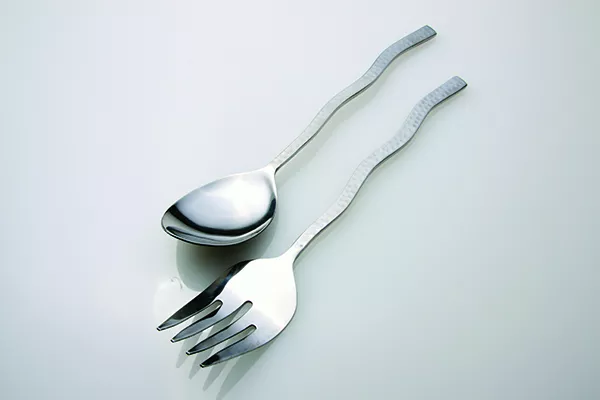 Hammered stainless steel flatware from Tender Land Home in Phoenicia.
It's wedding season—are you ready? We've picked out some great gift and registry options from local purveyors of the truly handmade, artisanal, and anything but generic. Whether a wedding-gift trope or something more unusual, there's no reason to settle for catalog bland. These Hudson Valley shops and artisans do it so much better.
Transcend the Expected
Mutability in Motion is a Stockbridge gem for one-of-a-kind gifts with staying power. Practical inventions like a bottle stopper are elevated to sculpture in native reclaimed wood and stainless steel, made by a master woodworker (Jonathan Copper), $26; or grouped with a corkscrew in 1950s neon pink and chrome, $35. Vintage wooden bowls and platters have been updated with bright hand-painted interiors (under a food-safe finish): a vintage wooden serving platter, $50; a large bowl, $65. Mutabilityinmotion.com
Artisanal Modern
Tender Land Home has been a mainstay for Catskills wedding presents for 13 years. The Phoenicia shop features works by local artisans and gifts filled with spirited style. For drinkware that's well above the fray, there's a set of six delicate botanical champagne flutes, $72.95. Capiz boxes adorned with flowers make perfect hers-and-hers gifts when grouped into a decorative flurry, $11.50 each. Retro-colored stoneware bowls with pour spouts will brighten a new kitchen, $84.85 for a trio. Best to visit to find that perfect present: The stock changes constantly. Thetenderlandhome.com
Menu stainless steel double candlesticks from Hundred Mile in Rhinebeck.
High Style, Low Pressure
Named for its geographic distance from Manhattan as the Range Rover / Subaru flies, Hundred Mile in Rhinebeck has a well-curated array of great home decor. Couples can create a registry that the Museum of Modern Art would approve: design icons include a luxe pleated throw blanket in cozy-soft pleece by Design House Stockholm, $175; and the sublimely intertwined, polished-stainless double candlestick by Menu from Denmark, $170. And there's much more: 40 different lines by contemporary modern makers, from smalls (jewelry and dishware) to furniture (wardrobes). 100mileny.com
Locally Sourced
Birthed as a pop-up, Newburgh Mercantile evolved into a hip, charming fixture in Newburgh. Located near Washington's headquarters and the Newburgh Brewing Company (celebrate your purchase with a beer), it overlooks the Hudson River, and is well stocked with regional standouts. A full selection of atmosphere-enhancing Kobo Candles (made in Saratoga Springs) includes the Give collection: sublime and righteous (Well-Spent loves that). A portion of a Kobo Give candle's purchase price goes to one of four charities—recipient's choice—including the Adirondack Council, $38 each. There are also textiles, foodstuffs, superb bath and body, yoga mats, and more. Newburghmercantile.com
Handmade dinnerware from Tivoli Tile Works.
Artisanal Dinnerware
Caroline Wallner is an immensely talented potter who started Tivoli Tile Works in, yup, Tivoli; now she's crossed the river to a breezy studio in Bearsville. Yes, there are tiles, but she's known for her stunning, handmade dinnerware in stoneware, terracotta, and porcelain—all dishwasher and microwave safe. Couples often set up registries for a full table's worth: A setting might include large and small plates and bowls for pasta, cereal, or broth. Depending on glaze and size, sets range from $80 to $250, or purchase by the piece. Tivolitileworks.com
Bundt cake from a Nordicware pan from Utensil Kitchenware in Beacon.
Spooning Encouraged
Beacon's Utensil Kitchenware is a dream of a shop that has nearly everything kitchen but the sink itself: serving utensils, knives, gizmos, and vessels in all sorts of materials, styles, and colors, cookware and everything else. Make veggies easier with a kale and greens stripper by Looseleaf, $8; make cakes prettier with a geometric bundt cake pan by Nordicware, $39. Gift the couple not one, but a pair of cast-iron skillets—so each can season and use the way he or she wants. Lodge 12-inch skillet, $45. Or, give a gift card so the newlyweds can choose their own. The shop also offers knife sharpening services, so rest easy when you buy those Opinel knives: You're covered. Utensilkitchenware.com
Modern Artisanal
Roxbury General sources the perfect touches for a new home from Catskills artisans such as Toni Brogan, whose handmade, woven tapestries combine local alpaca, unspun wool (roving), wool, and silk. Each is one of a kind, and they're already set on polished brass rods. Large tapestry, $200. Woven whisk brooms in traditional hawktail or turkey-wing styles are functional folk art, gorgeous in green or a deep red, $30 each. Roxburygeneral.com
Love in Motion
Admit it: You're thinking bicycle as you peruse china patterns. But hey, we live in a natural paradise: It may be more practical to go with a bike. Favata's Table Rock Tours & Bicycles in Rosendale offers a slew of great two-wheelers: Find the perfect bike, and then set up a miniregistry. All friends and family have to do is make a phone call to contribute toward the purchase. Popular models include the Trek SKY S Disc mountain bike for her, and the Trek Marlin 6 mountain bike for him, both approximately $600. On the higher end: the Trek Cali SLX for her, $1800, and the Trek Superfly 5 for him, $1600. Trtbicycles.com
Clean Lving
Also on wheels but not quite as fast, a vacuum with all the bells and whistles from H. L. Snyder & Son Appliances in Saugerties may feel unromantic, but it may prevent some new-home dust-ups. The top-shelf Oreck Quest Pro canister vacuum comes in racy cherry red and silver and features a power head, pivoting wheels, and a full set of onboard tools, $399.99. And should you inadvertently vacuum up your wedding ring, this full-service, family-owned appliance store can help. Hlsnyder.com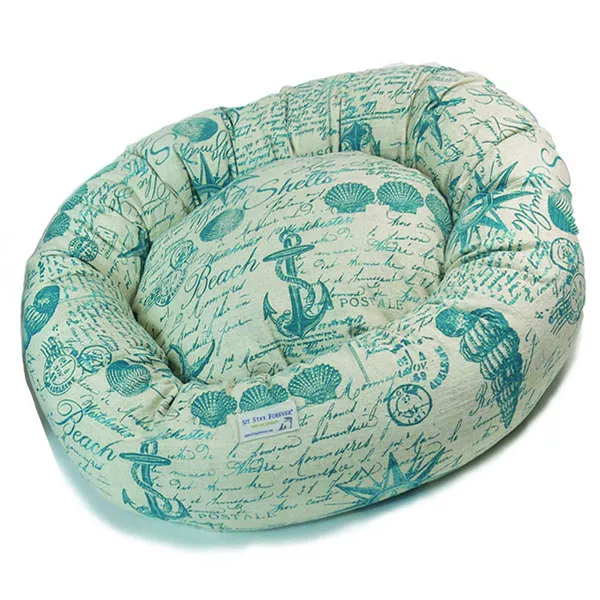 Married with Critters
Combining pets as well as households? Make their landing softer with eco-friendly, handcrafted dog and cat beds by SitStayForever in Pine Plains. The brainchild (or brainpup) of a fashion industry veteran who has a master's degree in natural resources, these are durable and entirely free of toxins, as certified by a textile testing mill in Germany. Giftwise, they're good looking: These are no generic lumps with vague camo blur but well-built, animal-friendly shapes in cheery solids and patterns (nautical's a fave). Sized tiny to gigantic, entirely washable, $33-$138. Available online or at local purveyors. Sitstayforever.com
Haute Gifting
Finch in Hudson is a haven of elegantly eclectic furnishings and home decor. But the shop's partners also stock bath and body accents, making this a go-to resource for creating an atmosphere, not just a room. Some couples simply request gift certificates so they can shop themselves when the time comes, but wedding gifts abound. Stunning porcelain by dbO home of Sharon, Connecticut, includes a delicate, minimalist charcuterie plate, $95. Vintage modern Royal Copenhagen vases are $85 and up. For a truly rustic statement there are Black Forest mounted antlers from the 1920s and later, $125-$165. Ultrachic Astier de Villatte/John Derian wares run from $85 to $500. And while in Finch, do a flyover of their book collection. Finchhudson.com
Happy Wine-iversary
Don't just give any bottle of wine for a wedding present, say the merchants at The Wine Connection in Pound Ridge, make it a bottle that means something. Prepurchase a bottle of wine that's the same vintage as the wedding, let it mature, and the shop will ship it to the couple when the time comes. A 2015 Bordeaux will be ready by the couple's third anniversary (now there's an incentive to stay together). In the $50 - $100 range are wines such as a Chateau LaGrange or Chateau Grand-Puy-Lacoste. Or choose a more modestly priced Italian Barolo (price depends) This fine and rare wine purveyor has plenty, and is happy to guide you. We'll drink to that. Wineconn.com
When the Honeymoon's Over
They're going to need coffee. Lots of coffee. Send them a basket from Kingston's own Monkey Joe Roasting Company and they'll thank you forever, or at least until the caffeine runs out. There's tea as well, and decaf versions bien sur: All gift baskets are custom-made per your requests. A set of two half-pound sacks of the good stuff with some sweet extras is $22; an extravaganza with beans, accessories and gadgets is priced depending on contents. Or celebrate the art of the brew by gifting a Baratza Virtuoso Coffee Grinder, $249; classic Chemex carafe, $37.50; Aerolatte milk frother, $19.99; Bellman Stovetop Espresso maker, $139; and more. Monkeyjoe.com