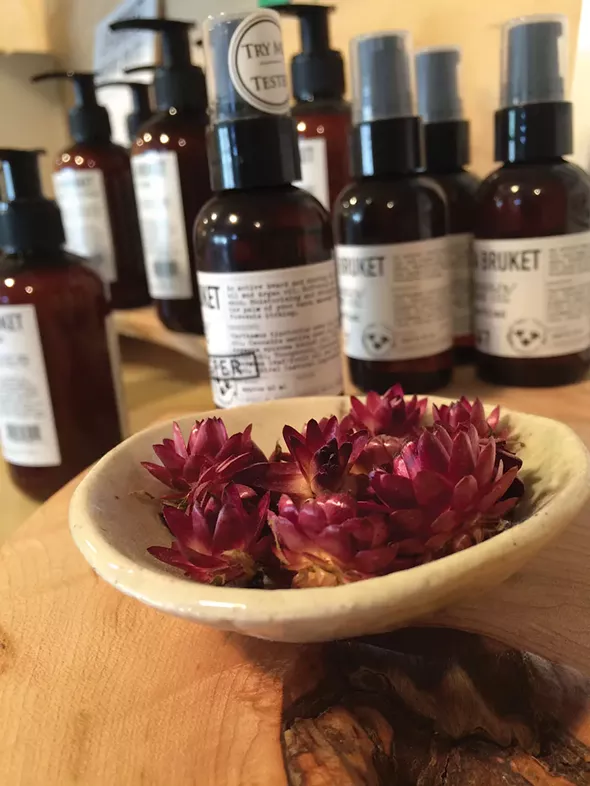 Happy 2016. Time to scrub away the cares of last year and get shiny. These Hudson Valley purveyors have loads of fine ways to feel bright as a new penny—while we still have pennies. Don't just shop local, shine local too.Start with a clean slate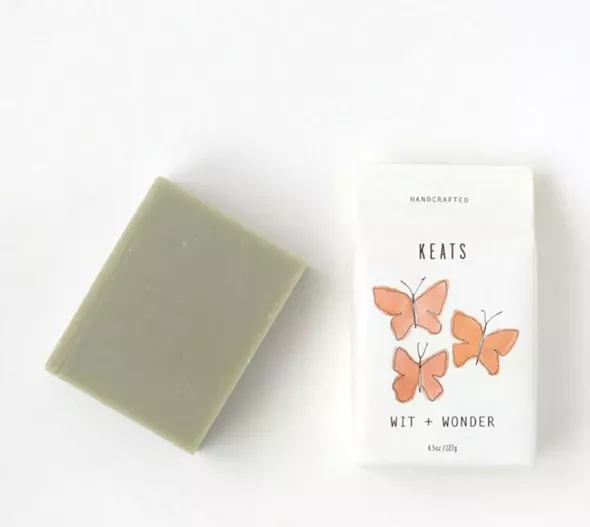 Among its many handhewn goods, Reservoir & Wood in Beacon stocks Wit and Wonder Soap by Keats, a rustic-scented mix of rosemary, French green clay and shea butter, and olive and sunflower oils. The little bar has multifarious powers: It's a purifying, clarifying, moisturizing, healing, antioxidant, rejuvenating, toning treasure, just what you need to take on your own New Year's resolutions—or at least a really great shower. Entirely organic and appealingly handcrafted, the soap comes in a beguiling little paper wrapper ($10).
Soothe that headache and those weary muscles, clear those sinuses, and just generally start the New Year feeling better with Little Helpers massage oils from Merriweather's in Rhinebeck. There's jojoba-oil-based Headache Relief—just a dab on each temple and the back of your skull will chase away the cranial conundrums. Arnica-based Muscle Relief is a blessing for tired and achy muscles. And exhilarating Sinus Relief will clear your sinuses with a zing. Set of all three in roll-on bottles ($15).
Beautify the beard (or other parts)
Homemade Calendula Spice Shave Soap by Phoenicia Soap Company is a fragrant tub of luscious: Saponified organic olive oil is infused with calendula, coconut and castor oils, sassed up with cinnamon and clove, and powered by aloe gel and bentonite clay. Made for both men and women, this brushable blend is friendly to sensitive skins (as are all the soaps made here) and it'll make your whiskers stand up and salute. Comes in a nifty 3-ounce tin ($10).
Do the body good
Birch Body Care brought serious pampering to Uptown Kingston, including a whole array of massage choices—and if you're just in the neighborhood, they take walk-ins too. Options include the Heavy Weight, a deep tissue massage that obliterates knots, reduces chronic pain, and will make last year's tensions disappear. The well-trained therapists will work as you need, paying close attention to vexing problem spots. 30 minutes ($53), 60 minutes ($85), 75 minutes ($105), 90 minutes ($125).
Give yourself a hand
Great Barrington's One Mercantile is an emporium of great goods, including healing luxuriants for bath and body. Fight the effects of a country winter on your hands and fingers with organic, herbal Hand-Air balm. The handy salve features coconut oil, shea butter, hemp seed oil, and accents of comfrey, calendula, and plaintain. Your digits will thank you—and the rest of your body may clamor for a slather as well. 1.5-ounce tin comes packed in a sweet little pouch ($12).
You too can prevent helmet head
If you're trying to roar into the New Year with a stylish bang, the last thing you want is to pull off your hat and look like an `80s pop star. But hit up Woodstock General Supply in Woodstock and Hudson for a tub of Fiber Pomade by Imperial Barber Products and you won't have to. Aptly dubbed a biker's best friend, this stalwart but lightweight and water-based hair pomade has extra-long fibers to help set that cut and keep it. Women: steal some for yourself too. Comes in a nifty, neo-utilitarian-looking 6-ounce tub ($22).
De-air your dirty laundry
High Fall's home, house, and gift emporium Nectar (now located in Rhinebeck as well) turned 10 recently, and their globally sourced collection of handcrafted discoveries remains delightful and surprising. Of late that includes a trove of handwoven, fair trade laundry hampers created by an association of rural Wolof women in Senegal, West Africa. Crafted from cattails and recycled plastic strips, these lidded and capacious receptacles are ideal for disguising dirty clothes, and since they come in an incredible array of patterns and colors—stripes, checks, chevrons, and more—you'll doubtless find some that jive with your décor. Set of two ($175).
Ablute like royalty
We had to get that high-faluting verb [ablute] back in here somewhere, but if you set a box of CÔté Bastide Pot Pourris near your bath, you'll feel haute-faluted indeed. Made in France and available at Rural Residence in Hudson, these are the opposite of pink-dyed old petals rattling in a bowl. Instead, you've got an intensely soporific and dignified array of genuine acacia-resin chunks, infused with a uniquely heady but elegant fragrance. The amber potpourri is a local favorite: rural meets metrosexy. Amber Pot Pourri in a 10.6-ounce box ($54), .33-ounce recharger ($26).
Float above it all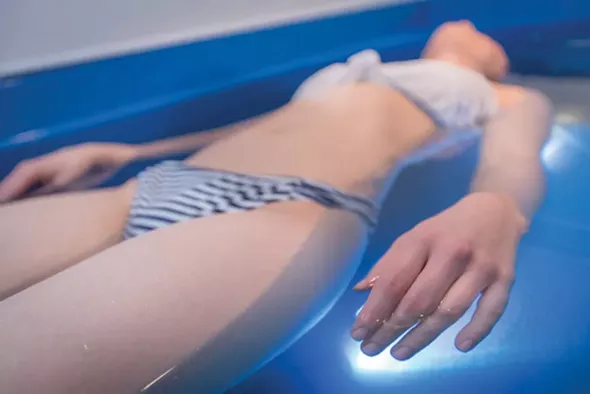 Wouldn't it be nice to reach nirvana by doing utterly nothing? You can. That's the soothing principle behind Mountain Float Spa in New Paltz, where you can have a rejuvenating float in a pool of saltwater, nestled into your own sound-isolated individual cabin. Lie back and relax, and feel a sense of deep pleasure and peace as you ease into 2016. Floating is great for the brain and the nervous system, and can reduce chemical stress levels, relieve migraines, arthritis, and other conditions, and even help with postpartum depression (and expecting mothers love it). Sessions usually last between 60 and 90 minutes and can be combined with massage. 60-minute float session ($65).