Well, thankfully, this awful year is finally coming to a close. As you anticipate an upward-bound 2021, consider adding these area events to your calendar of fun stuff to do.
Hudson Hall Hosts Virtual Kwanza Celebration | through January 2
On December 26,
Hudson Hall
, in cooperation with Operation Unite Education and Cultural Arts Center, kicked off a virtual community Kwanzaa Umoja celebration, which is running through January 1. The festivities will include a special lighting of the Kinara ceremony by the Sankofa awardees and community leaders and taped performances of "It's Kwanzaa, Mom!," a theater presentation by Operation Unite, Kuumba Dance and Drum, the Harambe Dance Company, and the COARC Kuumba Warriors; a premier showing of Hudson by choreographer Kyle Marshall; and photographs by JD Urban Photography and David
McIntyre. Donations are requested.
Bach Broadcast Begins on New Year's Eve | ongoing
Johann Sebastian Bach and Berkshire Bach Ensemble Director Eugene Drucker
Due to the pandemic, the Berkshire Bach Ensemble was unable to perform this year. But, beginning at 6pm on New Year's Eve, the
Berkshire Bach Society
will nevertheless present the ensemble in an epic performance of all six of Bach's Brandenburg Concerti. Recorded on January 1, 2020, at Troy Savings Bank Music Hall by the Berkshire Bach Ensemble under the direction of Eugene Drucker, the streaming concert will be accompanied online by photos taken at Troy Savings Bank Music Hall, the Academy of Music, and the Mahaiwe Theater in Great Barrington, Massachusetts, the venues where the ensemble customarily hosts its "Bach at New Year's" concerts. The nearly two-hour broadcast is free and will remain on the society's YouTube channel.
Art by Ad Minoliti at Mass MoCA | ongoing
On view now at
Mass MoCA
in North Adams, Massachusetts, is "Fantasias Modulares," an exhibit of stunning images by Argentinian artist Ad Minoliti. "Her work frequently unsettles anthropocentric views of the world and allows hierarchies between humans and non-humans to dissolve," the museum's website explains. "Working in both two and three dimensions, and between the vocabularies of painting, sculpture, architecture, and design, the artist also collapses traditional categories in art history to harness a more capacious and fluid language. This activation of other beings, entities, and otherwise inanimate objects generates a multitude of possibilities — joyful, colorful, and inviting of a more inclusive world." Advance tickets required; see website for COVID-19 protocols.
Perfect Pitch Festival via Green Kill | January 1
On January 1, starting at 2pm,
Green Kill
gallery in Kingston will host Perfect Pitch, a live extravaganza of spoken word and performance curated by poet Bruce Weber. Among the performers set to appear at the six-hour event are Abby Travis, Paul McMahon, Andy Clausen, Pamela Twining. Michael Bisio, Josepha Gutelius, Sam Truitt, Suzanne Bennet, Sparrow, Phillip Levine, Sylvie Degiez, Wayne Lopes, Karen Whitman, Rick Pantell, Anne Gorick, and Mikhail Horowitz. The free broadcast will stream live on
YouTube
.
First Day Hike at Minnewaska Preserve | January 1
Now here's a great way to start the new year: a relaxing guided four-mile hike in Minnewaska State Park Preserve along the cliff-edge Beacon Hill hiking loop and around picturesque Lake Minnewaska. Due to COVID protocols, the total number of participants for this program is limited to 12 individuals, and all must wear face coverings or keep a minimum six-foot distance away from others who are not part of their immediate household. The hike is being organized by park educator Laura Conner. Preregistration is required by calling the park office at (845) 255-0752. The fee for parking is $10 per vehicle or a valid Empire Pass may be used. https://parks.ny.gov/parks/minnewaska/details.aspx
Fall Kill Creative Works Hosts Remote Open Studio | ongoing
Every Wednesday from 4pm to 6pm and Friday from 12pm to 2pm, Dutchess County arts organizations
Fall Kill Creative Works
is presenting a remote open studio segment via Zoom. Hosted by a rotating group of Fall Kill staff, instructors, and local artists, the series offers tours of participating artists' studios and demonstrations of their processes. Further information and a sign-up link for the association's newsletter can be found at the Fall Kill Creative Works website.
Stamell Strings Offers Zoom Session | ongoing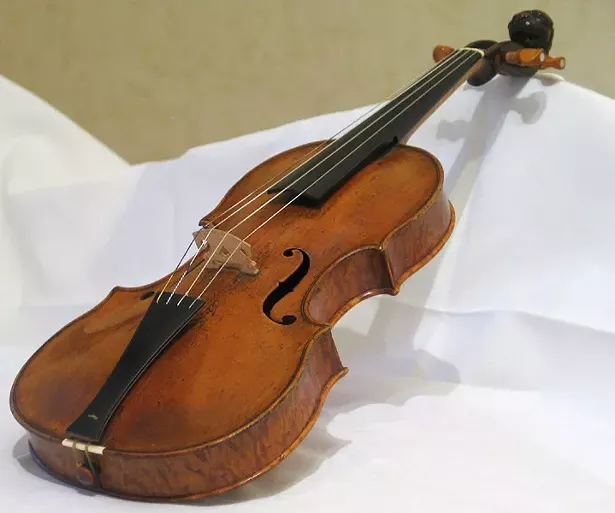 When it comes to the crafting and care of violins, violas, and other fine stringed instruments,
Stamell Stringed Instruments
owner Matt Stamell and his handpicked staff of master luthiers are globally revered for the decades of knowledge and skill they bring to their collective calling. So musicians would do well to tune in to the Poughkeepsie and Amherst, Massachusetts, franchise online January 4 from 6:30pm to 7:45pm, when Stamell himself hosts a free Zoom session on how to choose a proper bow and take care of your instrument and bow. Interested instrumentalists should sign up for the workshop in advance at the
Strings Without Borders
website.
To find out about more upcoming events in the Hudson Valley, subscribe to our weekly newsletter Eat. Play. Stay.