Weddings are the substance of dreams: the handsome Prince Charming, an immaculate stretch limousine, the flowing Cinderella ball gown. When he finally pops the question and slips a ring onto that naked finger, the dreams becomes real—until you glance down at the price tag attached to them.
Downsize. Scrimp. Budget. These are not the words a girl wants to hear when she is planning a wedding.
Enter the frugalista, the new wedding diva, a woman graced with both fashion and thrift. With a little creativity, she achieves the unforgettable, unique wedding of her dreams without breaking the bank.
It's all about getting the biggest bang for your buck, making a big splash with less cash. And it can be done if you follow these six frugalista secrets to a dream wedding for less.

Location, Location, Location…With Benefits.
For Hudson Valley couples, there are ample opportunities to have the wedding of your dreams without getting buried under a mountain of debt. The region is overflowing with beautiful venues that don't take much gussying up.
Choose a location that has Mother Nature as the head decorator lets you skip expensive accessorizing.
Take Round Hill House in Washingtonville, for example. There you can exchange those sacred vows before a cascading fountain surrounded by trumpet vines, lamb's ear, and petunias with dragonflies lighting on the blossoms, while you are serenaded by sparrows.
Or host your reception beneath the tent of the Grandview in Poughkeepsie. Just beyond your sweetheart table is the majestic Hudson River, and the romantic lights of the bridge by night. A few miles up the road in Staatsburg, the acclaimed Terrapin restaurant brings its fine dining chops to the Dinsmore Golf Course Banquet Hall in Staatsburg, with panoramic views of a Catskill Mountain sunset accompany world class cuisine. To the east, the historic 1782 Stissing House in Pine Plains is just the place for an elegant country affair, complete with 19th-century grand ballroom.
Located in the picture-perfect New England village made famous in hundreds of Normal Rockwell scenes, The Red Lion Inn in Stockbridge anchors your celebration in the heart of the Berkshires.
You can't special order that type of décor and it's all included free. A location with benefits lets you trim your budget without sacrificing an ounce of experience.

Jingle Bell Time Is a Swell Time To Get Hitched
Spring, summer, and autumn weddings may boast an advantage when it comes to warm weather, but winter's crystalline beauty makes for a stunning celebration, perfect for a bride with big dreams a small budget.
Winter is the wedding off-season, when prices drop along with the temperature. Hello, discounts!
As a bonus, catering halls come pre-decorated for the holidays, decked to the rafters with trees, ornaments, wreaths, lights, and tinsel. When you book your winter wedding, you get all of that included free.
Winter is white and white is cheap. Colored linens, variegated flowers, and tinted programs are expensive. If you stick to a simple white theme with black, silver, gold or blue, accents to match the winter season, you save money.
Mary and Ken had their December wedding at the Dutchess Manor in Beacon. The ballroom was already bedecked with silver and gold draped Christmas trees, greenery, and white lights. A few pine cones on the tables around the Manor's famous red rose centerpieces and wedding favor stockings filled with candy delivered big impact at a low cost.

Reduce, Reuse, Recycle
Cut out the extras and stick with simple elegance. The less detail and labor involved, the smaller the price. Simplifying also makes the splurges you make stand out more in contrast.
Opt to skip wedding favors altogether or make a donation to your favorite charity instead. Your family won't miss those Jordan almonds.
Trim your invitation expenses. Stacey and Dana asked their guests to RSVP by telephone or e-mail, saving a bundle by eliminating the cost of reply cards, envelopes, and postage.
Have your florist use local, in-season flowers for your wedding. Local blooms are the most economical option because they minimize delivery costs.
Whatever you decide to buy, consider purchasing items that will be used again. Helen and Bob chose potted spring blossoms of daffodils and tulips as centerpieces for their wedding at Locust Grove in Poughkeepsie to be later planted in their garden.

Call in the Bridal Brigade
Band together with fellow brides to create your own wedding discounts. The internet makes it easy to connect with other frugal brides and stack up the savings.
On websites like Bride to Bride Boutique, Recycle Your Wedding, and The Knot's Trash To Treasure board, you can purchase used wedding accessories, shoes, jewelry, vases, and more from other brides. Even preowned designer wedding dresses are available at a fraction of the cost.
When you're calling in the bridal troops, why stop there? Use Meetup to assemble a community of brides right in your neighborhood. You can pool purchases of items to be used again, like vases, baskets and accessories. You can even barter for services; a crafty do-it-yourself bride might help you with your centerpieces in exchange for the candy buffet jars from your reception.

It's Story Time
One of the easiest ways to make your wedding completely unique and wow your guests in the process is to share your love story with them. And it also happens to be free.
People are suckers for a good story. How did you meet your fiancé/ée? What was your first impression of him/her? Where was your first date? How did you get engaged?
Many of your wedding guests won't know your story and they certainly don't know all the juicy details. When you work them into your wedding day it makes a lasting memory that involves them in your story.
You don't have to brave the spotlight to pull this off. Share your story by writing your own wedding vows or having your officiant tell your story. You might write love letters to each other and have your entertainer read them.
If telling an actual story isn't for you, let pictures tell the tale for you. Display the wedding photographs of your parents and grandparents, create a scrap book of the two of you through the years, or place a photo of you as a couple on each table. Vintage photographs add personal style that doesn't cost a penny.
DonnaMarie and Ed came up with their own personalized cake topper, a glass cube containing photos of themselves as children and two beautiful portraits of them as a couple.

Say, "I Do," to DIY
You don't have to be a crafty wonderbride to pull off a few unique, cost-cutting do-it-yourself projects.
Do-it-yourself invitations and programs are easy with a little printing software magic. You can even avoid the hassle of wrestling with stationary in your at home printer by designing them yourself and having Vistaprint print them at bargain prices.
With a quick stop at the craft store, a tuft of tulle or bit of ribbon can transform a boring old serving utensil into a clever cake knife and turn a plain bound book into a wedding guestbook. Presto! You've added a personal touch to your wedding with minimal damage to your wallet.
If the thought of brandishing a glue gun gives you chills, visit Etsy.com. It's like Ebay for homemade crafts, the perfect place to uncover wedding accessories and handmade goods at bargain prices.
There is no need to give up your dream wedding when you embrace the secrets of frugalista savings. Maximize the impact of your details while minimizing the cost and you can have your wedding cake and eat it, too.
Resources
Red Lion Inn www.redlioninn.com
Round Hill House www.feastcaterers.com
The Grandview www.grandviewevents.com
Dutchess Manor www.dutchessmanor.com
Locust Grove www.lgny.org
Stissing House www.stissinghouse.com
Terrapin www.terrapinrestaurant.com
Bride To Bride Boutique www.bridetobrideboutique.com
Recycle Your Wedding www.recycleyourwedding.com
Trash To Treasure http://community.thenest.com/cs/ks/forums/
5440370/ShowForum.aspx
Preowned Wedding Dresses www.preownedweddingdresses.com
Meetup www.meetup.com
Vistaprint www.vistaprint.com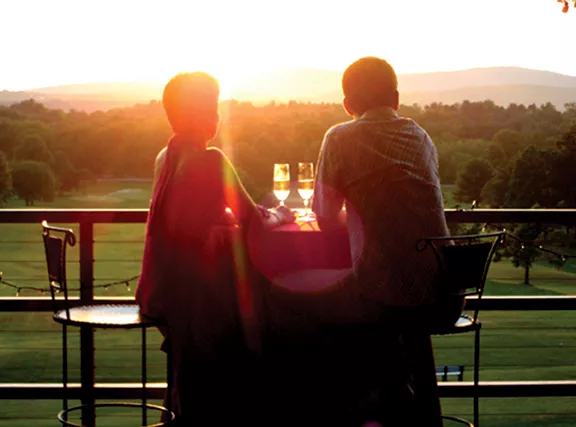 Looking west toward the sun setting over the Catskill Mountains at Terrapin Catering at Dinsmore golf course. Photo by Terrapin Catering.