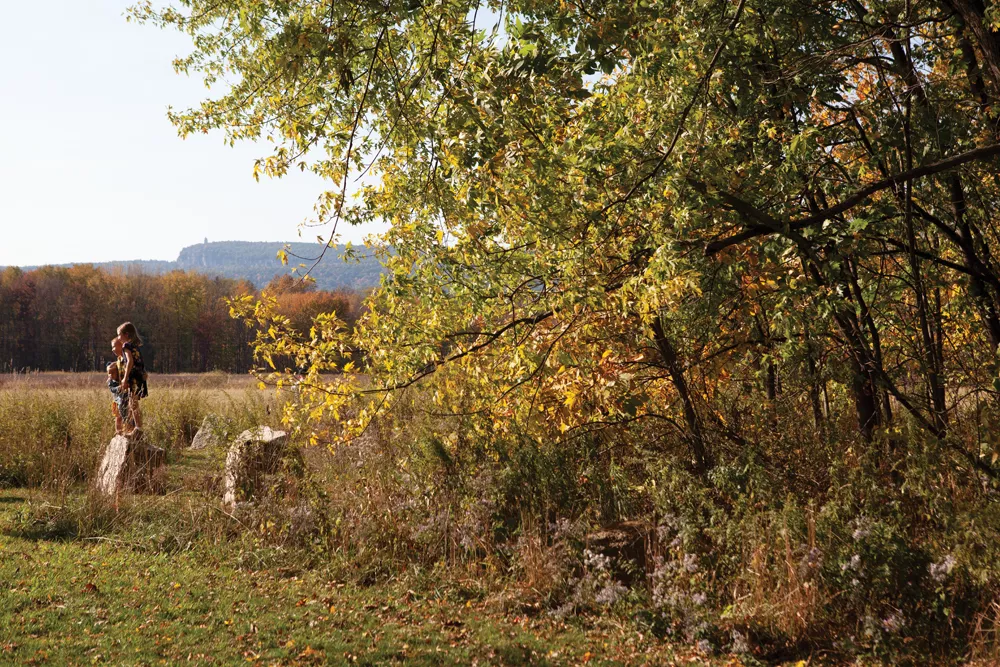 Fionn Reilly
Posing for a photo on the River-to-Ridge Trail, a recreational off-road loop that opened in 2018 and connects downtown New Paltz with the many trails of the Mohonk Preserve.
Ever since late summer, one of the subplots of the COVID-19 story has been the heightened risk faced by college towns when students come flooding back. In some places, it's been an awful mess, but not in New Paltz. "I was wary for a minute, many were," says New Paltz Town Supervisor Neil Bettez. "We were all 20 once, with no desire whatsoever to stay six feet apart. But the students have done a great job. I see them masking and distancing all the time."
SUNY New Paltz President Donald Christian concurs. "It is hard on people's nerves, but when I am on campus, I am just astounded at the level of compliance," he says. "And I hear from members of the community about how impressed they are with the students. It's been over two weeks [as of mid-October] since we had our last positive test, knock wood. We think it's partly because a lot of the students are from downstate and Long Island, places that were hit hard in the spring. They've seen the impact and they know the drill."
Here Comes the Party Patrol
To the familiar list of New Paltz assets—glorious surroundings, university campus, recreational opportunities, rich and eagerly explored history, bangin' good restaurants—we can now add another that seems to be, sadly, in short supply these days: common sense and collaboration. "There have been times," recalls village Deputy Mayor K. T. Tobin, "when the town/gown/village relationships weren't great, but it's much improved, and leading into this pandemic, we were able to swiftly coordinate our messaging: 'We, Not Me' was the theme."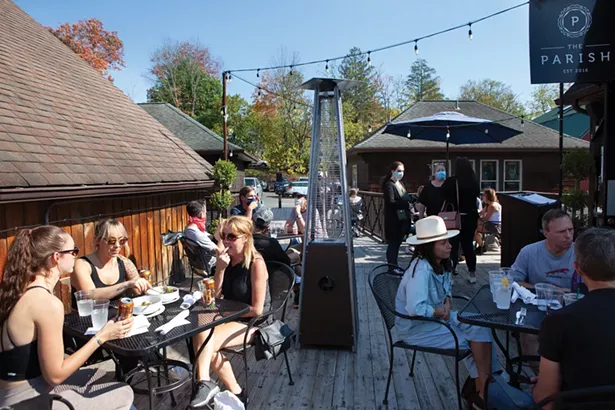 The deck of the Parish, a New Orleans-inspiredrestaurant on the second story of Water Street Market,has commanding views of the Shawangunk Ridge.
When the crisis hit, Tobin—a SUNY New Paltz alum who did her graduate studies in sociology at Albany and brought her talents back to the campus and community—had just been promoted to director at the Benjamin Center for Public Policy upon the retirement of founder Gerald Benjamin. She'd have faced a busy spring and summer anyway. But she hadn't reckoned on Party Patrol duty. "The town's actually pretty hoppin' lately; it's always a big explosion when the leaves change, and we are definitely still a destination. People still come on a beautiful day to enjoy the commerce and the mountains," says Tobin. "And we've worked hard to bring guests into that 'we, not me' paradigm. Back in April and May, [Mayor] Tim [Rogers] and I stood on Main Street weekend after weekend, making sure everybody had a mask."
Village, town, and college leadership were on daily Zoom calls from the start, sussing out logistics, trying to make sure that "we" included everyone. Elected officials and college administrators walked the streets into the wee hours on weekend nights, advocating safety. "We find that a little education and a short conversation gets compliance," says Tobin. "We haven't had to take a punitive approach."
Parlor is a new bookshop and gathering place on South Chestnut Street.
Pandemic vs. Demographic
Not every business has survived. Beloved Main Street record store Jack's Rhythms will be missed. (Though Frank's Fresh Pickling Company is set to open in its place this month.) Visitors will find most of their favorites carrying on; there's even a new Dominican place, New Nelly's, and a new specialty bakery, Hudson Valley Cheesecake, in the heart of the village. "Grinds and Grains is doing great," says Tobin happily of the coffee and cereal spot that opened on Church Street just before the pandemic hit. "We made the municipal parking lot at Main and North Chestnut into outdoor dining, and everybody helped keep it nice. And I can't say enough about Cory Wirthmann, our code officer, and his department. They spent untold amounts of time helping businesses figure out how they could do absolutely everything that could be done safely to stay afloat." Downtown bar owners, responsible for the town's legendary pub crawl and live music scene, volunteered to curtail their weekend hours and close before midnight.
Ramona Malena serves up authentic Dominican fare like pork mofongo at New Nelly's restaurant on Main Street.
Retailers are doing brisk, socially distanced business down at Water Street Market, says owner Harry Lipstein. "We are talking about powerful locals who are living their dreams and have been here and stable for 20-plus years," he says. "They've demonstrated time and time again that they're here to stay. They're a special breed. Has it been tough? Absolutely. But if anyone can survive a pandemic, it's these folks." Lipstein credits his Greek mother with instilling in him a passion for the agora, and is happily confident in his curation of Water Street; one of the newest additions, Salix Intimates, has found lingerie sales so well suited to private appointments that its owner plans to continue those even now that she can admit up to five browsers at a time.
Lipstein's related passion, theater, has arguably taken one of COVID's biggest hits. Broadway shows are suspended until at least the end of May 2021. But Denizen, Lipstein's nonprofit black box theater, has been paying its people all along and opened for its fourth season in September with the world premiere of Neil LaBute's "True Love Will Find You In The End."
Lipstein would never dream of courting danger. "We've been mindful and cautious in approaching the question: Taking the given circumstances we face into account and applying creativity, what do we do? So we put together that we could do a two-week run, two shows a day, with eight socially distant seats available for each show. The acting was prerecorded and supported by light and sound. It's a matter of what is, as opposed to what we wish could be, and the work speaks to that. The show by Neil—a Tony nominee who recently moved to the Hudson Valley—is very poignant and relevant. Theater can speak to the moment, as it always has." Every one of the performances was sold out almost as soon as the plan was announced.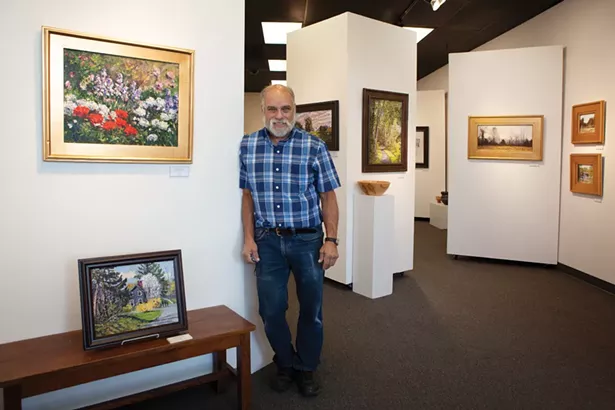 Mark Gruber opened his New Paltz frame shop and gallery in 1976. Gruber's careful curationn of Hudson Valley landscape artists has nurtured generations of painters.
At the other end of town, in New Paltz Plaza, the Mark Gruber Gallery is featuring a group show, "Boats and Barns," through November 28. The 44-year-old gallery recently relocated four stores closer to Main Street. "I just happen to love barns, boats, and alliteration," says Gruber. "Of course, we're not doing opening receptions right now, but people still need art. It'll be good to come out of the other end of all this; we haven't eaten out since it started, just takeout. I'm glad I'm not 18 right now, with all this! But if anything, the town seems busier than ever. Traffic's backed up to the Thruway every weekend. It'll be interesting to see how the pandemic affects the demographic."
A Place Where People Love to Be
New Paltz is nothing if not practiced in welcoming newcomers, whether for an afternoon or a lifetime. "The housing market is on fire," says Town Supervisor Bettez, "like after 9/11, but bigger. Our building inspectors, both town and village, have been getting a ton of inquiries from property owners: What can I do? Can I subdivide? Can I add a structure or a second story? So I think we'll be seeing a lot of that. And with smart zoning and preservation, we can make room. We need those, and we need affordable housing legislation—but I welcome new people. New Paltz is what it is, a place where people love to be, because waves of smart people have come here and made it better for generations."
Tobin agrees there is growth on the horizon. "I think we'll see a lot of infill and mixed-use stuff in the village and the new NBR [Neighborhood Business Residential] zone," she says. "And we have things that were in the hopper before the pandemic that are coming to fruition. There's a new firehouse going up, and people will be moving in to Zero Place in early 2021." The mixed-use project, featuring 46 apartments and 8,400 square feet of retail, has already won a New York State Building of Excellence award for energy efficiency.
Zero Place, a mixed-use project featuring 46 apartments (five units are earmarked as affordable) and 8,400 square feet of retail space, was recently awarded a New York State Building of Excellence award for energy efficiency. Construction is expected to be complete early next year.
Five units at Zero Place are earmarked as affordable; both Tobin and Bettez say that protecting affordability is crucial in keeping New Paltz vital. The village is considering banning non-owner-occupied short-term rentals in residential neighborhoods. "We're not against Airbnb; it brings vitality. We just want people who are connected to the community in charge," Tobin says. "And housing costs are a problem; we need to get creative about solving it."
Bettez says the town is considering something similar. "We just don't want is a bunch of corporate mini-hotels," he says. "We have a Community Preservation Plan on the ballot this November, a 1.5-percent real estate transfer tax on sales over $245,000 to fund open space, working farms, and historic preservation. The out-of-town realtors' association hates it, but the local realtors get it; it's just letting people kick in a little to keep the things that drew them here in the first place. It adds value."
Debate, sometimes heated, has been a staple of the community for generations, and Bettez wouldn't have it any other way. "We're lucky; we have people who are well informed and passionate, and I would take passion over apathy any day," he says. "Smart people come here, fall in love and stay, and their dreams bring economic and cultural growth. Our future looks really good right now."